Claude Monet once said his garden was his "most beautiful masterpiece." For him, and for his fellow Impressionists who delighted in painting en plein air, the garden was the most immediately accessible and perfect representation of a movement that got artists out of the studio and into the fresh air and natural light of the outdoors. Inspired by nature, the Impressionists reimagined art and captured the feeling of being in a scene rather than merely viewing details of objects within scenes. As Renoir explained, "I like a painting which makes me want to stroll in it."
Twenty-first century science confirms what the Impressionists knew: the senses respond to fresh air and sunlight with a burst of well-being and creativity. Studies show that being outdoors and experiencing nature increases creativity, improves mental and physical health, and helps reduce stress. Small wonder, then, that even in a crowded metropolis, the most luxurious homes often feature balconies, terraces, rooftop gardens, or walled courtyards. Country estates with expansive grounds accommodate the need to be in nature on a grand scale. A beautiful garden provides ample room for rejuvenation, creativity, and simple relaxation.
Below, Luxury Defined presents a look at half a dozen estates with gardens worthy of an Impressionist landscape: outdoor spaces that celebrate light, color, and the open air.
Delightful Dutch Domain
Aerdenhout, The Netherlands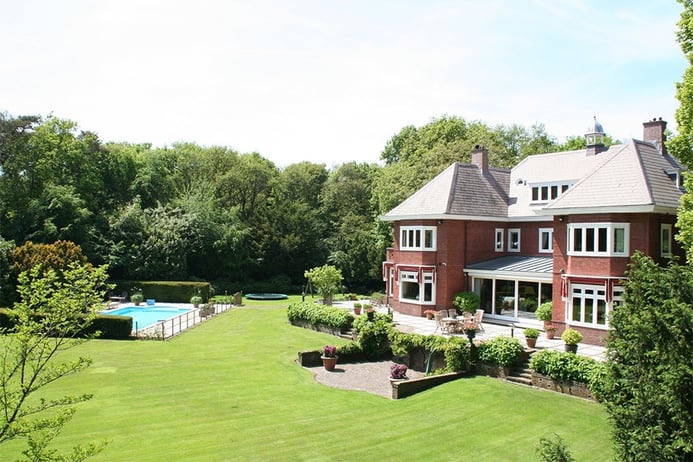 Located just south of Haarlem and off the North Sea coast, this attractive Dutch country house has a setting that resembles an early van Gogh landscape with its woods dappled in sunlight. Smooth lawns are edged by immaculately trimmed hedges and shaded by mature trees, allowing the play of sun and shade to present an animated natural tableau. Quiet woodchip pathways lead through the grounds to an ivy-covered hunting lodge that offers private guest accommodations. The main house is surrounded by ground-level terraces and features second-story decks and bay windows from which to enjoy the verdant and serene setting.
Elegant Irish Estate
Cork, Ireland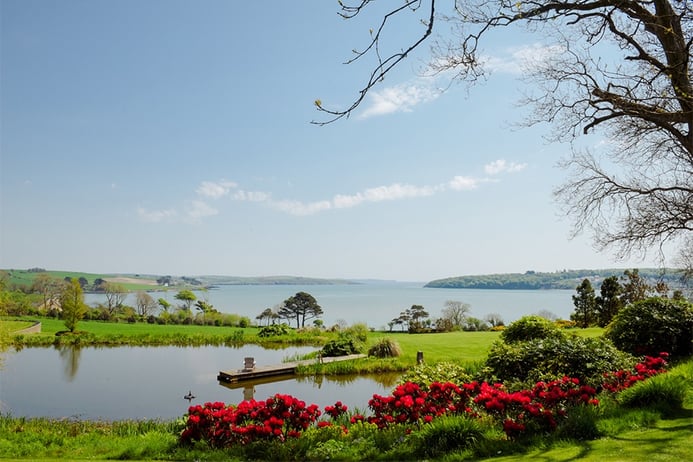 Bursts of floral color give this bucolic Irish estate the palette of a Monet landscape. Green lawns, mature trees, fountains, and a trout-filled private lake with a quiet dock surround this elegant Georgian manor. Overlooking the sea off the south coast of Ireland, this 20-acre estate includes four bedrooms in the main house, three within the converted and adjacent coach yard wing, a self-contained unit within the coach house, and a private four-bedroom lodge with its own gardens and lawns. Brightly blooming gardens complement views of the surrounding hills and the light off the bay. To the side of the coach house sits a stone-walled garden with an ancient orchard, and a private walkway borders the estate's boundary.
Vineyard Villa
Val di Pesa, Italy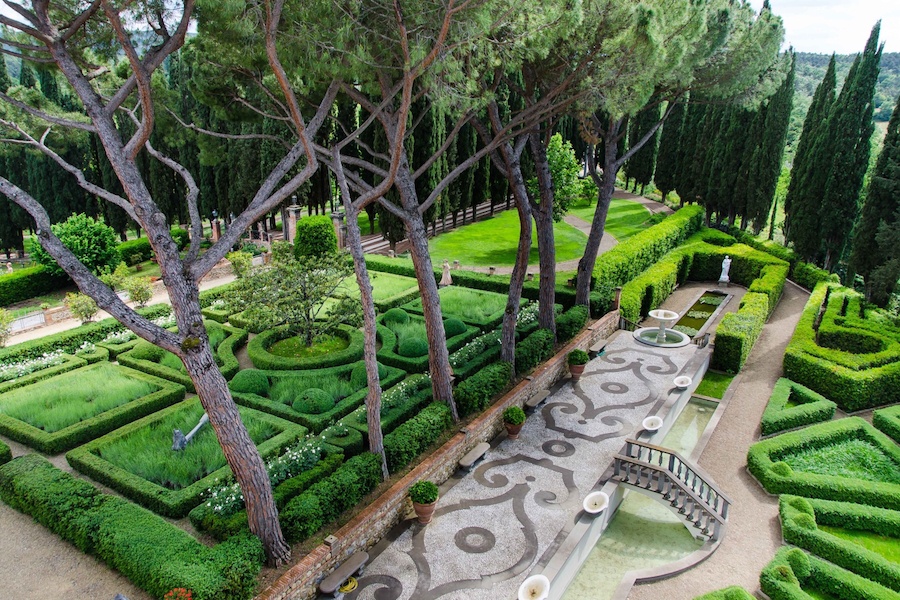 This expansive Tuscan vineyard estate was once the private home of Dutch painter and artist Karel Appel—whose sculpture "The Horse" still ornaments the estate's lavender garden, a haven of Impressionist color and fragrance. Dating from the 13th century, the villa has a noble history as a former convent and agricultural estate. It offers a seemingly endless variety of scenes along the paths of gravel and patterned stone that wind through immaculate gardens scented with cypress and citrus trees. Ten acres of vineyards, olive groves, formal gardens, water features adorned with waterlilies, and tree-lined walkways surround this beautiful and historic Mediterranean jewel in the heart of the Tuscan countryside.
Enchanting Château
Midi-Pyrenees, France
Set on the side of a small hill, this 17th-century château in the south of France presents panoramic views of the River Séoune Valley from its wall-lined terrace and central balcony. A charming central courtyard with ivy-lined paths sits at the center of the main building and its two adjoining wings. Roses and wisteria adorn the surrounding gardens, which feature tree- and hedge-lined lawns, shaded stone terraces, and a swimming pool. More than 60 wooded acres retain this Ancien Régime castle's privacy and evoke a romantic and manorial past.
Regal Riverside Residence
Locust, New Jersey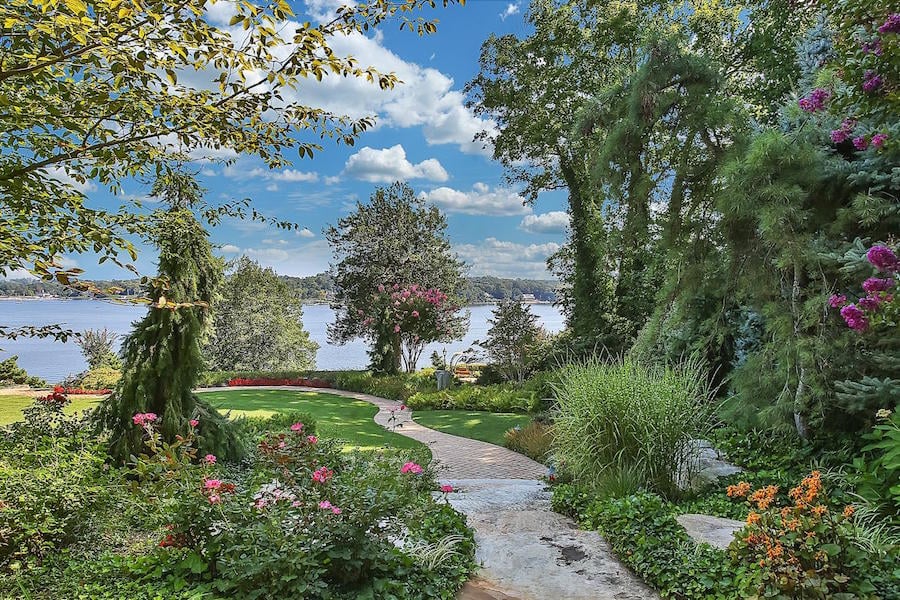 Set high on a bluff above the Navesink River, this palatial New Jersey mansion features stately terraces that provide commanding views. A large saltwater pool has a stone patio, and terraced gardens lead down to a sweeping lawn. Paved paths join a tree-lined wooden stair that descends the rose-laden riverside to a private boat dock. Crepe myrtle, magnolia, and cherry trees bloom against a densely wooded backdrop, and the grounds offer multiple observation vistas from which to enjoy the mesmerizing views.
Villa with a View
Montecito, California
Set into the hillside above the central California coastline, this 12-acre villa above beautiful The estate is one of the area's original "Hilltop Barons." Dating from circa 1916 and magnificently restored, this handsome California home offers sunlit patios bordered by olive trees, gravel walkways through romantic terraced rose gardens, a curved reflecting pool surrounded by lush manicured lawns, a private palm-lined courtyard, and seemingly infinite vistas of the ever-changing Pacific Ocean and Santa Ynez mountains.