True, you can't put it under the Christmas tree, stuff it in a stocking, or place it next to your Hanukkah menorah, but the gift of a private island solves the eternal question: What do you give that special person who has everything? Luxury Defined presents a collection of six secluded, private islands which offer the ultimate in luxurious residences at exotic destinations like Belize, the Bahamas, and Italy's Emerald Coast, or more northerly climes such as the Baltic Sea or Long Island Sound—an hour from the bustle of New York City! There's even an island which can be created for you, to your specifications, and moored at the location of your choice, eco-friendly and self-sustainable. Not included: Your mistletoe and holiday sweater. Some things are priceless.
Lobster Island
Eleuthera, Bahamas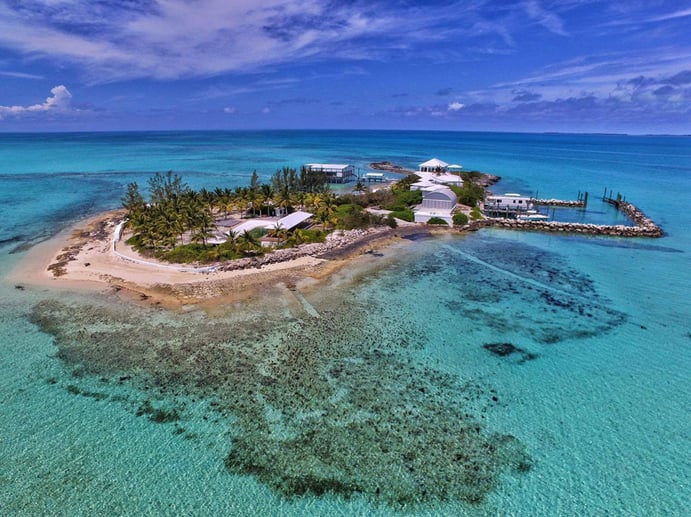 As idyllic as its name suggests, Lobster Island is a secluded Bahamian paradise with an array of rare attractions for the ultimate waterfront lifestyle. The 2,600-square-foot main house has four bedrooms, two bathrooms, a commercial-grade kitchen, and a great room with panoramic sea views. Two guest cottages each have full kitchens, two bedrooms, and relaxing living areas.
The island's star attraction is the Sea House: built above the sea, this 8,000-square-foot entertaining space is equipped with a unique glass-floored aquatic viewing area. For outdoor recreation, there is a beach pavilion and natural saltwater swimming pool, which teems with a cornucopia of exotic fish. Other outstanding amenities include a sandy beach, safe harbor, helipad, fitness room, three generators, a water purifying system, and separate Wi-Fi networks for each residence.
Tavern Island
Rowayton, Connecticut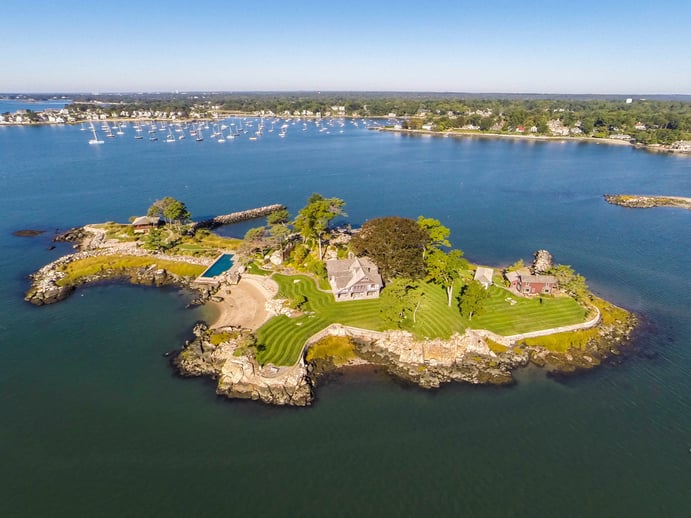 With 360-degree views of Long Island Sound and the Connecticut coastline, and an unrivaled location just one hour from New York City, Tavern Island is one of the rarest offerings in the New York metropolitan area. This secluded 3.5-acre private island is also a historic family compound graced with a grand Tudor-style manor house and a two-bedroom cottage.
The main residence, cottage, and ancillary structures, which include a tea house at the water's edge and a boat house, are complemented by glorious landscaped gardens with a 75-foot swimming pool, a pristine beach, and a deepwater dock protected by a stone sea wall, providing safe harbor for two shore launches.
Grötskär
Dalarö, Sweden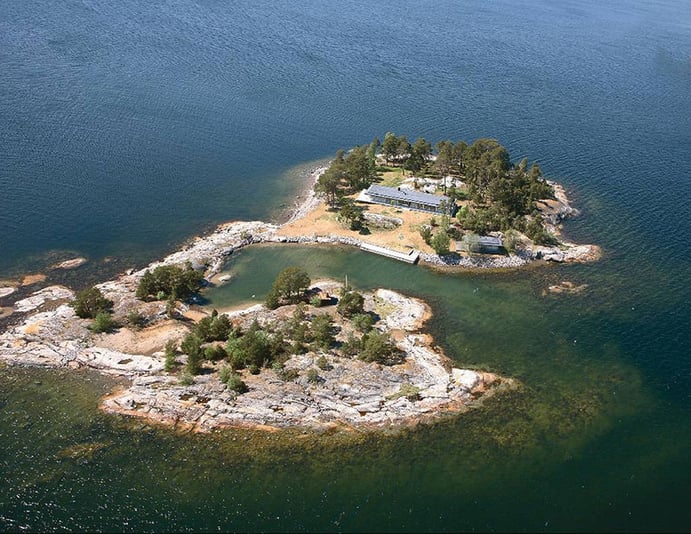 For those looking for an enchanting island escape near one of Europe's vibrant capital cities, Grötskär island ticks all the boxes. Surrounded by the calm waters of the Baltic Sea, this private escape is one of 30,000 beautiful pine-forested islands and islets that make up the Stockholm Archipelago.
This one-of-a-kind offering has its own tranquil bay, boat dock, and natural harbor. The island's built environment takes the form of a striking modernist residence with floor-to-ceiling windows and decks that frame dramatic vistas of the surrounding landscape, accompanied by a guest house and a traditional Scandinavian sauna house, for enjoyment during the winter months.
Royal Palm Island
Little Frenchman Caye, Belize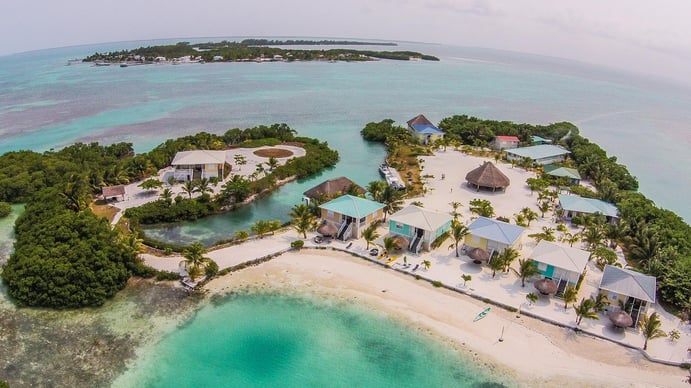 Just one mile away from the magnificent Belize Barrier Reef—home to the world-famous Blue Hole—and less than nine miles off the coast of Belize City, Royal Palm Island is a 6.559-acre private hideaway replete with palm trees, lush vegetation, and sandy beaches.
The island's unique accommodations include a luxurious owner's residence and five colonial-style cottages, each with two bedrooms and a cabana, steps from the turquoise sea. Other lavish resort-inspired amenities include a dining and bar area, conference facilities, spa, helipad, and a marina with four boats (included in the offering). This property is eco-friendly and self-sustainable, complete with solar power and a reverse osmosis water-filtration system.
Private Island on the Emerald Coast
Porto Cervo, Sardinia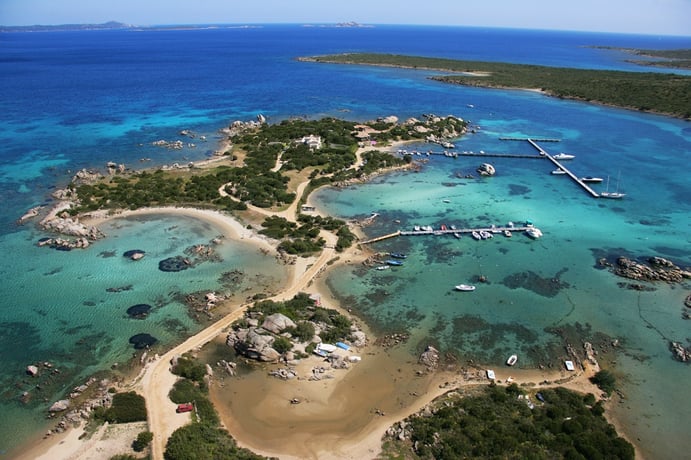 Few properties are as exclusive and private as this island off the coast of Porto Rotondo on Sardinia's Costa Smeralda. Framed by aquamarine waters and white-sand beaches, this 10-acre private island is replete with hidden coves, boulders, and lush juniper bushes that create an idyllic microclimate.
Among the island's multiple dwellings is a stunning contemporary villa with three en suite bedrooms, large living and dining rooms, kitchen, and multiple terraces; a beach villa; two guest houses; and staff quarters. There are also excellent yachting facilities including a large pier with several berths, which allows for easy passage to and from Porto Rotondo's prestigious marina and upscale attractions.