The American Story is incomplete without its Gilded Age. The great wealth from the United States' post-Civil War boom created a new species: the billionaire. America's first, John D. Rockefeller, made his millions in oil; his fortune equaled 1.53 percent of the entire U.S. economy. The wealth of coal, steel, land, railways, communications, and finance created other magnates and moguls. They hired the finest architects, decorators, artisans, and landscapers to build their great houses as monuments to what they had achieved. Our Digital Age has created its own magnates—of satellites, software, and internet dreams. Here, Luxury Defined presents five estates for the contemporary tycoon.
Bellevue Estate at Grape Bay Beach
Paget Parish, Bermuda
Built circa-1871, the Bellevue Estate is an outstanding Grade I colonial-style mansion situated in one of Bermuda's most elegant residential enclaves, minutes from Hamilton. The property encompasses more than five acres, and includes ownership of the road and access to Grape Bay Beach. Renovated in 2000, the three-story main house features a wood-paneled library, games room, dining room, south-facing veranda, and six bedrooms, all with ocean, city, or harbor views. The formal grounds include a tennis court, swimming pool, several outbuildings, and a charming two-story guest cottage, which served as the writing den for Pulitzer Prize-winning American playwright and Nobel laureate Eugene O'Neill.
Grand Viennese Villa
Vienna, Austria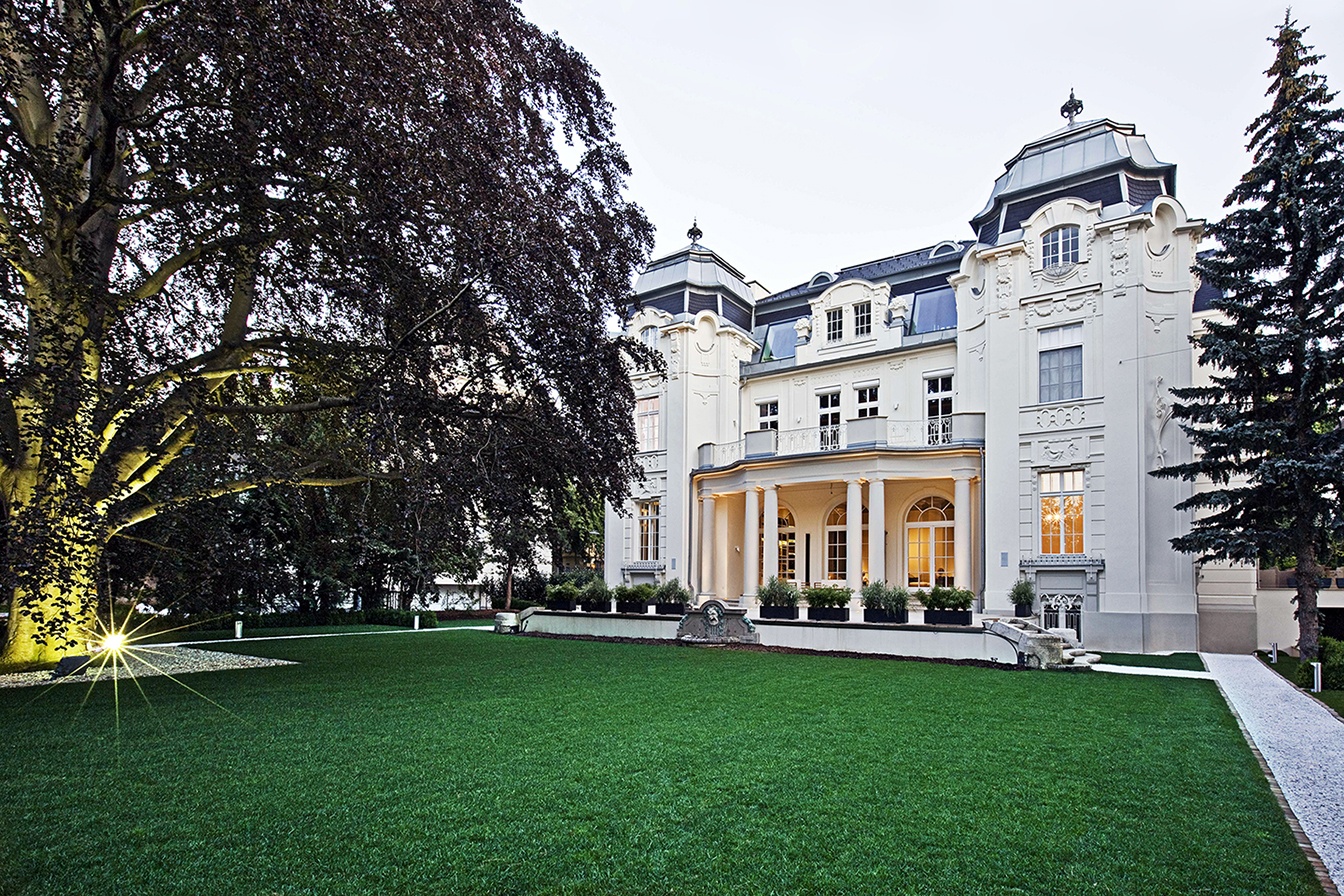 This elegant villa in Vienna's prestigious 13th district was built in 1900 by noted Austrian architect Ernst von Gotthilf, whose masterworks include the Am Hof 2 building in Vienna's Hof Square. The 15,187-square-foot, eight-bedroom residence has been completely restored and seamlessly blends refined period details with designer amenities, such as a wine cellar, home-automation system, state-of-the-art kitchen, and wellness center with fitness studio and infrared-steam sauna. The park-like gardens are graced with entertaining terraces, a swimming pool, and a 200-year-old beech tree.
The Harold Brown Villa
Newport, Rhode Island
This circa-1880 mansion on nearly five acres of grounds on Newport, Rhode Island's famed Bellevue Avenue is a testament to the splendor of the Gilded Age. Built as the summer "cottage" of Harold Brown, whose relative was the namesake of Brown University and whose brother's family built Harbour Court, now New York Yacht Club's Newport clubhouse, the Anglo-Norman-style manor house was designed by architect Dudley Newton, with Empire-style interiors by Ogden Codman and formal English gardens by Olmsted, Olmsted and Eliot. In the 20th century, the estate was purchased by U.S. diplomat John J. Slocum and his wife, political hostess Eileen Gillespie Slocum. High-profile guests included the who's who of Newport society and several U.S. presidents.
Napoleon III-Style Residence
Paris, France
This extraordinary residence exemplifies the grandeur of 19th-century Paris. Dating from 1890, the property was designed in the Napoleon III style, otherwise known as the Second Empire, a period that sought to reconcile progress and innovation with tradition and historicism. The 5,640-square-foot home features five bedrooms, two kitchens, and magnificent reception rooms adorned with marble columns, gilt moldings, decorative paneling, ornate fireplaces, hand-carved reliefs, and frescoed ceilings. This fine property is set within tranquil gardens, and includes staff quarters, three cellars, and two parking spaces.
Darlington
Mahwah, New Jersey
Hailed as "the American Versailles," Darlington—one of the world's magnificent and rare estates—is an architectural masterpiece within 25 miles of New York City. The estate was commissioned by railroad scion George Crocker and constructed in 1907 by preeminent architects James Brite and Henry Bacon—whose works include the Lincoln Memorial in Washington, D.C. Darlington was meticulously renovated in the last seven years and today offers more than 50,000 square feet of living space and over 12 acres of marvelous grounds. Among the restored period details are the great hall with an Aeolian player pipe organ and a library adorned with a mural painted by Tiffany Studios' James Wall Finn.