We reward genius in the arts and popular culture with glory, celebrity, and the wherewithal to acquire great homes and great privacy. As we celebrate the onset of the awards season, and the 74th Golden Globe Awards on January 8, Luxury Defined presents a collection of elegant, star-powered properties of past winners: the lush Costa Rican retreat of actor-director Mel Gibson, who's nominated this year; the Sydney estate of three-time Golden Globe-winning actress Cate Blanchett; a Manhattan townhouse forever linked to the classic film scores of Hollywood's Golden Age; and the Tuscan villa of Italian film star Marcello Mastroianni. We also honor the legendary writer who inspired Golden Globe-winning film classics: James Bond creator, Ian Fleming. To borrow from the Hollywood trade magazines: "For your consideration"...
Black Hole Hollow Farm
Cambridge, New York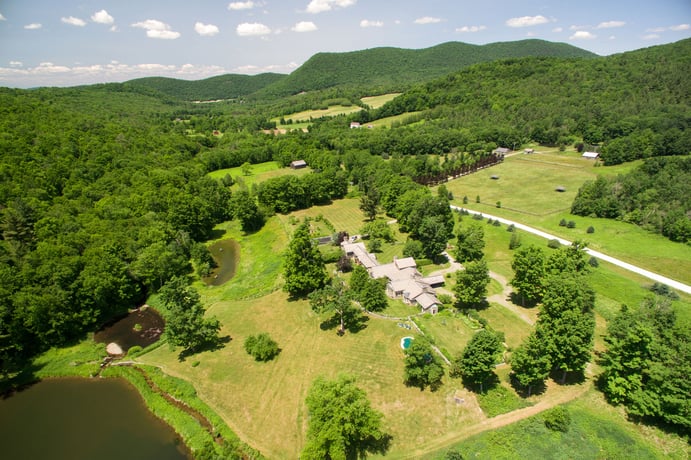 This historic 948-acre farm has entertained royalty and celebrities including HRH The Princess Margaret and Jacqueline Kennedy, among others. But it is Ian Fleming, the legendary British novelist, who may linger as the presiding spirit of Black Hole Hollow Farm. It was here that he wrote the Bond novels Diamonds Are Forever and Goldfinger. (The Bond films Dr. No and Skyfall would go on to each win Golden Globes for Best Original Song.)
Set within a quiet valley on the New York-Vermont state line, Black Hole Hollow Farm is an idyllic landscape threaded by the White Creek, with tiered ponds, open pastures, and 33 miles of wide private trails, bordering a 5,000-acre forest preserve. At its center is an 18th-century farmhouse surrounded by picturesque English gardens. Equestrians will appreciate the estate's four barns, riding arena, fenced paddocks, and its location: 30 miles from the famous Saratoga Race Course.
Playa Barrigona
Guanacaste, Costa Rica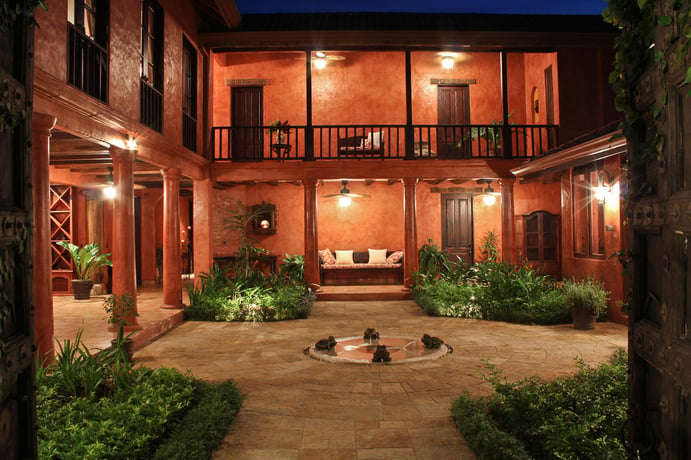 Owned by actor and director Mel Gibson, who is nominated at this year's Golden Globes with his latest directorial effort, Hacksaw Ridge, the villas on Playa Barrigona are tropical retreats unlike any others. The property is supremely situated amid 500 acres of privately owned jungle in a remote area of Costa Rica's lush Nicoya Peninsula.
The largest of the three villas, Casa Guanacaste, encompasses seven bedrooms and eight bathrooms. The two two smaller villas feature two bedrooms and additional living spaces. Each villa is beautifully decorated with native wood finishes with a living room, full kitchen, multiple verandas, a private pool, and barbecue area. A secluded white-sand beach is a short walk away, and the sights and sounds of the jungle envelop the grounds. Playa Barrigona is easily reached by both San José or Liberia airports.
Historic Townhouse on 65th Street
New York, New York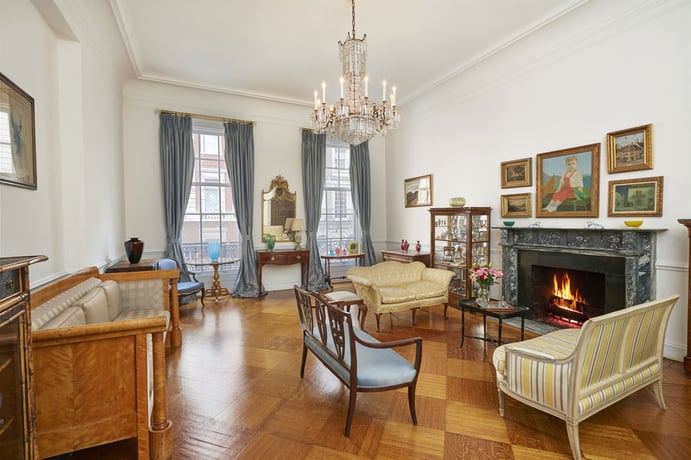 This distinguished six-story townhouse on one of New York City's finest streets was once the home of Franz Waxman, a legendary composer best known for his work in Hollywood cinema. His memorable film scores include The Bride of Frankenstein, Rebecca, Peyton Place, Rear Window, A Place in the Sun (which won him an Academy Award), and Sunset Boulevard, for which Waxman won both a Golden Globe and an Academy Award.
The residence encompasses 10,253 square feet and boasts an elevator serving all six floors, and multiple terraces and balconies. Currently configured as four separate units (an art gallery on the ground level, above which is an owner's duplex, a spacious floor-through apartment, and a penthouse duplex), the property could easily be returned to its original grandeur as a magnificent single-family mansion.
Bulwarra
Hunters Hill, NSW, Australia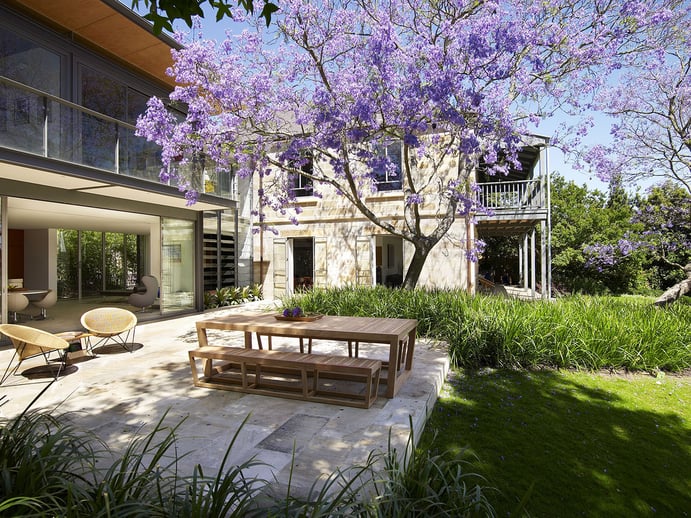 Originally built in 1877, Bulwarra is a unique riverside sandstone manor owned by three-time Golden Globe- and two-time Oscar-winning actress Cate Blanchett and her husband, Andrew Upton. Surrounded by north-facing grounds on a private 3,642-square-meter parcel of land, this eco-friendly family retreat is one of Sydney's finest heritage homes.
The estate has undergone a carefully considered reinvention—a mindful collaboration between Nadine Alwill of Alwill Design and Dr Stephen Lesiuk of Lesiuk Architects—linking the old with the new. Forming a dramatic sculptural centerpiece, a custom steel staircase punches through three levels to connect the residence's living spaces. Magnificent views through this distinctly Australian landscape can be enjoyed from a fluid sequence of indoor and outdoor living zones enhanced with a championship tennis court, guest house, pool pavilion, and direct river access.
Romantic Tuscan Villa
Lucca, Italy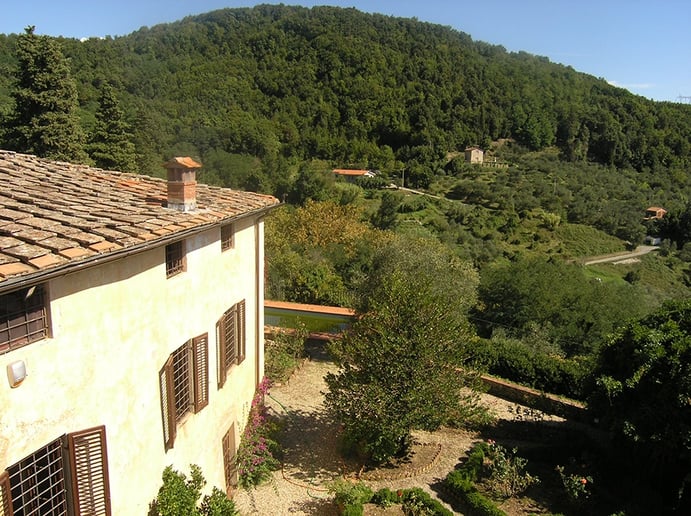 This historic estate near the Renaissance city of Lucca was owned by a legend of Italian and world cinema, Marcello Mastroianni, the star of such iconic films as La Dolce Vita, 8½, La Notte, and Divorce, Italian Style—for which he won the Best Actor Golden Globe in 1963.
Originally built in the 18th century, the main house is a beautiful villa with five bedrooms and a turret, which offers magical views across the Tuscan hills. The property blends contemporary and traditional elements with a host of superb amenities: a billiards room, sauna, outdoor pool, stables, a farmhouse, chapel, vineyard, olive grove, and idyllic gardens.