Bordered by 14 acres of conservation land and surrounded by the deep waters of Long Island Sound, the 63-acre, aptly named Great Island is the closest and largest private land mass to New York City. Linked to the charming colonial town of Darien, Connecticut—one of the most sophisticated, desirable, and exclusive suburbs along the Gold Coast—by a land bridge, the island is just one hour by road and 45 minutes by rail from Manhattan.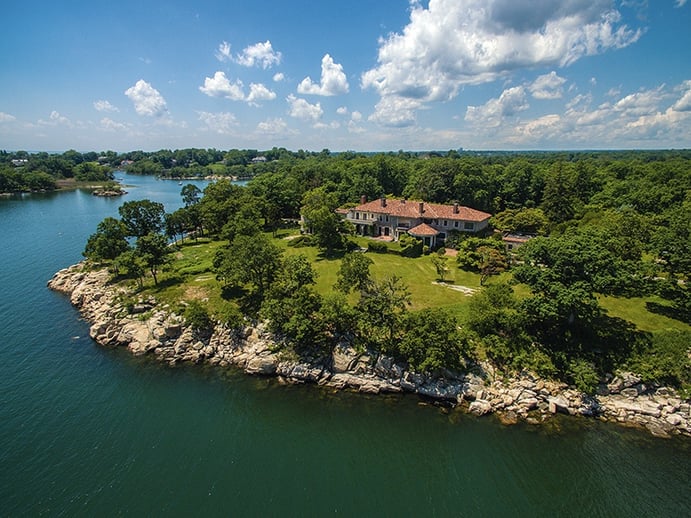 Though once you go over that bridge and leave the mainland behind, you could be a thousand miles away from the unrelenting whirl of the 21st century. "It's a sphere of tranquility, a unique retreat from the world, with hidden coves, quiet natural woods, and open meadows," says David Ogilvy of David Ogilvy & Associates, an affiliate of Christie's International Real Estate, who is marketing the unprecedented property.
Great Island offers a wonderfully peaceful hideaway that still has great links to the bright lights of New York
"The minute you cross the bridge, your heart rate slows and you relax. This is a sanctuary for birds, and often the only sounds you'll hear are birds singing—hummingbirds nest there—and the waves lapping the rocky shore and scenic beaches. But the thing about Great Island is that it offers the best of both worlds—a wonderfully peaceful hideaway that still has great links, by road, rail, or sea, to the bright lights of New York."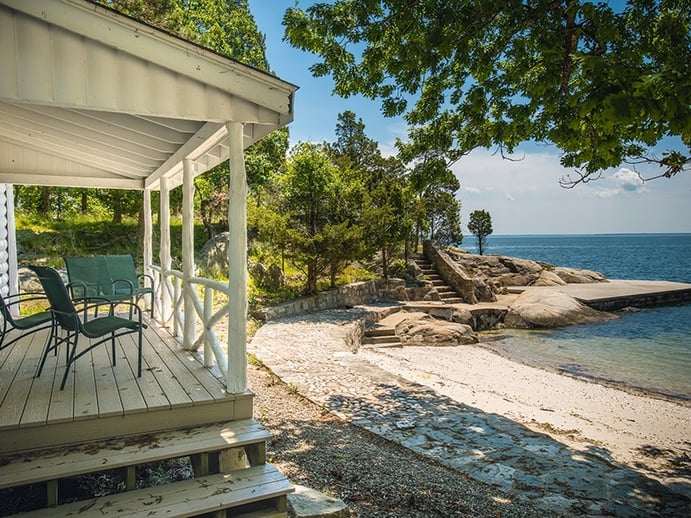 The train station is one mile from the gates of this incomparable estate, and there are several commercial and private airports in the vicinity: Westchester County Airport—the most popular departure point for private jets in the New York area—is just 12.5 miles away, while La Guardia is 36 miles and JFK 46 miles away.
Life of leisure
Not that you need to venture far for recreation. Darien is one of the wealthiest communities in the US, and its restaurants and amenities, as well as those of its neighbors, reflect that. The Homestead Inn, a world-class French restaurant in Greenwich run by multi-award-winning chef Thomas Henkelmann, is an ever-popular choice, as is Bedford's La Crémaillère, described as the "picture-perfect Provençal country inn," by Town & Country Magazine.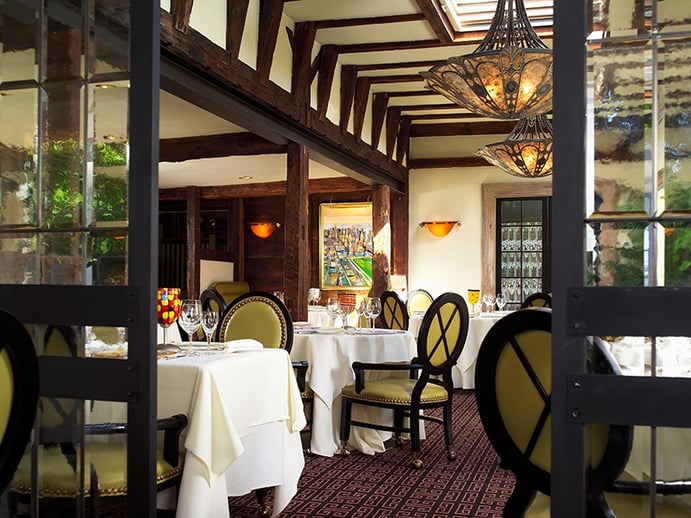 Sports lovers are well catered for with numerous excellent golf and tennis clubs, while polo fans can indulge their passion at Greenwich Polo Club at Conyers Farm. Chelsea Piers in Stamford, a 475,000-square-foot, indoor recreational facility, is a recent addition and is popular with all ages.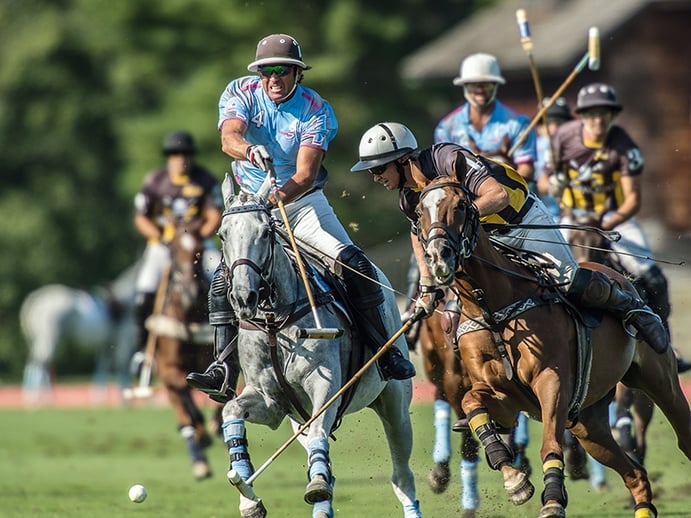 The area also has many esteemed public and private schools, including Pear Tree Point in Darien, and Sacred Heart, Brunswick School, Greenwich Academy, and Eagle Hill in Greenwich.
For shopping, residents recommend Darien institution Palmer's for its wonderful food, flowers, and high-end catering. The renowned Greenwich Avenue, the East Coast's version of Beverly Hills' Rodeo Drive, has Saks Fifth Avenue, Prada, Ralph Lauren, Tiffany & Co, Betteridge, Longchamp, Hermès, and RH Greenwich, The Gallery at The Historic Post Office—a 23,000 square-foot space showcasing exquisite furniture.
Those not wishing to travel the short distance to Manhattan will still find much to enjoy close to home
Cultural delights complement culinary, retail, and sporting ones: New York, of course, draws international crowds, with Lincoln Center, Broadway, and its "museum mile," where you'll find some of the most famous museums in the world, including the Metropolitan Museum of Art, The Guggenheim, The Frick Collection, and the Met Breuer, to name but a few.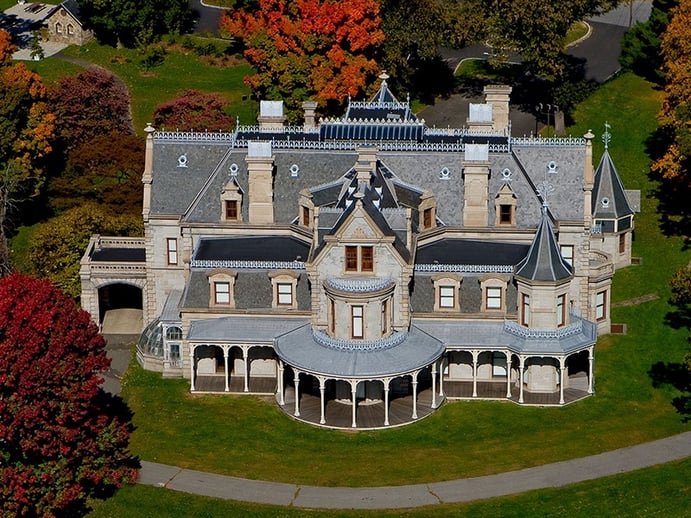 Those not wishing to travel the short distance to Manhattan will still find much to enjoy close to home, at the Lockwood Mathews Mansion Museum, one of the most significant Second Empire country houses in the US, and the Bruce Museum, which celebrates art and science.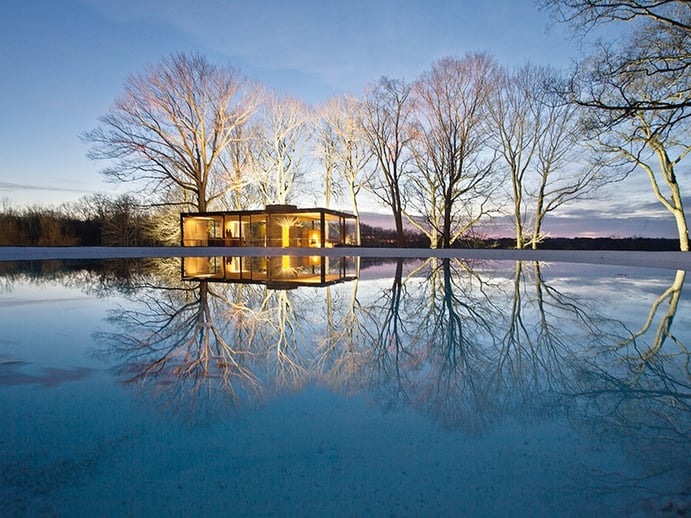 And when is a house not a house? When it is The Glass House—an extraordinary flight of fancy made real. Built over 37 years by the architect Philip Johnson, it is an ensemble of 13 structures, each with its own distinct character and purpose, including a painting house and a sculpture gallery, surrounded by 40 acres of beautiful grounds. All this and more is within easy reach of the estate.
Adventure begins at home
Great Island itself promises adventure—on land, sea, or in the air. There are acres of mature woods and beaches to explore, long walks to enjoy, and water sports such as fishing, yachting, and water-skiing. Equestrian enthusiasts will be thrilled with the indoor jumping ring—one of several riding arenas on the property—as well the practice polo field.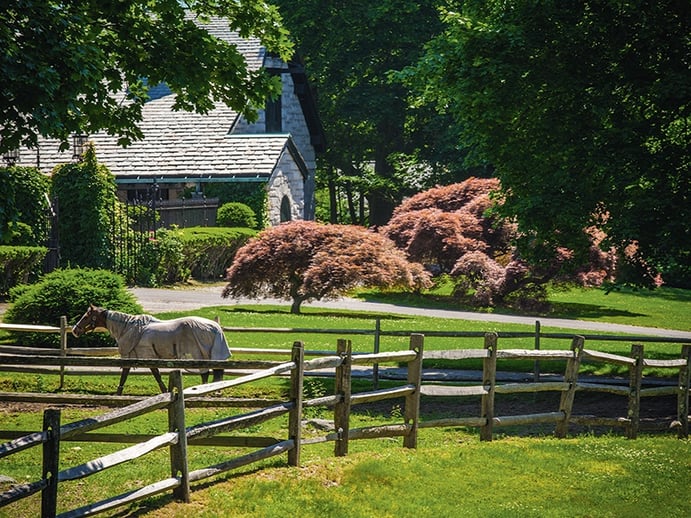 "Everything about this listing is unique," says Ogilvy, "and there is enormous potential to adapt what is there and to create a spectacular family home for generations to come. At its heart is a beautiful historic property that was acquired in 1902 by the family who still owns it."
There are some wonderful mansions along the Gold Coast but only one Great Island
Villa Juliette, the main house, which has 10 bedrooms, is built entirely of stone and has spectacular views of the Sound in all directions. "You reach it via a half-mile driveway that sweeps through an allée and past expansive lawns," adds Ogilvy.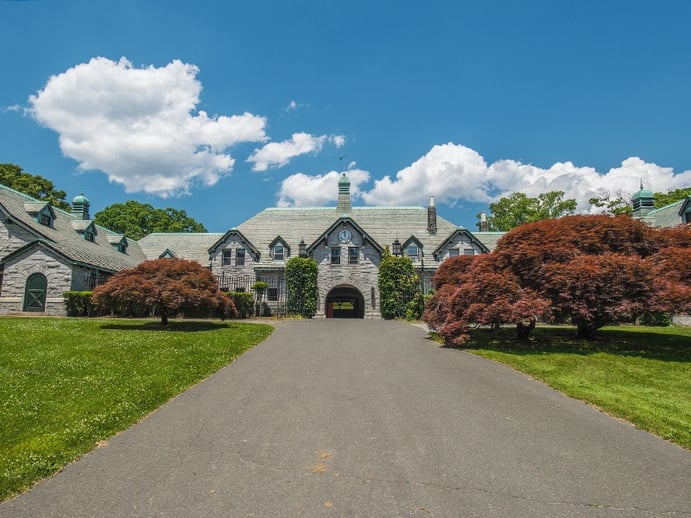 In addition to Villa Juliette, there are numerous other buildings on the island, including a 25-stall stable with an arched Guastavino tile ceiling similar to the one in Grand Central Station's Oyster Bar, several waterfront cottages, another period property from the 1860s, and a yacht basin with a large dock and boathouse for winter boat storage. There is even an extraordinary protected inlet known as a hurricane hole, which will protect your boat in any weather.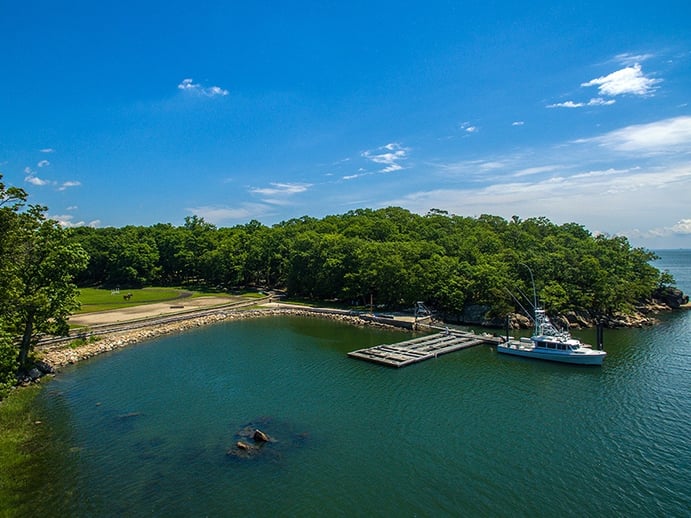 An extraordinary history
"Great Island is remarkable," says Ogilvy. "It was acquired by the industrialist William Ziegler, who made his fortune from baking powder, in 1902 and has been in the Ziegler family ever since. Ziegler used Villa Juliette as a summer house, but various members of the family have lived here over the past century."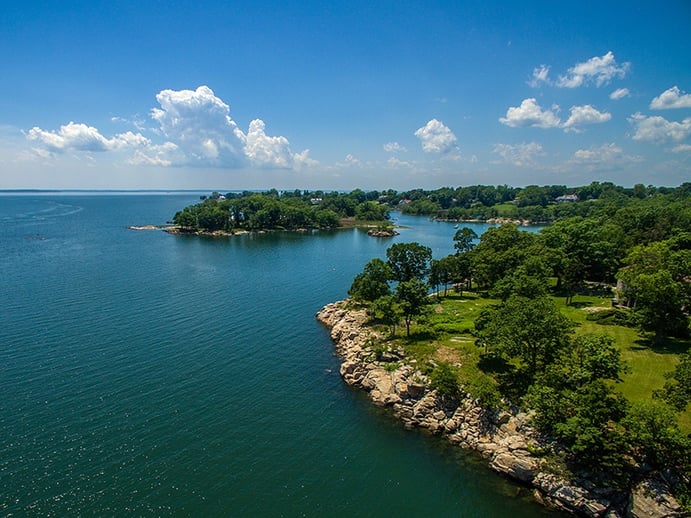 The sale presents an exciting opportunity to buy what many consider to be the most spectacular property in Connecticut. "There are some wonderful mansions along the Gold Coast but only one Great Island," says Ogilvy. "It's consistently been the most valuable property on this coast and it's unbelievable that it's on the market now. We are very excited to be marketing it and look forward to seeing how it will evolve under new ownership."