Pedro Calderon de la Barca, the great poet and playwright of the Spanish Golden Age, wrote, "Green is the prime color of the world, and that from which its loveliness arises." As we embrace the coming of spring and its prime colors, Luxury Defined celebrates Greenery, the 2017 Color of the Year from the trendsetting Pantone Color Institute. A lush yellow-green that evokes springtime's first shoots and stems, its new grass, Greenery is nature's neutral, a color that can at once calm, soothe—and invigorate. Greenery also inspires this collection of five sumptuous homes, each with its own perspective on this enchanting color of the season.
Fifth Avenue Duplex
New York, New York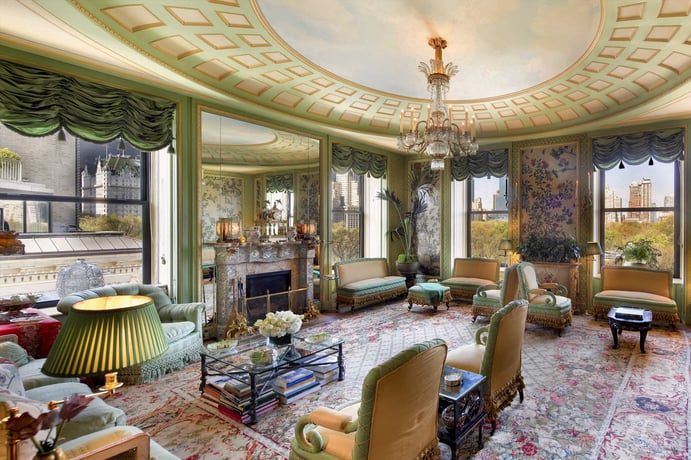 This magnificent Fifth Avenue duplex is one of the finest residences ever designed by noted Interwar-era architect Rosario Candela. This rare corner apartment comprises 20 rooms of unparalleled grandeur and scale, with outstanding Central Park views, hardwood flooring, soaring 12.5-foot ceilings, and original moldings.
The palatial entrance gallery leads into the Central Park-facing lower library and dining room. A grand staircase leads to the upper-level living room which includes two fireplaces and exquisite design elements that complement the light green palette. The owner's private quarters includes a master bedroom with an accompanying sitting room and fireplace, an original 1930s marbled and mirrored full bathroom and a dressing room with an additional bathroom. This legendary cooperative offers residents the highest level of service and privacy.
John Gays House
Maidenhead, Berkshire, England
John Gays House is a quintessential English country manor dating from the Tudor period. With eight bedrooms and more than 12,000 square feet of living space, this remarkable residence abounds with historic architectural details from across the centuries. The house also features amenities for luxurious modern living, including a spectacular indoor swimming pool and sauna.
The sumptuous green-hued study leads into a conservatory, which opens to a courtyard garden with a fountain. The galleried entrance hall features grand marble flooring, Brazilian mahogany paneled walls, and ancient oak beams. The west hall has a sweeping staircase and provides access to graceful reception rooms with ornate cornicing and plaster work, paneled walls, and fireplaces. Outside, 20.5 acres of expansive lawns, manicured gardens, a lake, orchard, and a wooded walk. To the south are the fully equipped stables, floodlit manège, and 1-kilometer horse exercise track.
Fieldhaven
Alamo, California
Fieldhaven, a rambling, dramatic and stylish country manor house, was completed just three years ago, but exudes a sense that this family compound—with 10 bedrooms, 13 baths and 21,852 square feet of living space—has been around for generations.
Despite its grand formal rooms and the scale of the home, Fieldhaven conveys intimacy and charm with the warm palette of fieldstone, stucco and wood throughout. The color green is on prominent display in both the kitchen and the dining room, with its decorative leaf mural and calming forest-green tones. Fieldhaven's amenities include five fireplaces, "a great room with a wet bar, a wine cellar, a wood-lined den and a 14-seat movie theater," the Los Angeles Times reported. "Outdoors, some 21.5 sprawling acres includes an aviary, separate swimming and plunge pools, a teen lounge and a car barn. A 75-foot suspension bridge connects the lounge and a custom tree house. There's also a separate guest house."
Guildford Farm Estate
Ruckersford, Virginia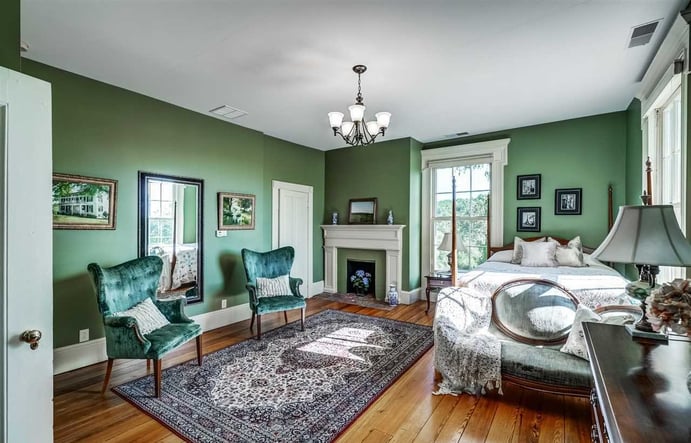 Guildford Farm Estate has been home for generations of local families dating back to 1790. The 125-acre property near Charlottesville, Virginia, is rich with historical charm. The home's Antebellum architecture is on grand display in the front porch and in the entrance hall, which gives a glimpse of the striking handcrafted details found throughout: wide heart-pine floors, massive hewn timbers, ten-foot-high ceilings, floor-to-ceiling windows, and over a dozen fireplaces.
The private quarters feature five guest bedrooms and an elegant master suite, decorated in pastel green with emerald-toned accents; all have their original woodburning fireplaces. The house is set like a jewel at the center of an idyllic landscape, complete with a barn and pond, and views of the Blue Ridge Mountains.
Colleton
Saint Peter, Barbados
Colleton is one of the oldest, most distinguished estates on the Caribbean island of Barbados. Built in the 17th century, this historic hideaway is poised on a ridge overlooking the island's west coast, with magnificent vistas of the Caribbean Sea.

The two-story Colonial-style plantation house abounds with grand period details, large reception rooms, and elegant entertaining areas, including a gracious formal dining room with a field-green color scheme and original wood floors. In addition to five bedrooms in the main house, the estate includes a two-bedroom cottage, a guest house, and the original 18th-century stables, which are currently used as an art gallery. Colleton's magnificent seven-acre grounds are graced with tropical plants and centuries-old trees, a swimming pool, and impeccable formal gardens. The estate enjoys a prime location in the parish of Saint Peter, on the island's fashionable west coast, close to fine shops, restaurants, beaches, and golf courses.