AFrench-style country retreat set among eight-and-a-half acres of glorious woodland, secluded from the road three seasons out of four, and yet not five minutes from the shores of Lake Michigan. Wyldwoode is most certainly magnifique.
The estate was built in 1916 for steel tycoon Clyde Carr by architect Harrie T. Lindeberg, who designed several homes in the Lake Forest area and whose work defined the American Country House era. Influenced by European movements and periods such as Arts and Crafts, Beaux-Arts, Norman, and Tudor, Lindeberg planned homes in tune with the surrounding landscape—there was no one style. It was about individual spirit and 55 N Mayflower Road is the exemplar of this. Bucking the trend of similar and more streamlined French rural estates, Wyldwoode is a charming melange of brick and timber, with a pitched slate roof. Its Y-shaped plan affords the property its privacy—from Warren Manning's landscaped gardens to the east and west, to woodland to the south. Meanwhile, a curved driveway, screened by planting, leads to the entrance—a monogrammed "CC" wrought-iron arch by German craftsman Oscar Bruno Bach.
Today's owners are Barbara and Barry Carroll and the property is represented by CONLON, the exclusive Affiliate of Christie's International Real Estate in the region. They arrived at the eight-bedroom, 13,500 square-foot property for an estate sale in 1987, hoping to pick up a piece of art or a unique treasure. Instead, they bought the whole estate and found a trove.
Little was done before they moved in, apart from stripping floors in three of the rooms. "They'd been painted over, but underneath was this beautiful herringbone and butterfly-pegged parquet," Barry says. "The workmanship here is breathtaking. There are crown moldings on every level, a spiral staircase, curved wainscoting, bays, and marble mantels. We even have an oval office!"
The workmanship is breathtaking. There are crown moldings on every level.
Ceiling beams and a Tudor arch over the diningroom fireplace pay homage to Lindeberg's inspiration. But where manor houses of a comparable period can be ill-lit and gloomy, Wyldwoode is infused with light. Built on three levels, the first boasts floor-toceiling original sash windows, glass doors, and an elegantly tiled gallery. Two rooms at the top have been converted—one as a television and music room, the other as the High Frontier Bar.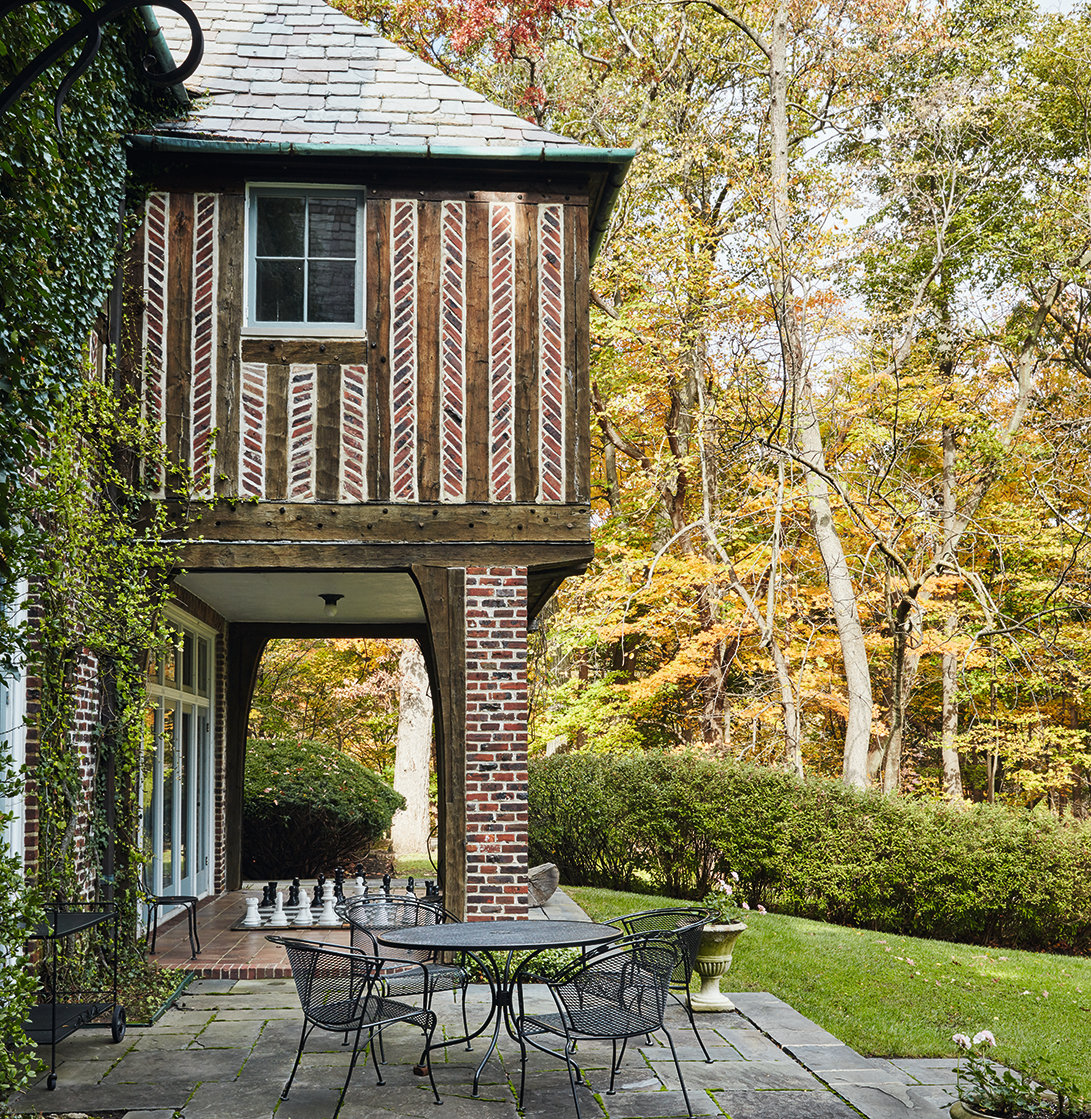 "I'd wanted a bar and I'm a space nut," Barry says, "so, it's full of astronaut memorabilia—like a replica Sputnik flight simulator. Apollo 13's Jim Lovell christened it by bouncing a tub of Tang off the floor!" Space enthusiast or not, the appeal of this home is infinite.
[ Excerpt from Christie's International Real Estate's 2018 Luxury Edition — A curated collection of the world's finest properties. Explore more properties here ]
Photography by Ngoc Minh Ngo