In the seaside resort town of Théoule-sur-Mer on France's Côte d'Azur, the historic buildings are picturesque and quaint with their terracotta tile roofs and white plaster walls that gleam in the sun. Except for one. Perched on a hillside with views of the Bay of Cannes, the Bubble House is a spectacular Space Age haven unlike any other.
Designed by Hungarian architect Antti Lovag in the 1970s, the Bubble House was originally built for French industrialist Pierre Bernard, who provided Lovag considerable latitude related to the structure. Inspired by "organic" architecture, which takes cues from forms of nature, Lovag devised an innovative residence composed of spherical sections and accented by circular windows and doors as well as round seating areas, beds, and swimming pools.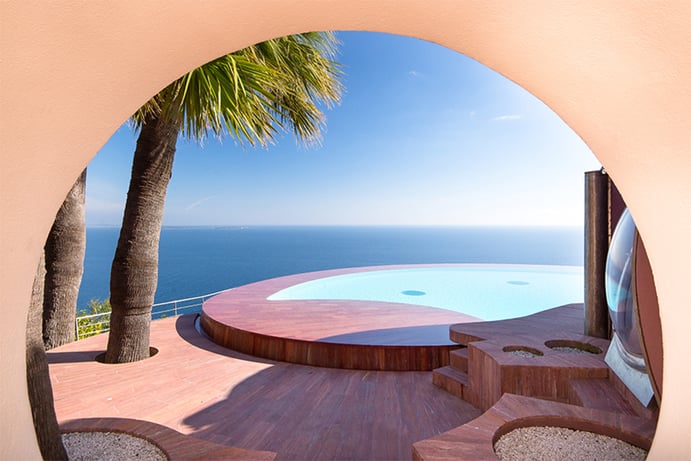 Award-winning French architect Odile Decq was recently charged with renovating the Bubble House. Thanks to its updated interior color palette of bright pinks, reds, yellows, and greens, the 10-bedroom, 1,200-square-foot home is as chic as ever.
In 1992, the Bubble House was purchased by French designer Pierre Cardin, whose fashion designs popularized the look known as "Space Age Futurism" in the 1960s.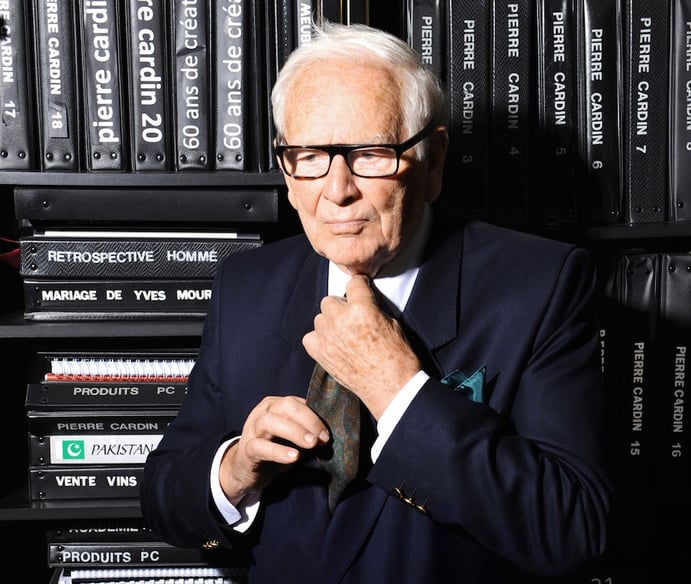 Though Cardin didn't design the estate, the Bubble House looks as though it could have been one of his creations. In 1954, Cardin introduced his iconic bubble dress, a streamlined ensemble with the hem gathered at either side, creating a "pouf" shape in the full skirt. Throughout the 1960s, Cardin would become known for his ultra-mod clothes. In addition to designing dresses that faintly resembled space suits and were paired with helmet-type hats, Cardin also created costumes for the television series The Avengers in the late 1960s.
Circles and spheres are everywhere in Cardin's designs, from the rounded shapes of his skirts to the patterns on the fabric he used.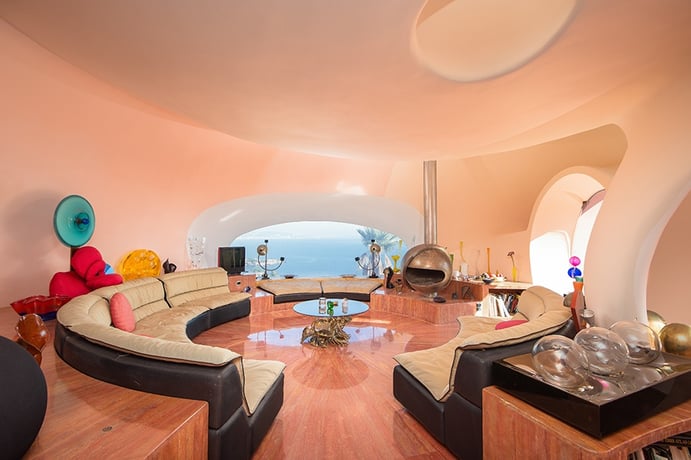 The Bubble House is as spectacular outside as it is inside due in part to its ideal location on two acres overlooking the red cliffs of the Esterel Massif in Théoule-sur-Mer. Palm trees and beautifully manicured grounds with native plants and flowers surround the estate.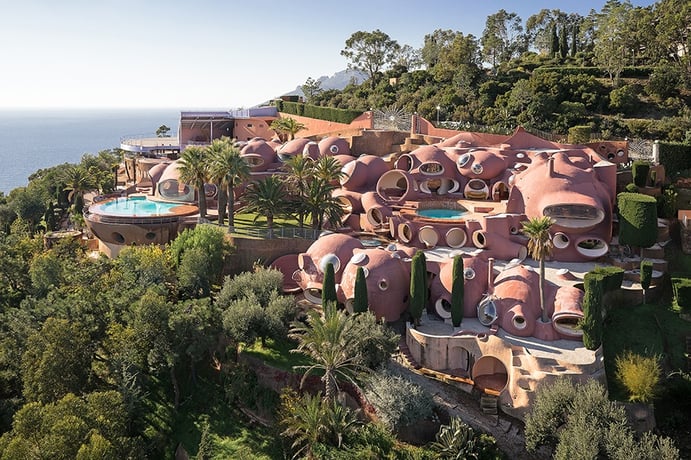 The Bubble House could never have been constructed using traditional methods due to its unusual shape. Rather than erect a wooden frame, builders used a series of round mesh shells that were fixed in place with metal rods. Concrete was poured over each section, forming the seamless bubbles that shape the home's 28 rooms. Every room is decorated in a different color palette, and each round bed has custom-fitted linens.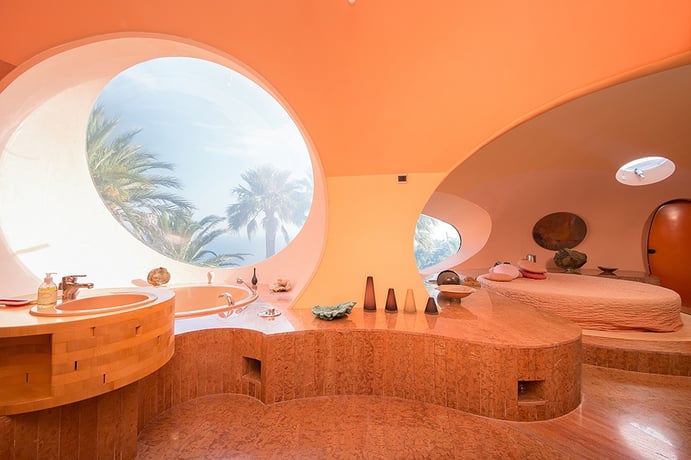 The oval and round windows and doors of the Bubble House frame views of the gardens and the Bay of Cannes with their own quirky geometry. Outside the Bubble House, a semi-circular amphitheater which seats a crowd of 500 overlooks the water.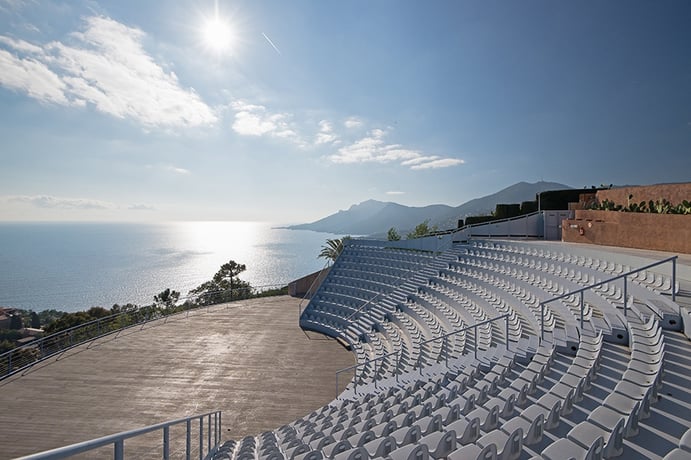 In a house with no right angles, there are no flat surfaces on which to hang traditional works of art. But when a house is a work of art that happens to be located in the south of France, a dazzling view or architectural feature is visible at just about every turn.