Owing to its colorful history and long lineage, Castle Po in Italy's Piedmont region is like the architectural equivalent of a hybrid flower. It comes by its Renaissance ties honestly, but it's actually a 19th-century mansion. The parcel of land on which the castle stands was mentioned in writing as early as 1019. The original structure was destroyed in 1705 after surviving hundreds of years of invasions. Castle Po's strategic hillside position made it an object of desire for invading armies and members of the Italian nobility alike. In 1835, while the property was owned by the Counts of Ceriana, a new home was built on the site using drawings by 18th-century architect Nicolis di Robilant.
In the 20th century, Italian industrialist Virginio Bruni Tedeschi purchased Castle Po and made the estate his family home. Tedeschi's grandchildren—including Carla Bruni-Sarkozy, the former first lady of France—would grow up in the castle. Bruni-Sarkozy started modeling at the age of 19, working for fashion houses like Chanel, Dior, Sonia Rykiel, and Yves Saint-Laurent, among many others. She began her acting and music career in the late 1990s, and returned to her native Turin to perform in the opening ceremonies for the 2006 Winter Olympics.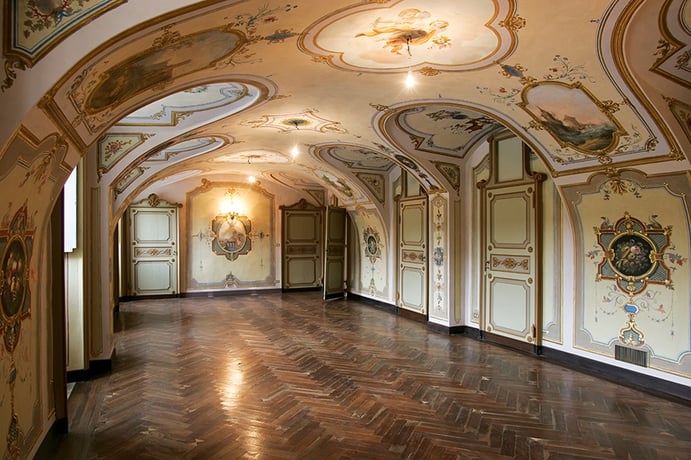 Intricate marquetry, frescoes, gilding, and ornamental plaster give its interior a dose of 18th-century Rococo flair.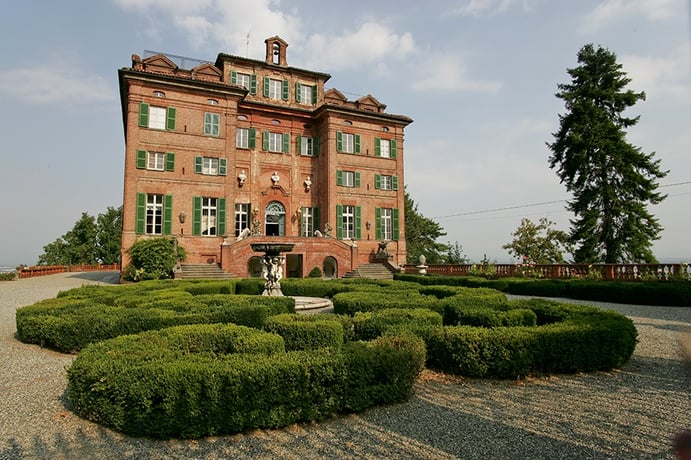 The most recent architect to work on Castle Po, Ernesto Milano (1792-1869), added Gothic touches to the interior. Much of the interior was also embellished by prominent 19th-century Piedmont artists Francesco Gonin and Constantino Serano.
The grounds of Castle Po are home to orchards, vegetable gardens, exceptional greenhouses, terraces loaded with flowers, a caretaker's cottage, and a farmhouse. An English-style park and nature preserve surround the property.
The Bruni Tedeschi family made Castle Po an artistic salon, offering the estate for exhibitions and cultural events. They also worked to preserve and restore much of its interior detail. Wood paneling, elaborately decorated fireplaces, and an exquisitely carved marble staircase are all original.
Today, Castle Po is modern in all the ways that count: new heating and plumbing systems, fully updated kitchens and bathrooms, and elevators that hum along while the interiors transport visitors back centuries. The estate has 21,500 square feet of space and a multitude of options for entertaining on a small or grand scale. Its elevated perch presents spectacular views of the surrounding Turin hills, while mature trees across nearly 175 acres of countryside provide both seclusion and pristine vistas.