Architectural genius manifests itself in extraordinary ways in these seven homes by leading architects and interior designers. Their visions encompass a light-filled apartment on the Manhattan skyline, an airy lodge perched on a Telluride mountain slope, and an opulent Tangier cliffside villa as part of a Moroccan seascape. Imagine, too, a cool, pink-pastel urban retreat in Mexico City, built to pamper its residents, whether human — or horse. Each of these unique homes embraces its environment, melding glass with light and air, and stone with earth and water. Envision yourself in these surroundings, inhabiting a living work of art.
Contemporary Mountain Estate
Telluride, Colorado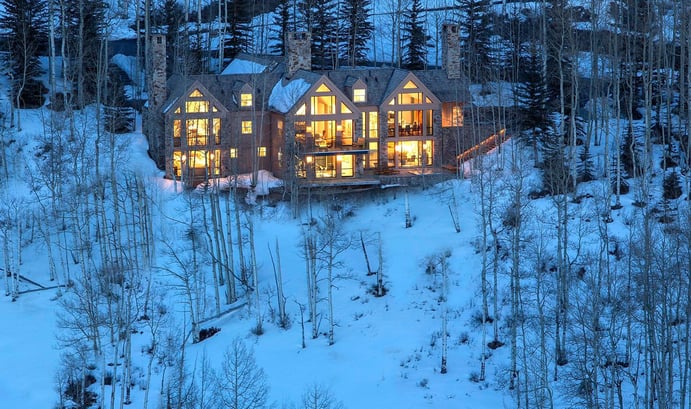 Architect Hugh Newell Jacobsen's creation is a convergence of innovative architecture, spectacular views, and a coveted location — on 2.8 acres of wooded grounds, within minutes of the historic Old West town and top-ranked ski resort of Telluride. The architect, renowned for his pavilion-style residences, has integrated a contemporary, 4,644-square-foot floor plan allowing for fluid movement throughout. The residence is distinguished by floor-to-ceiling windows and balconies that frame views of the surrounding mountain peaks. With five bedrooms and four and one half bathrooms, the private quarters provide comfort and ample space for residents and their guests. The tranquil outdoor spaces are enhanced with expansive patios and a spa deck from which to relax under the clear Rocky Mountain skies.
Khakum Wood Estate
Greenwich, Connecticut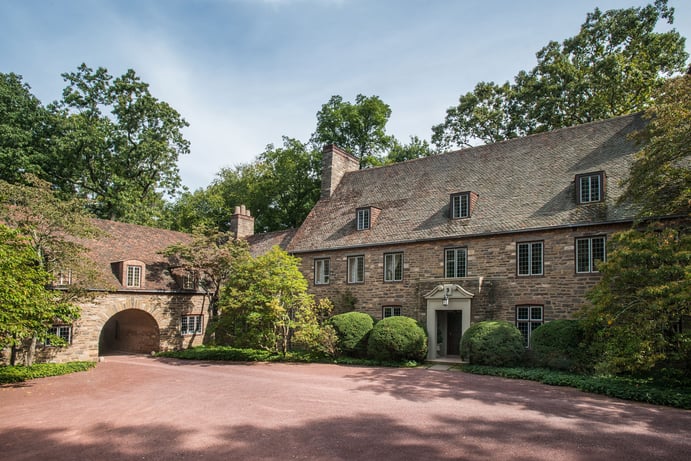 This stone manor house is a Greenwich landmark by H.T. Lindeberg (1879–1959), a prominent American architect whose notable works include the U.S. embassy in Helsinki and some of the finest country houses in the United States. A sweeping driveway, walled courtyard, and beautiful limestone portico provide the first glimpse of this grand estate. The English sitting hall has a terrace and barrel-ceiling hallway leading to a magnificent living room with a fireplace with an antique, carved stone mantel and chestnut cathedral ceiling. Other classic architectural notes can be seen in the dining room, paneled library, and billiards room. Luxurious touches abound in the master suite and the gourmet kitchen, which overlooks the beautiful grounds. Authentic period details such as the finest plasterwork, old-growth wood floors, and leaded-glass windows speak to the impeccable pedigree of this estate.
Cuadra San Cristobal
Mexico City, Mexico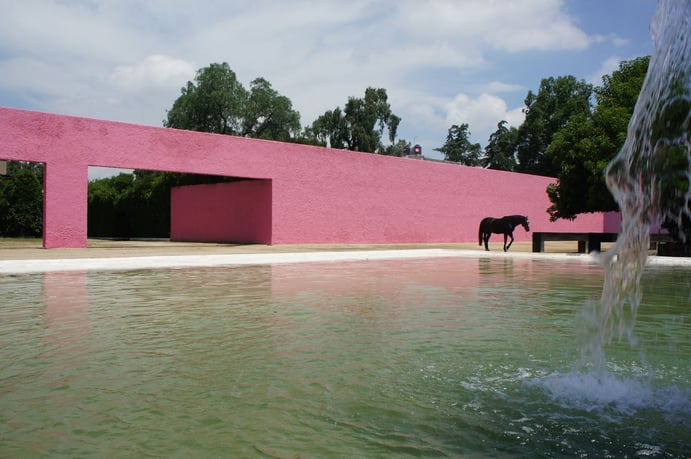 Designed by Pritzker Prize–winning architect Luis Barragán, Cuadra San Cristobal is a triumph of geometry and the genius of simplicity. Throughout the 7.5-acre estate, fountains and serene azure tones contrast against the earthen terracotta, crisp white and pink hues of the exterior walls. The construction of stables within the grounds reflects the owners' belief that horses, like the human inhabitants, should roam throughout the space. A smaller pool exists for the residents; a larger one is dedicated to equine guests. In the main house, floor-to-ceiling windows invite sunlight and vistas of the lush and precisely landscaped grounds. The interior offers 2,493 square meters of space, with four bedrooms and five-and-a-half bathrooms, as well as living areas on the first floor.
Luxury Family Compound
Bozeman, Montana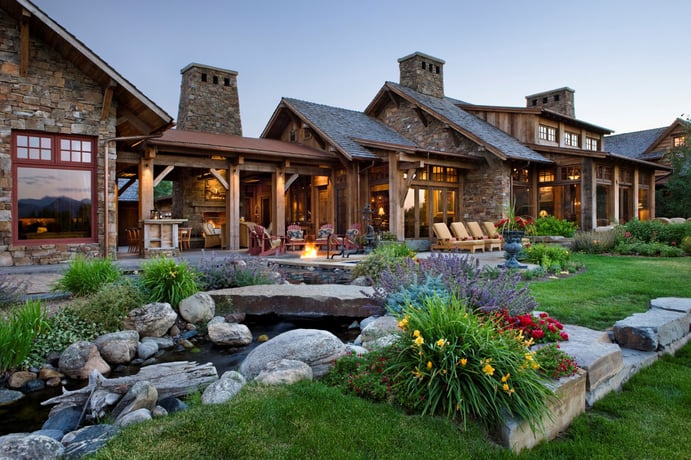 The private compound of award-winning Bozeman architect Jerry Locati, this spectacular Montana home connects the built environment with the natural landscape. Locati designed this unparalleled 21-acre estate, composed of a 7,929-square-foot main house, a 1,943-square-foot guest house, and the ultimate "man cave," for luxurious four-season living for all members of the family. The interior spaces abound with timber frame and reclaimed wood to create a sophisticated yet rustic ambience. There are all the expected luxury amenities — wine cellar, gourmet kitchen, and master suite — and more unusual ones, like the theater and stage. Seamless transitions from inside to outside are key tenets of this home, which features more than 1,200 square feet of heated, covered outdoor entertaining patios with two fireplaces, plunge pool, and fire pit. A recreation lake and golf and archery ranges complete one of the finest estates in Bozeman.
One Beacon Court
New York, New York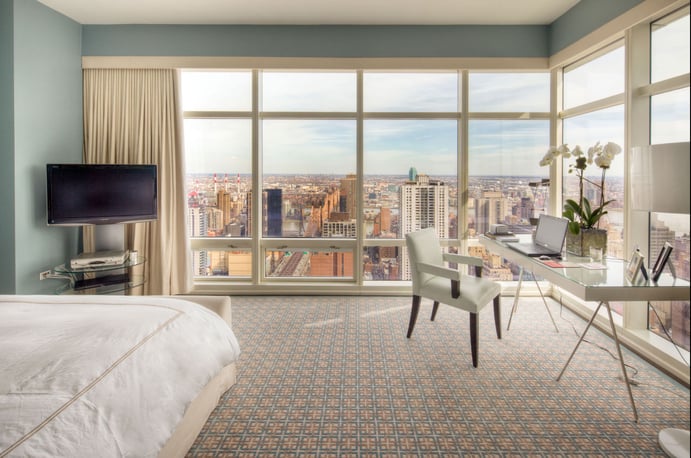 This luxury apartment offers panoramic city and East River views from its lofty position in one of New York City's tallest buildings, One Beacon Court. Completed in 2005, with interiors by revered French designer Jacques Grange, this apartment was decorated by New York interior designer Richard Mishaan and featured in his book "Modern Luxury." It boasts floor-to-ceiling windows, two en suite bedrooms, and a contemporary Poggenpohl kitchen. At its entrance, One Beacon Court hosts a grand private drive and courtyard. The building amenities include a 24-hour doorman, global concierge service, bellmen, garage, and valet parking. On the 29th floor, the Beacon Club includes a fitness center, entertainment suite, kitchen, children's playroom, and a high-tech business center. La Cirque restaurant is directly across the courtyard, Bloomingdale's is across the street. This prized Midtown location offers direct access to New York's finest shopping and restaurants: La Cirque restaurant is directly across the courtyard and Bloomingdale's is just across the street.
Villa Putman
Tangier, Morocco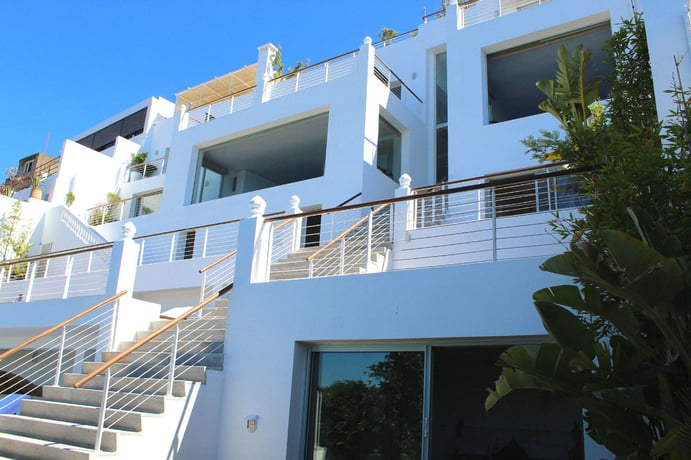 Overlooking the Mediterranean Sea from a cliff above the Strait of Gibraltar, this unique Tangier villa is one of only four homes by the celebrated late architect and interior designer, Andrée Putman, renowned for her work designing boutiques for Yves Saint Laurent and Thierry Mugler. Completely restructured and designed by Putman in 2001, the villa's spectacular clifftop location allows for unforgettable 180-degree maritime panoramas. A flowing 6,200-square-meter floor plan opens to expansive terraces and sweeping coastal vistas from all six levels. Floor-to-ceiling windows frame the sunlight and vistas of the deep blue sea beyond. The extraordinary appointments include a top-floor master suite, a beechwood kitchen, a cliffside passage with a shower room and wellness center, and a sunbathing terrace with an infinity pool, which complements the extraordinary seascape immediately below.
Classic Hamptons Estate
Water Mill, New York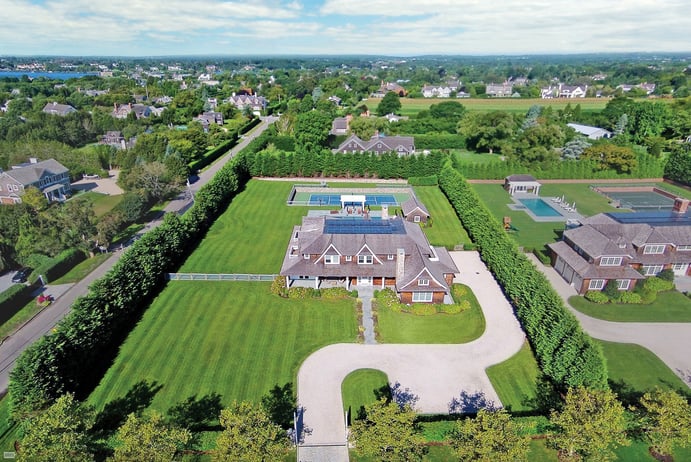 This Hamptons estate's traditional gabled, shingled facade harks back to the grandeur of summers past, yet its interior spaces display contemporary style, quality, and luxury. The 9,000-square-foot, seven-bedroom, eight-and-half-bathroom residence is turnkey-ready with interior design and furnishings by the highly sought-after New York architect and designer Campion Platt. A double-height paneled foyer introduces the open-plan living spaces. Other highlights include a formal living room with fireplace, family room, formal dining room with screen porch, and dream kitchen with custom Christopher Peacock cabinetry. Residents will relish the privacy of the master suite with its own balcony overlooking the grounds, the fully equipped gym, and enjoy entertaining in the theater and billiards room. Set within nearly two manicured acres with such resort amenities as an oversized gunite pool and sunken tennis court, this home promises the classic Hamptons lifestyle.