For the discerning homebuyer, a home in a cultural capital is a must-have addition to a ­­­luxury property portfolio. A city residence can mean many things to many people: access to the finest shopping, Michelin-starred restaurants, world-class entertainment, or iconic views. For the art connoisseur, the city lifestyle has one major advantage over all others: living on the doorstep of one of the world's greatest museums. Because a contemplative walk through the Beaux-Arts grandeur of the Musée d'Orsay, the limestone sanctuaries of Museum Mile, or the marbled halls of the Vatican Museums are adventures best completed by retiring to the serenity of a beautiful residence. Here, we showcase seven homes in seven cities, each merely moments away from unparalleled cultural treasures.
Contemporary Masterpiece in Bel-Air
Los Angeles, California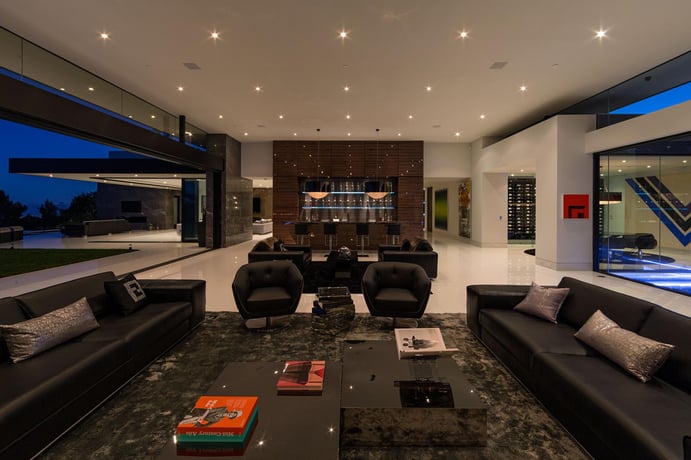 A contemporary masterpiece with jetliner views of the City of Angels and the Pacific Ocean beyond, this luxury haven in Bel-Air is the ultimate California Dream. With a striking, sleek design, this home's other calling card is its prized location: on one of the Platinum Triangle's most coveted streets — just 10 minutes' drive from The Getty Center, with its inspired architecture and eclectic collection of art. The property was designed by renowned architect Paul McClean with a dramatic open floor plan that gives residents space to relish all the home has to offer, including eight bedrooms, 12 bathrooms, and such five-star amenities as a wine cellar, gym, home theater, auto gallery, and infinity pool.
Sky-High Apartment in Grant Park
Chicago, Illinois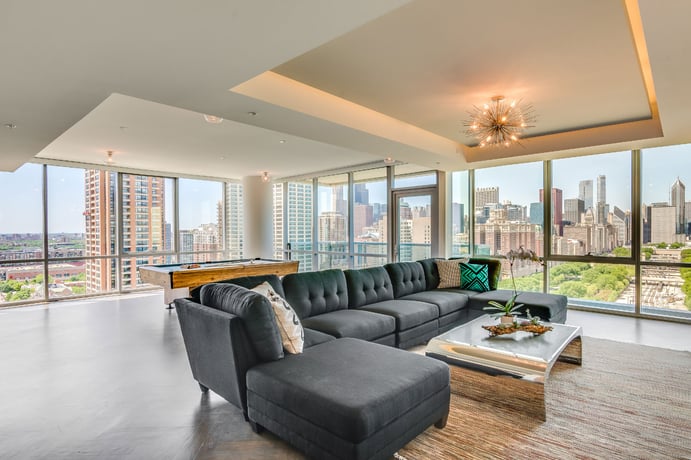 The Windy City, known for its dedication to cultural and recreational activities, is home to The Field Museum of Natural History, one of the best science museums in the United States. For those who prize such assets, this magnificent condominium offers jaw-dropping views of Grant Park, Lake Michigan, and the Chicago skyline. With five bedrooms, five bathrooms, and nearly 6,000 square feet of floor space, this home is perfect for those who require both luxury living and a thriving city culture at their fingertips. Outfitted with an Ernestomeda custom kitchen, Wolf/Subzero appliances, and wide plank herringbone floors, this condominium includes two parking spaces, plus an optional third. The Shedd Aquarium and Adler Planetarium are also close by, for those seeking family adventures.
Modernist Apartment in Museum Tower
New York, New York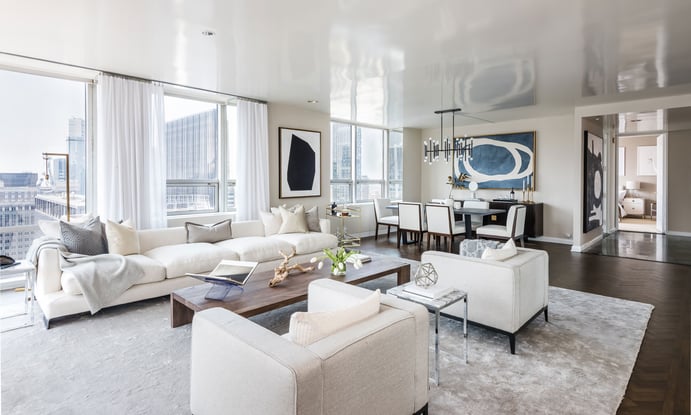 For connoisseurs of culture, style, and iconic views of the New York City skyline, this sophisticated residence on the 50th floor of the renowned, full-service Museum Tower, above Midtown Manhattan, ticks all those boxes and more. The luxury condominium has a landscaped terrace overlooking the neighboring sculpture garden of The Museum of Modern Art, plus a gracious marble entrance gallery leading to a stunning oversized living room. Floor-to-ceiling corner windows frame glorious west and south exposures overlooking Rockefeller Center and extend to the Hudson River and lower Manhattan. The residence also features two generously proportioned en suite bedrooms, located at opposite ends of the apartment for maximum privacy.
Grand Apartment in Stureparken
Stockholm, Sweden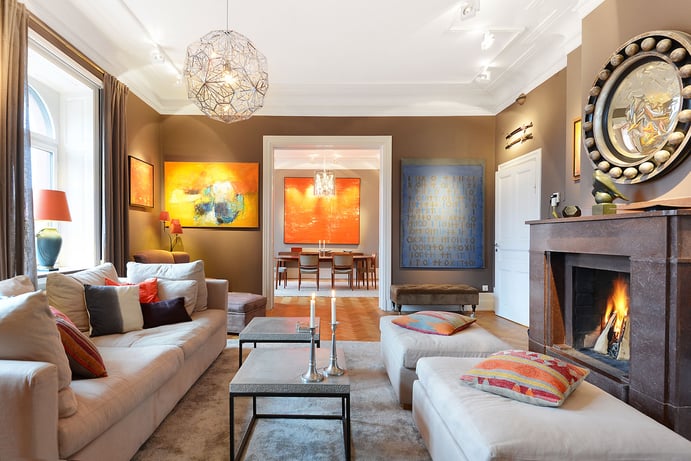 This stylish apartment—which overlooks leafy, petite Stureparken—is located on the top floor of a grand, completely refurbished 19th-century building, providing the best of historic and contemporary Scandinavian living. A luminous residence with breathtaking views of downtown Stockholm, the home is located near the Vasa Museum, which celebrates Swedish history and craftsmanship via a salvaged 17th-century warship. The apartment's exquisite salon and dining room each boast their own fireplace and are served by a beautiful gourmet kitchen. Residents can feel at ease with the high level of security, which includes an advanced alarm system in a CCTV-monitored building. Three lovely bedrooms and two elegant balconies complete this delightful residence.
Renaissance Penthouse
Rome, Italy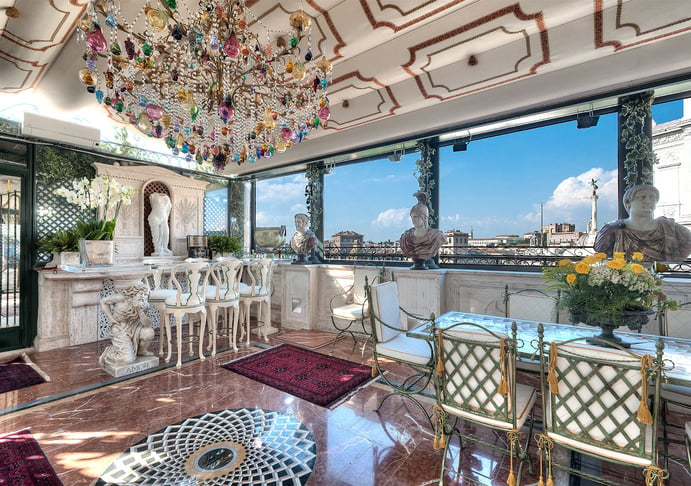 In the heart of the Eternal City, this magnificent Renaissance residence is located just six minutes' walk from the treasures of Capitoline Hill (the world's oldest museum), and a leisurely stroll away from Vatican Museums and the splendor of the Sistine Chapel. The three-story, 3,767-square-foot penthouse resides within a 15th-century palace overlooking the Piazza Venezia, the Santa Maria in Ara Coeli, and the National Monument of Victor Emmanuel II. The home has been restored by architect Carlo Fontana with an eye to contemporary living. The master suite features a sumptuous bedroom with dressing area and two large bathrooms; a grand staircase takes residents to the formal reception area, composed of a sequence of gracious halls. The top floor houses the main kitchen. Five large terraces with glass-enclosed garden rooms provide a beautiful venue for year-round entertaining or another place to contemplate the view.
Elegant Residence on Esplanade des Invalides
Paris, France
With a view extraordinaire of both the Eiffel Tower and the dome of Les Invalides, this exceptional first-floor apartment on Esplanade des Invalides is surrounded by the glorious gardens of the historic 7th Arrondissement. A short stroll brings residents to The Musée d'Orsay, home to the definitive collection of Impressionist masterworks, or to the magnificent Alexandre III bridge crossing the Seine. In the City of Lights it can be no surprise that this home's beautiful entrance hall opens onto a magnificent living area bathed in sunlight from three immense windows. Perfectly maintained, and with lift access, this gracious home embodies iconic Parisian elegance.
Villa Alsberg
Amsterdam, Netherlands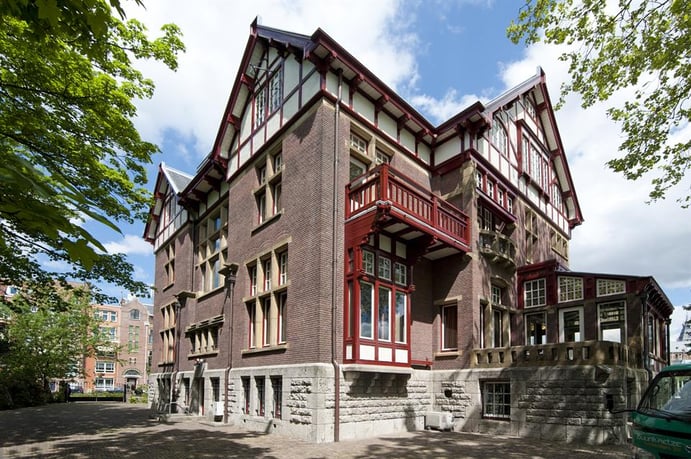 Villa Alsberg is a stately mansion and designated national monument encompassing nearly 13,500 square feet on Amsterdam's famous Museum Square, home to the Rijksmuseum, Stedelijk, and Van Gogh Museum. The residence was built in 1904 by Ed Cuypers, nephew of the illustrious Dutch architect Pierre Cuypers (1827-1921), whose famous works include the Rijksmuseum and Amsterdam Central Station. After an intensive restoration, the five-story residence has been updated and restored to its original grandeur. The restoration, guided by Cuyper's original drawings and photographs from the Amsterdam City Archives, included the installation of over three hundred stained-glass windows — resulting in a perfect home for those who revel in history and artistic detail.