Kyoto was the capital of Japan—and its cultural, spiritual, and imperial heart—from 794 to 1868, and part of its inexhaustible charm lies in the fact that the past rides in tandem with the present. While Michelin-starred restaurants and designer shops line the streets, "old" Japan is alive in the ancient places of worship, Zen gardens, and teahouses that continue to define the city.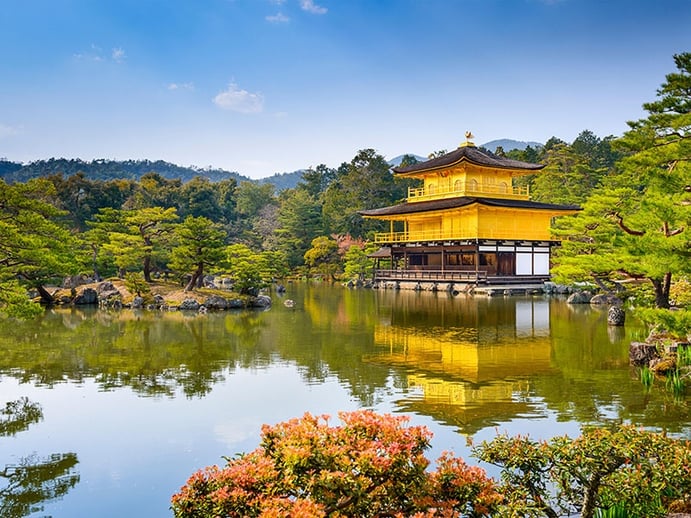 Kyoto is home to some 1,600 Buddhist temples and 400 Shinto shrines, among them the world-famous Kinkaku-ji and Ginkaku-ji (the Golden and Silver Pavilions). Both sit in exquisite landscapes, offering opportunities for quiet contemplation, even among their visitors. Close to the Four Seasons Hotel Residences, on Mt Otowa is the 1,240-year-old Kiyomizu-dera Temple, one of Japan's most celebrated UNESCO World Heritage Sites. Its many treasures include the 11-headed, 42-armed Kannon Bodhisattva—the goddess of compassion—and a remarkable stage, constructed without using a single nail.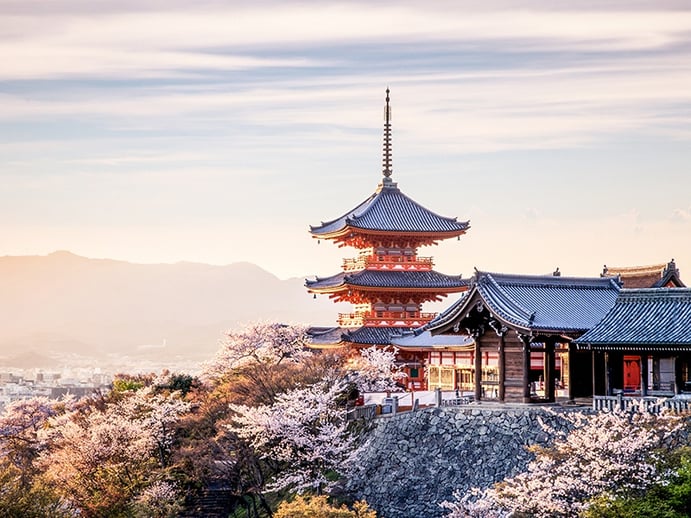 Kyoto is as famous for its Zen gardens—or karesansui (meaning dry landscape)—as for its shrines, and Ryoan-ji is considered by many to be Japan's finest. Two more magnificent gardens are 800-year-old Shakusuien, within the grounds of the Four Seasons Hotel Residences and mentioned in Japan's renowned epic poem, The Tale of Heike, and Sanzen-in, where laughing Buddha statues pop up from the mossy ground.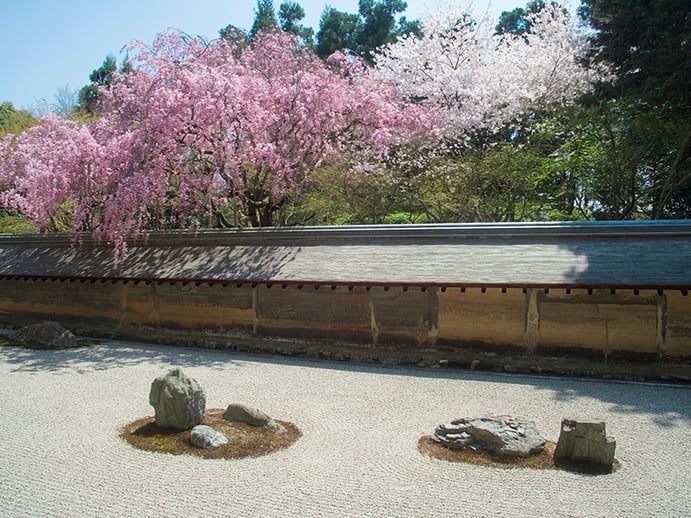 The city also famously boasts a still-functioning geisha district, Gion. Here extravagantly dressed geisha and maiko (geisha apprentices), can sometimes be glimpsed going from one ochaya—teahouse—to another to entertain guests.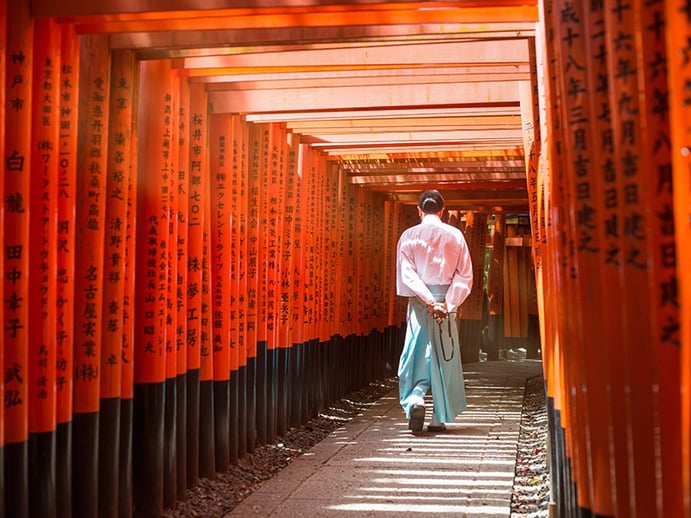 Nature obviously has fun in Kyoto, and the city is a pleasure to visit at any time of the year, but the cherry blossom (sakura) and autumn leaves (koyo) seasons elevate that pleasure to euphoria. Photographers arrive to capture the pinks, golds, and reds, but nothing comes close to witnessing the real thing. Watching people celebrate sakura, through the centuries-old practice of hanami—picnicking beneath the cherry-blossom trees—is a delight in itself.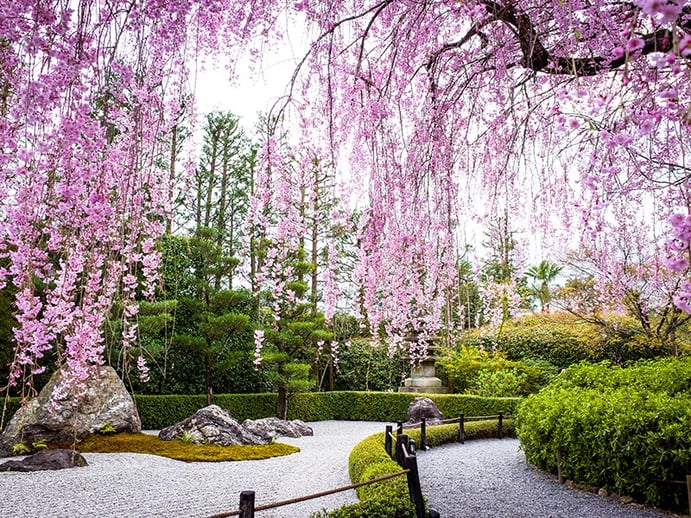 Instagrammers also love the Arashiyama Bamboo Grove, whose path is lined on both sides by soaring bamboo stalks. Hire a jinrikisha (rickshaw) to take you along it and enjoy the view.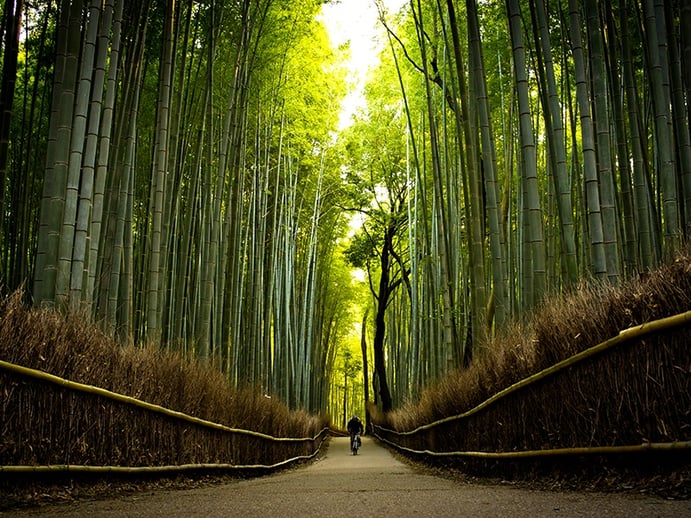 Kyoto likes to celebrate, and traditional pageants that date from ancient times are held throughout the year. At Daimonji, the culmination of the Obon festival, gigantic Japanese letters are set on fire, signifying the departure of the dead—who've come to celebrate with their families—back to the spirit world. Far, far bigger than this, however, is the month-long Gion Matsuri, which, with its colorful floats, eclipses all else.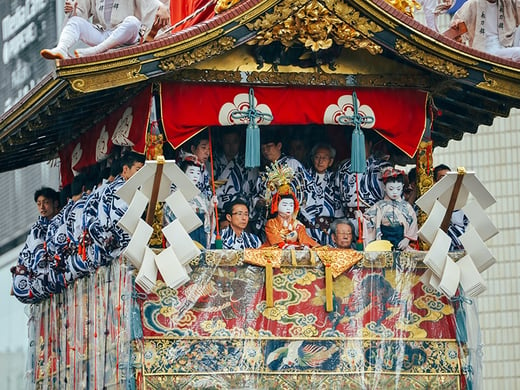 Tradition has also shaped Kyoto's dining scene. Teahouses and old-style noodle bars abound, but there are also limitless opportunities for fine dining, with many restaurants specializing in kaiseki ryori, a multi-course feast that emphasizes subtlety and seasonality. For Michelin-starred excellence, try the Four Seasons Hotel's Sushi Wakon, the 400-year-old Hyotei, and the three-starred Kikunoi in Higashiyama. Established a century ago, it is now headed by the third-generation owner-chef Yoshihiro Murata, a Gendai no Meiko (Contemporary Master Craftsman) of kaiseki cuisine.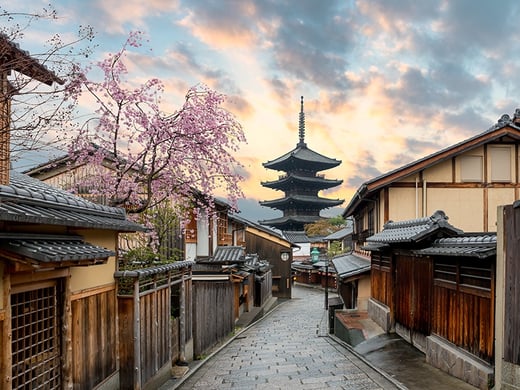 For upscale shopping, head to Shijo, which is lined with designer and department stores, among them Daimaru and Takashimaya, Gucci, Louis Vuitton, and Bottega Veneta. But take a detour away from the high street and a more authentic retail experience can be found in the tiny local markets and shops hidden down the city's narrow alleys, and in Nishiki Market. Known as Kyoto's Kitchen, this five-block-long street is packed with food and food-related stalls.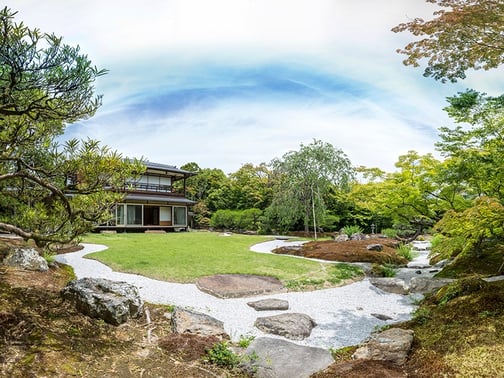 Kyoto's perennial popularity as a year-round destination for international and domestic visitors has resulted in it becoming one of Japan's most accessible cities. Direct bullet train services from Tokyo, Osaka, and other cities take you into its center. International visitors flying into the capital can be there in less than 2.5 hours, so there's nothing to stop you. You could be there in time for the cherry blossoms…