Stretched out on a secluded band of shoreline at Barnes Bay in Anguilla's West End lies Cerulean Villa. Luxurious and elegant, the continental-style masterpiece is enveloped by lush landscaped gardens.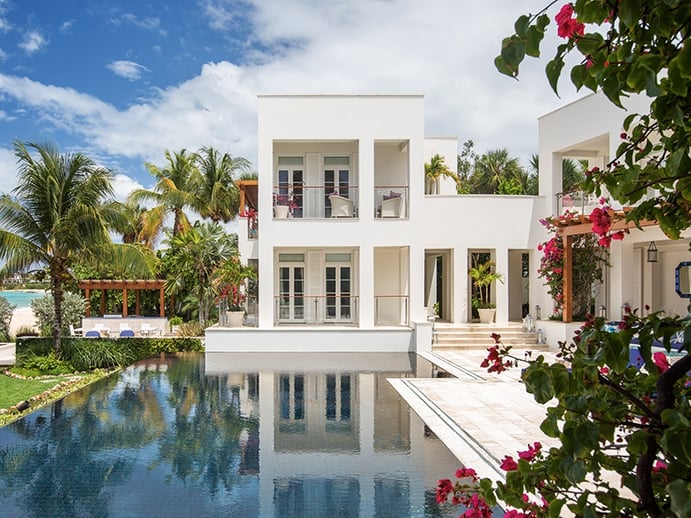 "Cerulean personifies contemporary living on the beach. Good-looking and well designed, it makes a terrific home and is ideal for year-round entertaining," says Rick Moeser, Executive Director at Christie's International Real Estate. "Much like the island itself."
From the pool, it's just a few steps across the lawn to the beach
Built in 1996 as a rental home, and regarded as one of the island's first super-villas, the property was bought by a returning guest and completely renovated in 2010 by its original architect, New York-based Deborah Berke Partners.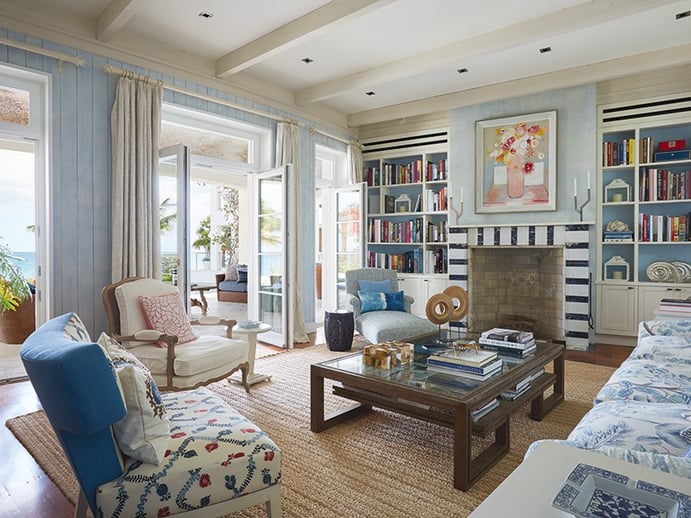 "The finished property has interior colors reminiscent of the Greek islands. It is so well laid-out, warmer, and more interesting than an ultra-modern property," says Bruce Hearn, Cerulean Villa's estate manager. "Cerulean was one of the first of the island's large houses to use such a look and is now considered a style leader."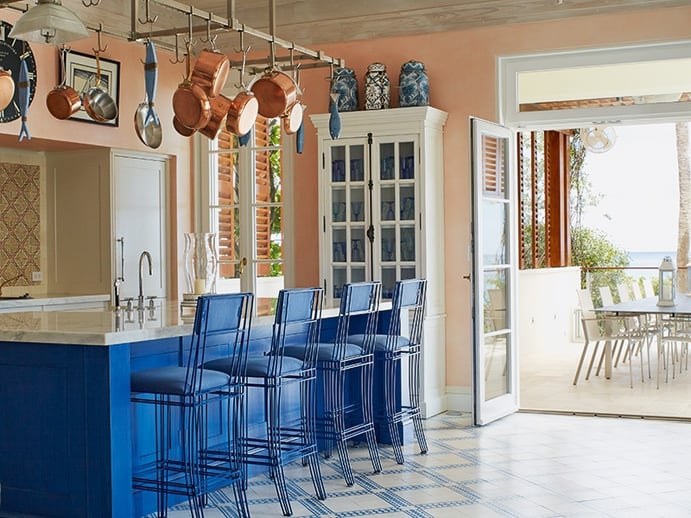 At two acres and with nine en suite bedrooms, plus three more for staff, Cerulean is more "estate" than "villa"—although tropical foliage camouflages its size. The entrance is through large wooden gates, framed by stone pillars, that lead into a courtyard. Broad steps made from coral slabs punctuate tiered green lawns, landscaped with color-pop plants, trees, and flowers.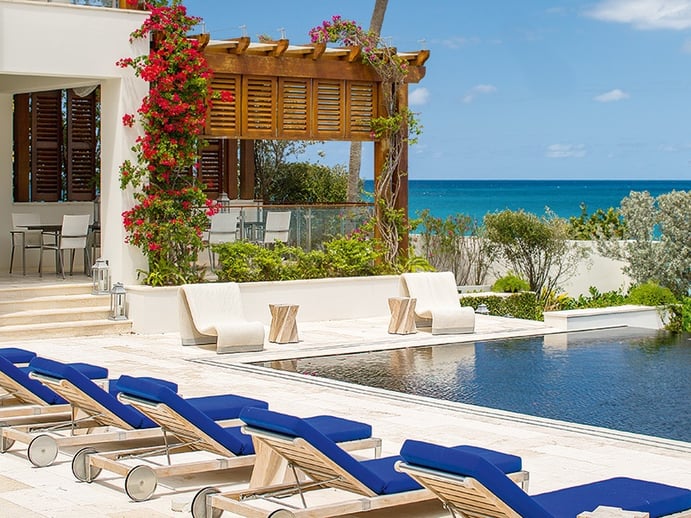 At the main building, wooden doors open out to an expansive patio through a barrel-ceiling loggia to open decks and a 50-foot infinity-edge pool, the focal point of the property. Beyond the pool, the beach and the warm, still waters of the Caribbean beckon. "From the pool, it's just a few steps across the lawn to the beach," Hearn says.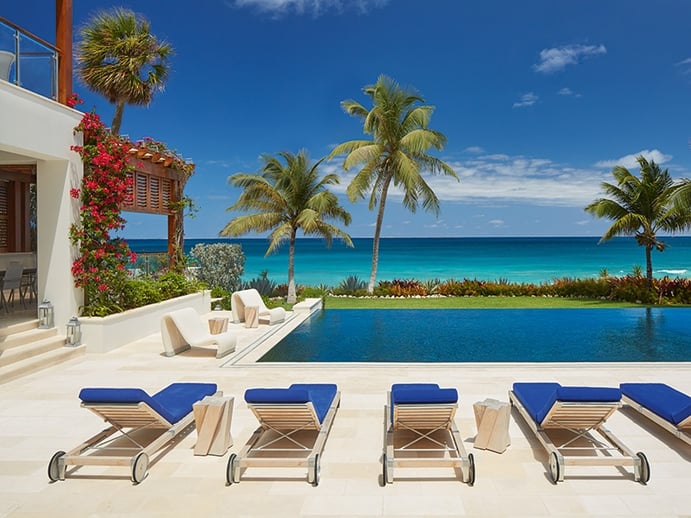 "Anguilla is known for its beaches, and here you have one as an extension of the villa's backyard," Moeser says. "The design has allowed the beach to become part of the property. Cerulean is a totally chilled experience."
The magic of Cerulean is that a property so capacious and so grand can still feel so intimate. "We had to have spaces that are small and cozy, gardens that are lush and provide shade and privacy, and lighting at night that felt intimate," architect Deborah Berke says.
In contrast to the villa's clean lines and all-white exterior, the interior is a bounty of blue, pattern, and texture
There is nothing rambling about the villa, just a natural flow from indoors to outdoors. There are few internal hallways, with open staircases and rooms leading to a terrace or the loggia and pool. "Where once balconies were closed and stucco, we added glass and stainless-steel rails to open up the rooms and add light," says New York-based designer Scott Salvator, who was responsible for the villa's interior look and feel.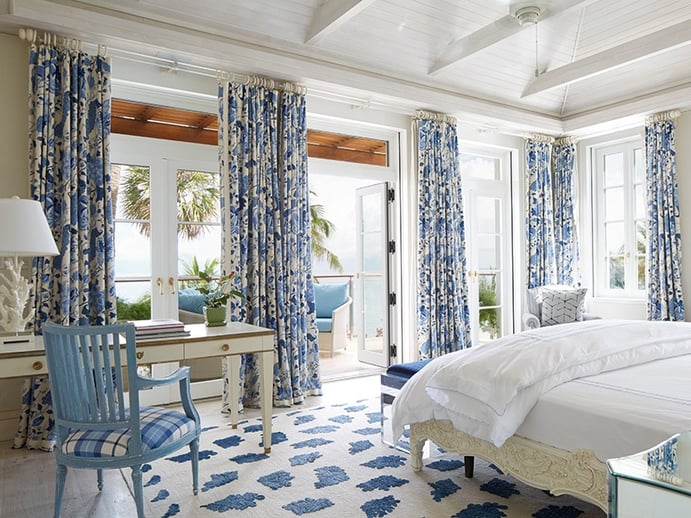 In stark contrast to the villa's clean lines and perfect all-white exterior, the interior is a bounty of blue, pattern, and texture—a potent finish thanks to Salvator's vision and exacting attention to detail. Wooden and stone floors are brought to life with Asian-inspired rugs and contemporary fabrics. Each room is a unique design with custom-made furniture. "We designed every headboard, every sofa, and every chair. We used different sinks, faucets, and vanity units for each bathroom, as well as different marble and custom floors," says Salvator.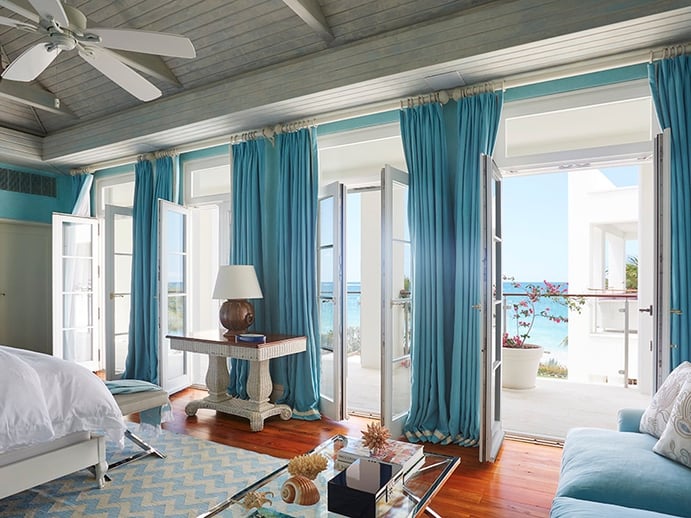 Blue is everywhere, with each of the nine bedrooms a different shade, from pastel to turquoise to deep navy hand-painted walls and a nautical-themed children's room.
"Cerulean blue was a natural starting point," Salvator says. "It might be clichéd but there's a reason—all the blues come from the ocean." There is one exception: a bedroom with painted pink paisley walls and drapes. It is Salvator's favorite. "When you walk in, all you see is the ocean. It's breathtaking. The blue of the ocean against the pink is a great contrast."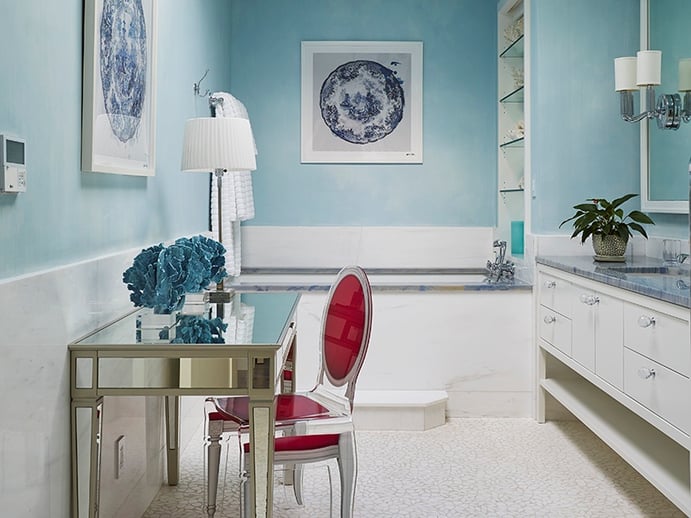 Entertaining and relaxation are amply catered for by a large family kitchen, central sitting room, and dining room with open fireplace. For chilling out, there is a recreation room with a pool table and hand-painted palm trees adorning the walls. For those with sporting prowess there is a tennis court, putting green, gym, and, for post-workout relaxation, a Jacuzzi and spa.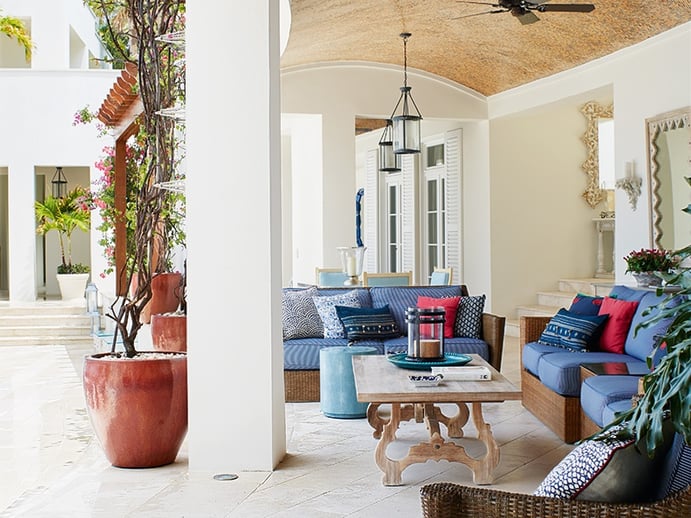 A high-tech, energy-efficient system from Perfect Integration controls surround sound and screens throughout the property, and for a seamless stay there is a state-of-the-art industrial kitchen and laundry; every whim is catered for. "Cerulean is like a yacht," Hearn says. "It needs to be in use. Guests here are treated in a personal way—we add more staff as necessary. It's perfect for families, for kids, and for friends… every guest who has stayed here has rebooked."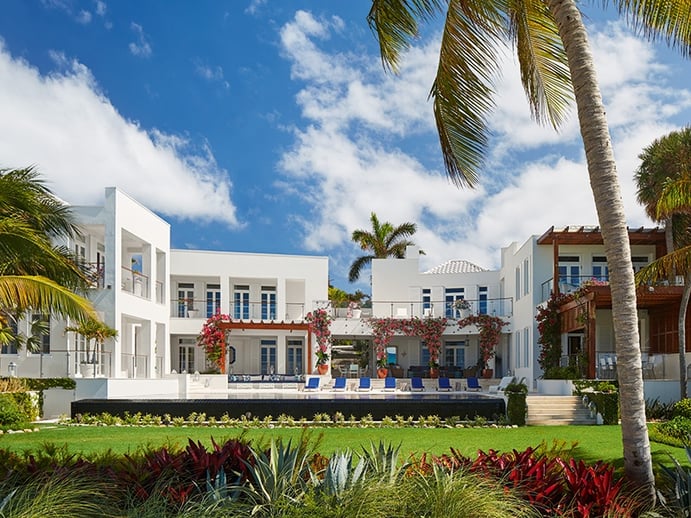 "Cerulean has so much to offer," Salvator says. "It is very unusual for a house so large to have such warmth. It is both cozy and chic—just charming."