Fringed with palms and bathed in balmy turquoise waters, the allure of Bermuda's idyllic coastline is strong. And though this British Overseas Territory might be ringed by treacherous reefs, with infrequent storms breaking an otherwise ever-present blue sky, Shell Point, with its two glorious acres of lushly planted grounds in the community of Tucker's Town, creates a sense of seclusion and safety that is stronger. That feeling is echoed in a secret inscription in the estate's shoreline folly: "Storm tossed, safe at last."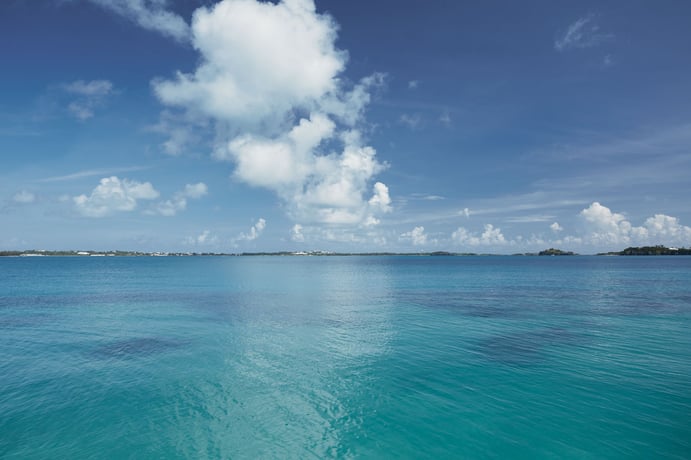 "It's a tranquil haven," says Karin Sinclair of Sinclair Realty LLC, an Affiliate of Christie's International Real Estate, "a truly unique property in an outstanding location." On an island of just 21 square miles, land is at a premium. Yet here there are two full waterfront acres, including a private promontory with deepwater dock, jetty, and boat slipway. And then there's the view. "Shell Point is one of only a few properties that face east across the harbor to the fortified Castle Island, part of the St George UNESCO World Heritage site."
"The sunken walled garden at the home's entrance offers a sunny haven, while maturing olive trees welcome guests at the front door," says Sinclair. The property is "in essence, style, and design, Bermudian." The simplicity of the whitewashed limestone roof and gently scalloped gables plays against more modern touches, with double waterside pergolas that artfully mirror the traditional roofline and lend an air of the contemporary to the estate.
Once inside, the residence will appeal to those who appreciate understated elegance. "In a world of too much plastic and faux finishes, Shell Point's Bermuda cedar windows, shutters, and doors bring a glowing, authentic beauty and warmth to the estate," says Sinclair. "The interior, like Tucker's Town itself, reflects an international perspective, and finishes include English cabinetry, white-painted wood floors, stone fireplace surrounds, and marble mosaics of Moroccan influence."
"Bermuda cedar windows and doors bring a glowing, authentic beauty to the estate," says Karin Sinclair
Located just a golf-cart ride or walk away from the golf, beaches, dining, tennis, and other amenities of the Mid Ocean Club and Rosewood Tucker's Point resort, spa, and club, Shell Point was built in 1948, at a time when horse-drawn carts and bicycles were the most common forms of transport here. There's still a one-car-per-household rule on the island, and the deliciously easy pace of life remains.
PHOTOGRAPHY BY NGOC MINH NGO