Keen skiers, snowboarders, and fans of other winter sports on the hunt for a magical private place where they can invite friends and family, and leave "real life" behind have, to borrow an old saying, never had it so good.
Whether your wintry destination of choice is in North America, Europe, or elsewhere, amenities in today's snow-filled hotspots, both established and emerging, are better than ever, and a new breed of architect is offering sleek, ultramodern properties that are a million miles away from the traditional alpine ski lodge.
And it's not just about snow sports these days. While once lodges were occupied for just a few weeks or months of the year, homeowners increasingly visit for some fresh air and a change of scenery when the snow has melted.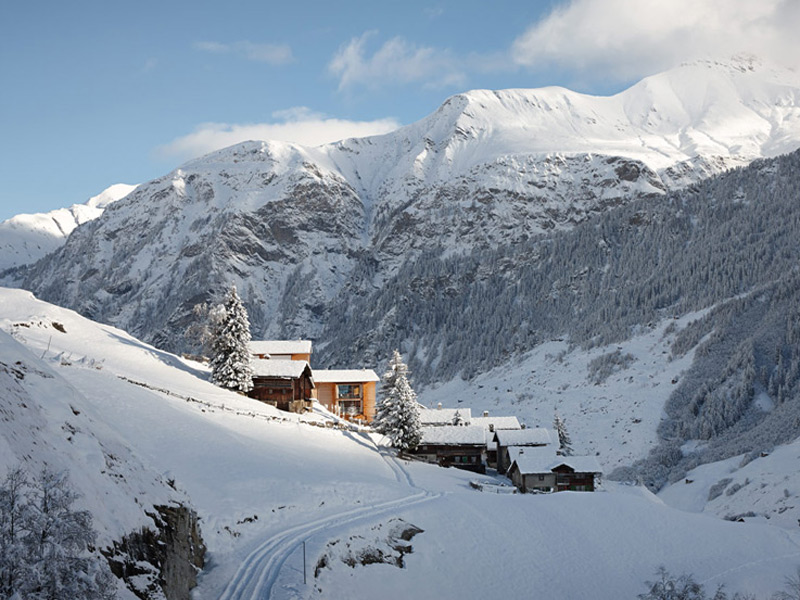 ALTITUDE WITH ATTITUDE
Aesthetically speaking, these sophisticated homeowners prefer a more contemporary, minimal approach to luxury. Which means that mountainsides from Megève to Montana are being dotted with more and more architecturally interesting residences.
With a beautifully designed mountain lodge comes a fabulous sense of escapism
Beauty entrepreneur Aerin Lauder is a case in point and has taken an unfussy approach with her Aspen home, briefing New York practice Daniel Romualdez Architects on the interiors. As well as whitewashing each room and choosing soft furnishings in white, Romualdez selected modern classics such as Hans Wegner's hoop chairs and George Nakashima's angular wooden tables to create a chalet that Lauder has described as "cozy, very casual, very family…"
Architect Jerry Locati has been designing ski lodges in Montana and beyond for the past two decades. In fact, most of the new lodges being built at the Yellowstone Club – a private 13,600-acre estate in Montana, which attracts the top echelons of the entertainment and business industries – are by his company, Locati Architects. Locati has noticed this shift from regional design – "horn chandeliers and something with a chevron design" – to a more international look, with cleaner lines and contemporary furnishings. "It's a breath of fresh air," he says, though his designs will still satisfy those looking for the traditional ski-lodge touches, such as wooden beamed ceilings.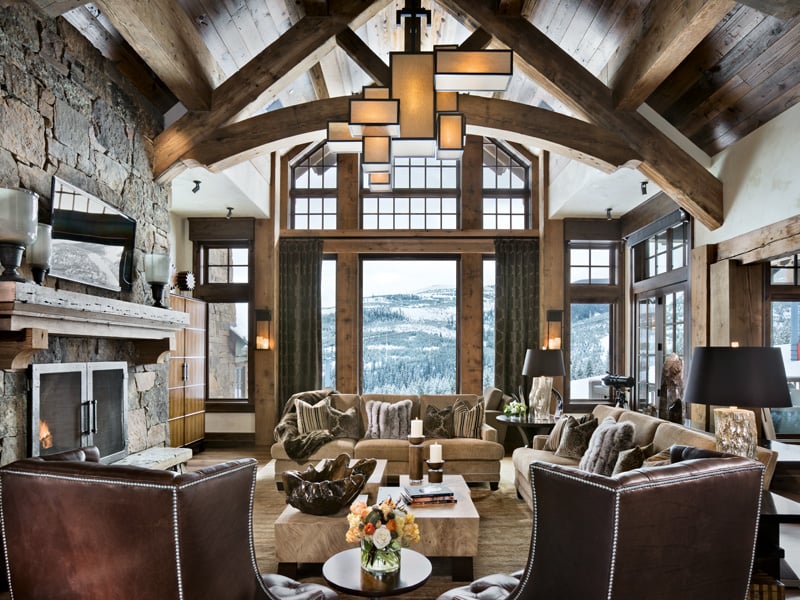 While North America may be picking up on Europe's pared-down aesthetic, its properties retain their long list of amenities and sheer scale, which make them increasingly desirable. Castle Above the Clouds, for example, is an extraordinary property in Stowe, Vermont. Sitting on 15 acres, the home is finished in European and Vermont marble, and boasts a studio-quality theater and indoor swimming pool with spa.
Their style may be more contemporary, but some European lodge builders are now beginning to follow in North America's "bigger is better" footsteps. "The trend in much of Scandinavia has been that the ski lodges have grown larger and more luxurious, with car ports and several bathrooms," says architect Håkon Matre Aasarød of Norwegian architectural studio Fantastic Norway. He adds, however, that "this is quite the opposite of what many Norwegians feel is the essence of the 'winter lodge' culture." Their back-to-basics relationship with the great outdoors, believes Aasarød, better suits a modern interpretation of the "primitive cabin".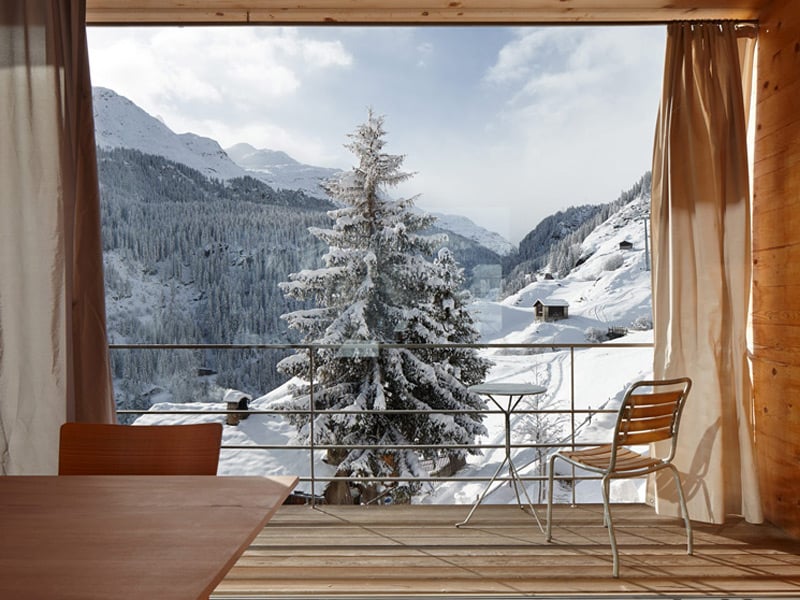 A good example of this is Fantastic Norway's sleek and sparse Mountain Hill Cabin in Sjoga, Norway, whose roof is designed to slope right down to the ground, so that it can be skied over. The architects will follow this with two winter cabins in the Norwegian mountains of Trollheimen. If you are not Scandinavia bound, however, don't worry, as Aasarød points out: "I design cabins not only in Norway, but in Australia, Scotland, Greenland, and Finland these days."
Line Février, general manager of Le Chalet Zannier, a mountain retreat in Megève, agrees with Aasarød that the less-is-more philosophy is increasingly de rigeur. Février explains that "traditional small chalet windows – which make rooms dark – are being replaced by large panorama windows, and open-plan, loft-style interiors are finding favor." This is the look embraced by Le Chalet Zannier's three chalets, private cottage, and wellness center.
ART OF STONE
Similarly, in nearby Saint-Martin-de-Belleville, Chalet Béranger has an interior more akin to the set of a big-budget sci-fi movie than a traditional lodge. Much of the internal concrete and stone has been buffed and left bare, while the few pieces of furniture have been hand-picked or designed by its Parisian interior architect Noé Duchaufour Lawrance – or integrated into the structure.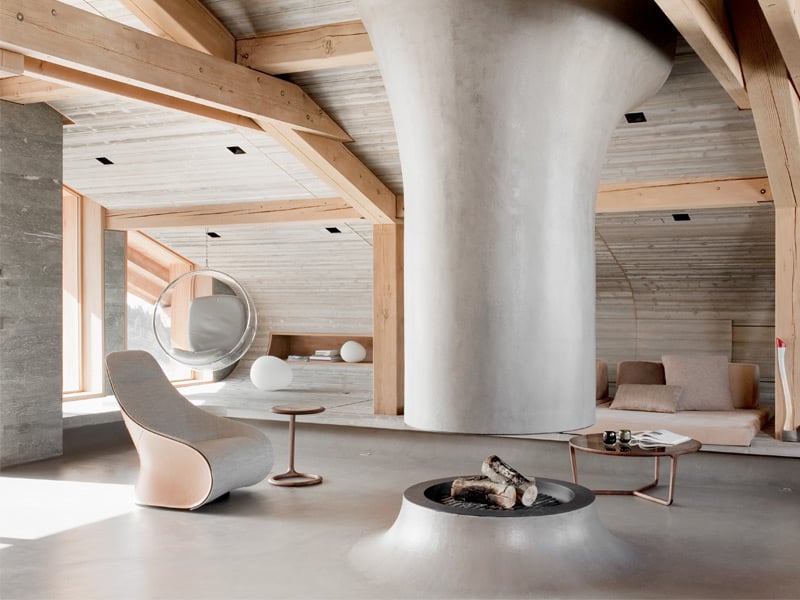 Unsurprisingly, renowned Swiss architect and Pritzker Architecture Prize winner Peter Zumthor has adopted a modern yet sensitive aesthetic in the hills above the Swiss town of Vals, where he has built a lodge for himself and his wife. "Annalisa always dreamed about a wooden house, around 1,500 meters (4,921 feet) above sea level," explains Zumthor. "As a farmer's daughter, she grew up on this level in the lower Engadin valley and says that she feels best at this altitude."
The Zumthors' Oberhus sits alongside rental properties Unterhus and soon-to-be-completed Türmlihus. These last two, also designed by Zumthor in solid wood, have furniture and lighting by Baltensweiler, Rodolfo Dordoni, Antonio Citterio, Warren Platner, Eero Saarinen, and Zumthor himself. "The houses seem old and contemporary at the same time," Zumthor adds.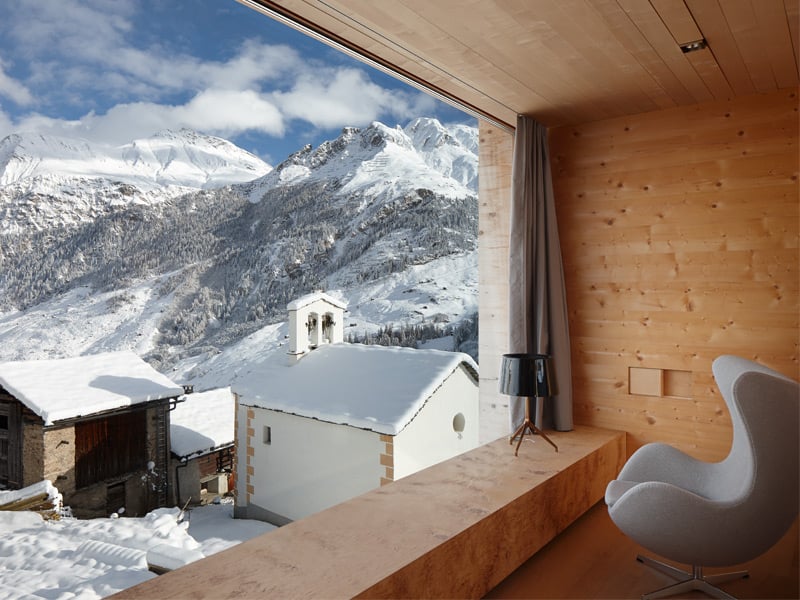 With a beautifully designed mountain lodge comes a fabulous sense of escapism. For the members of the Yellowstone Club, it's an escape from the public gaze. For those lucky enough to be granted planning permission in one of Norway's restricted areas, it's an escape from 21st-century creature comforts, as neither a connection to mains water nor to electricity is allowed. However, according to Aasarød, these "primitive" conditions allow people to be "disconnected from modern life, enjoying simple things such as the light of the fireplace and the quiet sensation of the Nordic landscape."
Whether mountain lovers have a penchant for high-end contemporary comfort or for monastic simplicity, there's an architect out there waiting to create the ultimate high-altitude haven.
Banner image: iStock Photo