Timeless, the Mediterranean Sea's deep sapphire waters, its vivid emerald landscapes and white, windswept shores have brought forth ancient myth and modern legend from Homer to Hollywood. Our Luxury Defined odyssey begins at a Grecian villa overlooking the mythical birthplace of Apollo and ends at a grand palais in the hills above the legendary resort made famous by Brigitte Bardot in the 1956 film And God Created Woman. Along the way, we explore other seaside aeries, from Spain's Costa Blanca and the Balearic Island jewel, Ibiza, to Italy's Emerald Coast and the Tyrrhenian Sea, all with their own captivating views of deep blue waters, punctuated with majestic pine-cloaked hills, sleepy fishing villages, and glamorous beach resorts. At the end of your odyssey, retreat to your coastal haven and gaze at the sea. New legends await you.
Sky Crest
Mykonos, Greece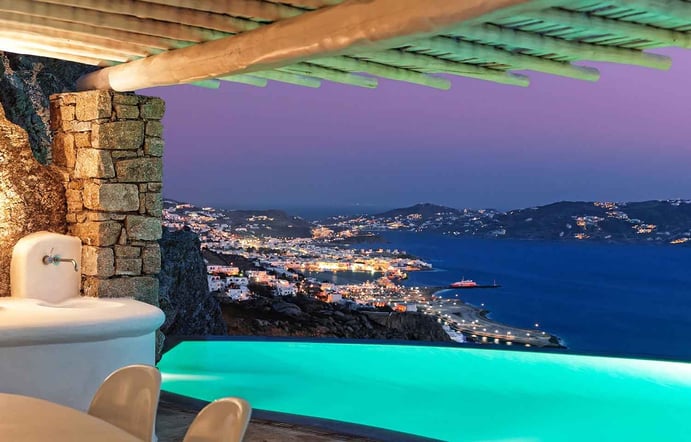 Dramatic yet serene, Sky Crest is a private, clifftop aerie above the new port of Mykonos with breathtaking views of the Aegean Sea and the sacred island of Delos, the mythological birthplace of Apollo. All-white rounded walls and gleaming floors exude cool luxury and create a seamless interior flow, with exposed rock formations, thick wood-beam ceilings, and arches.
Broad stone-paved terraces, fan-shaped pergolas, and a covered dining area provide enchanting venues for relaxed entertaining. Poised above the hillside, an infinity pool appears to merge with the azure Mediterranean seascape in the distance. The island's natural rocky terrain and native fauna has been perfectly preserved throughout the one-acre grounds. Nearby is Mykonos Town, famed for its quaint cobblestone streets, fashionable shopping, dining, and nightlife.
Designer Villa in La Caleta
Jávea, Alicante, Spain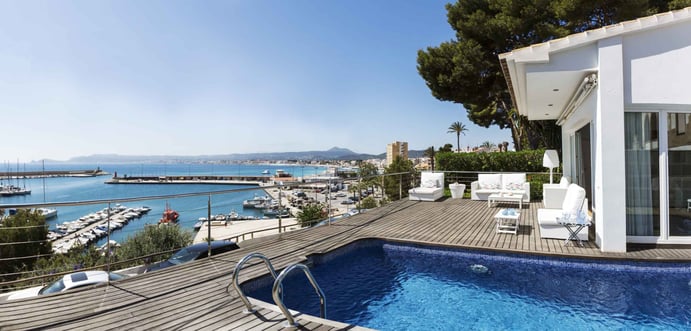 Bask in the Costa Blanca sunshine on the poolside terrace of this contemporary villa overlooking the Mediterranean port of Jávea in Spain's Alicante region. The property is strategically positioned on a scenic hillside plot in the highly sought-after enclave of La Caleta, minutes from the Club Náutico de Jávea marina and the fine restaurants and boutiques of Jávea town.
Nearly 3,000 square feet of living and entertaining spaces are finished with wood floors and natural accents, lending a chic minimalist feel. There are five bedrooms and four bathrooms, a living room with fireplace, a dining room with panoramic sea views (and access to the beautiful teak pool deck), a gourmet kitchen, and a two-car garage.
Villa Camelia
Porto Cervo, Sardinia, Italy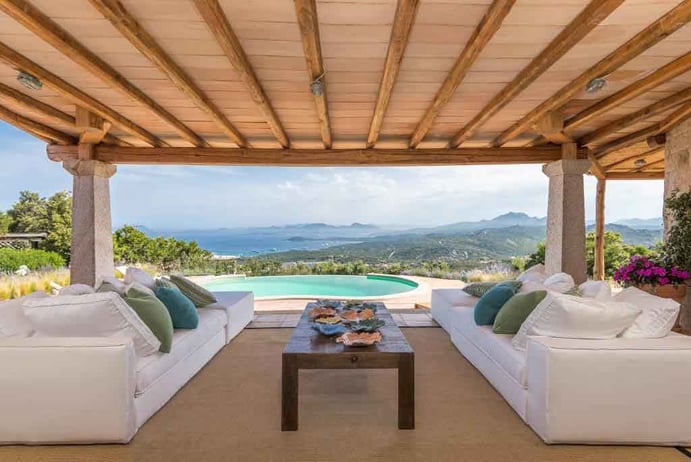 On Sardinia's picturesque Costa Smeralda, Villa Camelia offers three levels of indoor-outdoor living areas designed to capture views of the coastal towns of Cala di Volpe, Licia Ruja, and Porto Rotondo. This newly built coastal villa offers five bedrooms and six bathrooms, including staff/guest quarters and a second-floor master suite that opens onto a terrace facing the sea.
Off the living room, a veranda is a haven of tranquility steps from the infinity pool, which is framed by a breathtaking panorama of emerald hills and turquoise seas. Surrounding the villa is a verdant garden adorned with native plants and fragrant Mediterranean flowers.
Villa Volpi
Sabaudia, Rome, Italy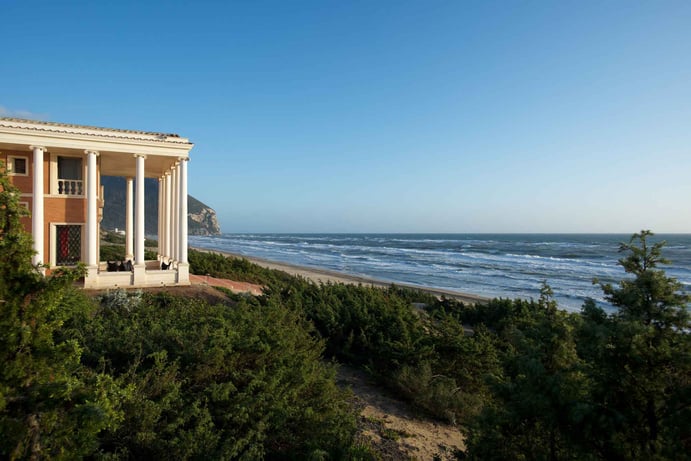 On the shores of the Tyrrhenian Sea, approximately 60 miles south of Rome near the resort town of Sabaudia, Villa Volpi is the singularly breathtaking creation of Countess Nathalie Volpi di Misurata. Following in the tradition of Palladio, as well as ancient Greek architecture, this rare estate is a triumph of design ensconced amid 26 acres of natural terrain within a national park,
Nearly 1,300 feet of Mediterranean coastline provide breathtaking beaches and beautiful dunes that protect the residence from prying eyes, while at the far end of the property, a lake provides a complete change of scenery and access to year-round water skiing.
Villa Ambrosia
Ibiza, Spain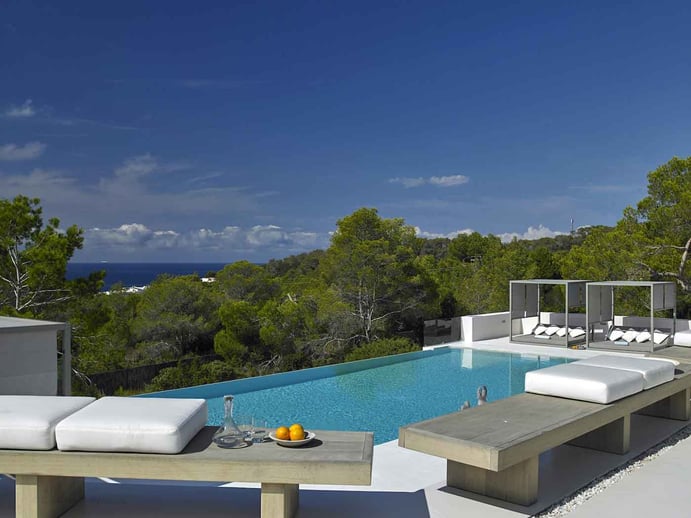 Villa Ambrosia is a sanctuary of seclusion on the Balearic Island of Ibiza. The property has an idyllic location in the hills above the western coast—allowing for spectacular sunset vistas across the Mediterranean and access to some of the island's finest beaches.
The home's sleek, modern design maintains the rustic charm of the island, thanks to natural wood accents featured throughout. There is ample room for guests: 6,458 interior square feet with seven bedrooms and eight bathrooms. Outside, three acres of scenic grounds, protected by a secured border and lush vegetation, boast a resort-style swimming pool with daybeds and cabanas from which to take in the majesty of the Mediterranean.
Villa Salmanazar
Ramatuelle, Côte d'Azur, France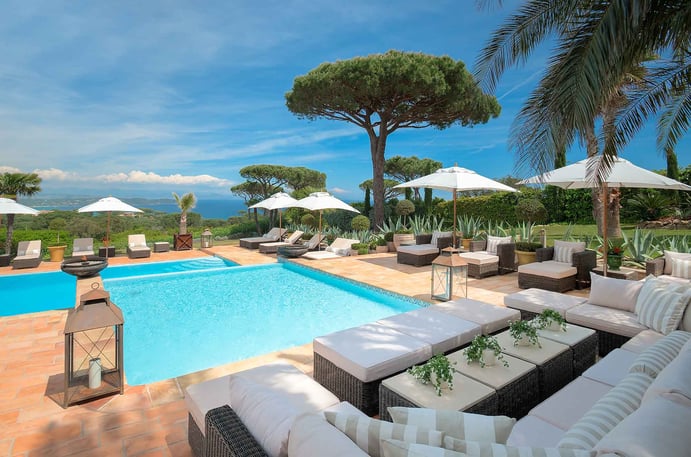 Villa Salmanazar is a grand, Provençal-style hilltop estate with Saint-Tropez flair throughout. Start with the outdoor living space—loggias, terraces, an oversized swimming pool, and a fabulous deck with seating, fire pit, and raised stone bar. Fully retractable sliding glass doors disappear into the walls—offering a sensational vista of the bay of Pampelonne—and open onto a series of large covered terraces.
The double-aspect dining room leads out to an elegant courtyard with stone fountain and terrace. There are eight en suite bedrooms, including a full-floor master suite with a private sea-view terrace, a guest/staff apartment, and lavish amenities, such as a bar, gym, massage room, and wine room. The gardens are resplendent and feature a sweeping lawn with a Heli Securite-certified helipad. Nice Airport is a 20-minute flight away and Saint-Tropez is within 12-minutes' drive.