At the very tip of Long Island lies Montauk Point, where the sunrise first touches New York. Once a fishing village, the hamlet of Montauk and its surrounds, affectionately dubbed "The Last Resort," have long been a haven for artists, writers, and celebrities seeking to avoid the tonier precincts of the surrounding Hamptons.
It is a region of surpassing natural beauty.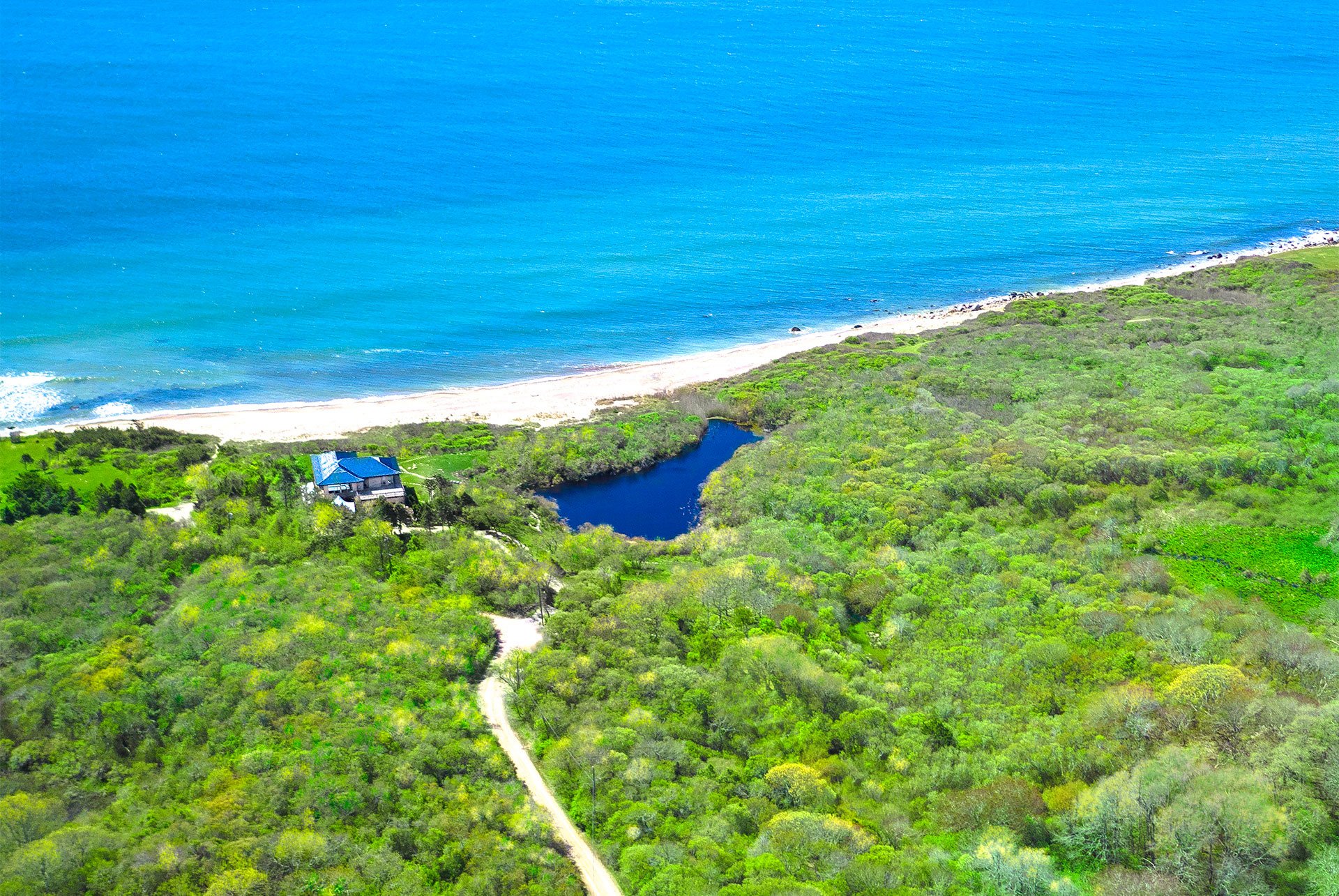 In his masterwork Leaves of Grass: From Montauk Point, Walt Whitman rhapsodized,
"I stand as on some mighty eagle's beak,
Eastward the sea absorbing, viewing, (nothing but sea and sky,)
The tossing waves, the foam, the ships in the distance,
The wild unrest, the snowy, curling caps—that inbound urge and urge
of waves,
Seeking the shores forever."
Montauk's cultural history is as exuberant as Whitman.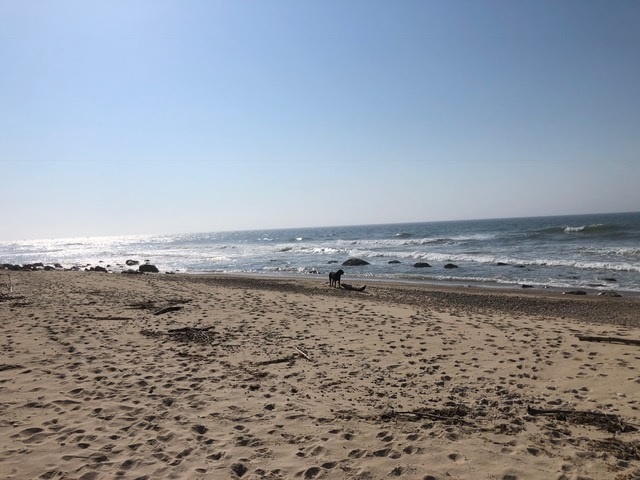 American Playwright Edward F. Albee, with profits from Who's Afraid of Virginia Woolf?, established a retreat for artists, writers, and poets in Montauk. Andy Warhol bought five houses on a bluff here for his Montauk compound, Eothen (Ancient Greek for "at first light"). His guests included Elizabeth Taylor, Jacqueline Kennedy Onassis, John Lennon, and Mick Jagger. The Rolling Stones, on tour in 1975-76, roughed out their Black and Blue album in Montauk; its wistful ballad Memory Motel is set at that venue, the cheapest lodging in town and a legendary watering hole. Montauk's celebrity homeowners have included Robert De Niro, Ralph Lauren, Dick Cavett, Jimmy Buffett, and Paul Simon.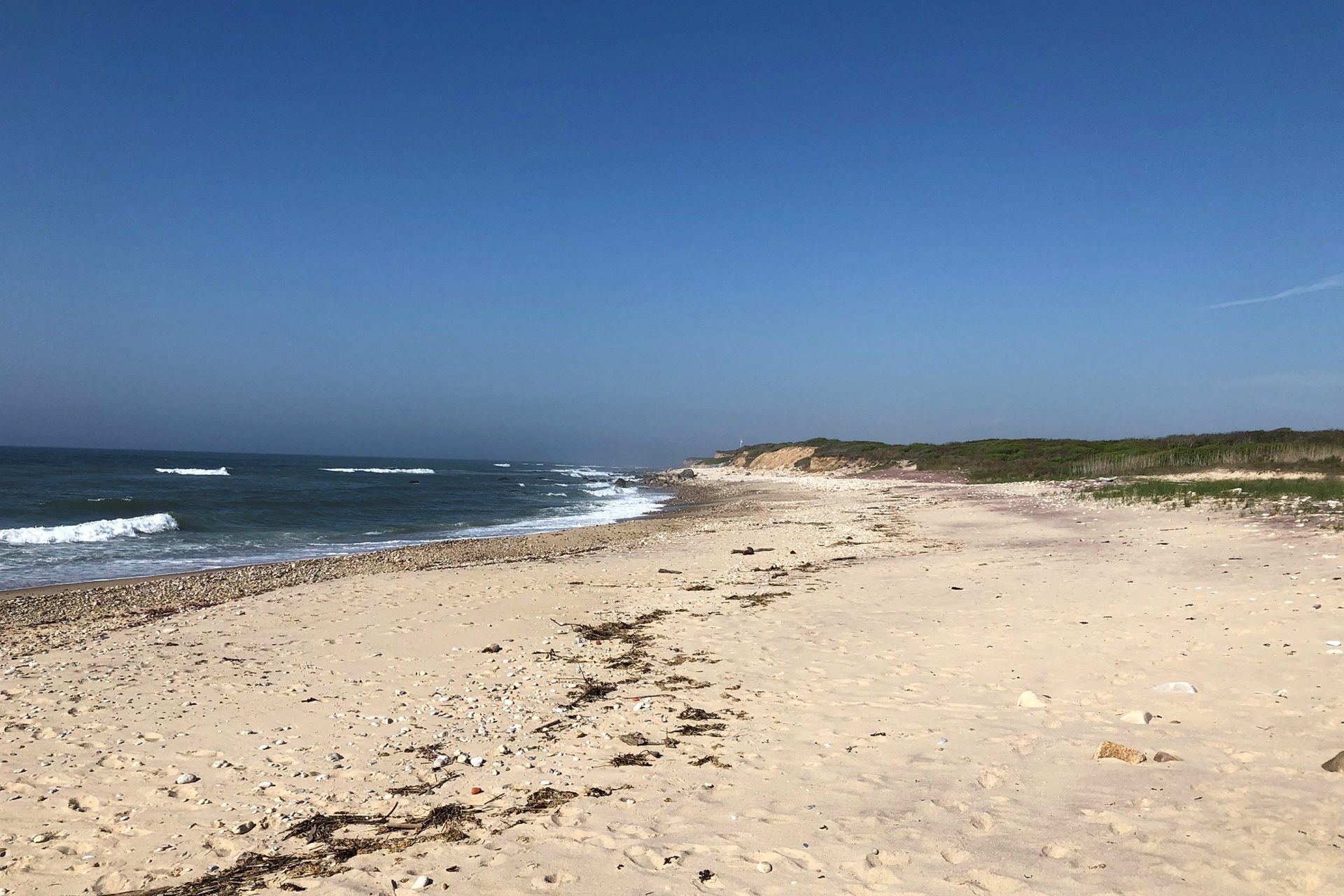 "Montauk Point!" exulted Whitman in 1862. "The soil is rich, the grass is green and plentiful; the best patches of Indian corn and vegetables I saw last autumn are within gunshot of the salt waves of the Atlantic."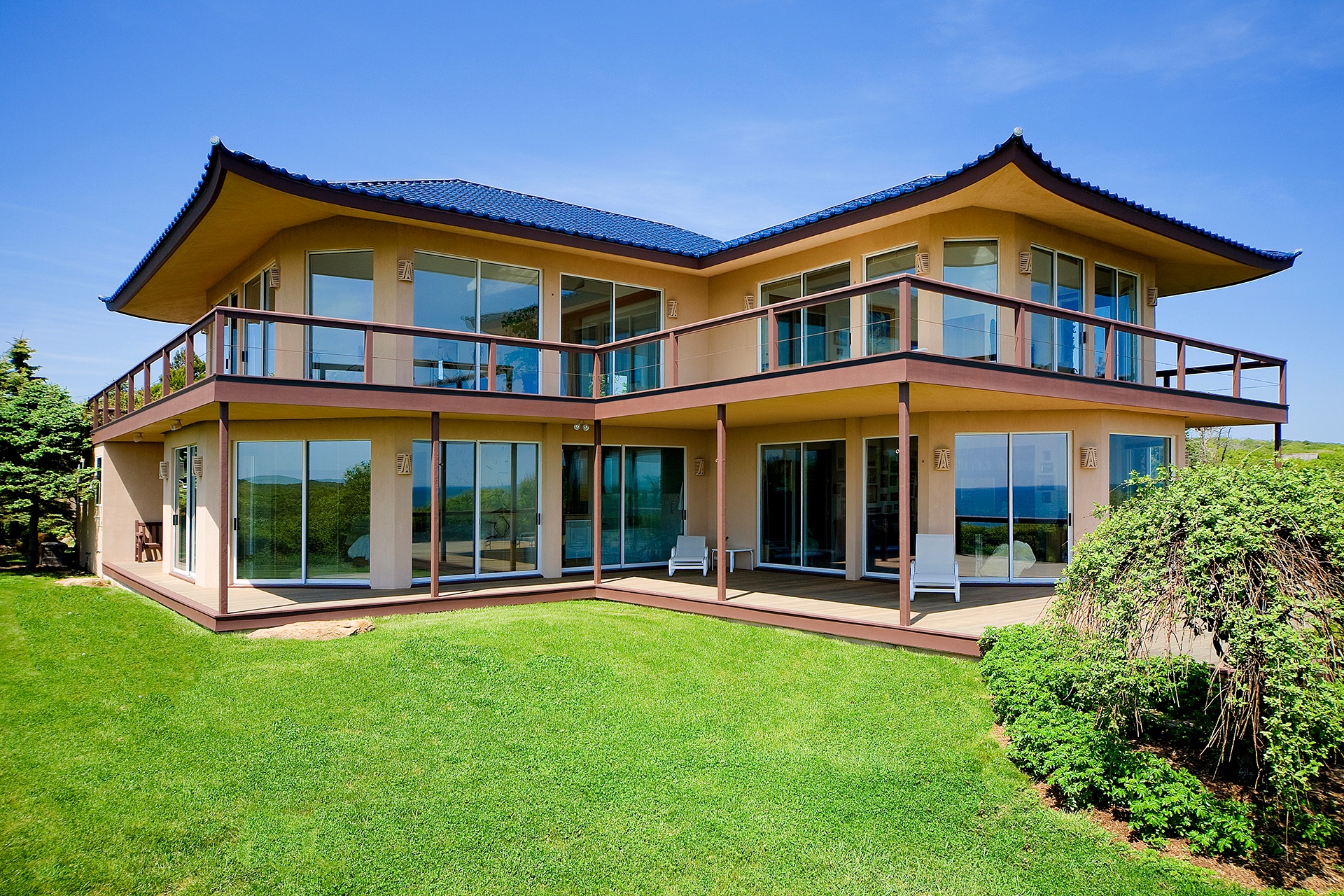 Little wonder, then, in 1992, that master framer Eli Wilner bought 36 acres on Montauk Point to set his dream house, where floor-to-ceiling windows and doors frame exquisite seascapes of Whitman's "inbound urge and urge of waves, seeking the shore forever." The property's 400-foot private beachfront offers some of the island's best surf-casting and adjoins a 3,000-foot beach which gets few visitors.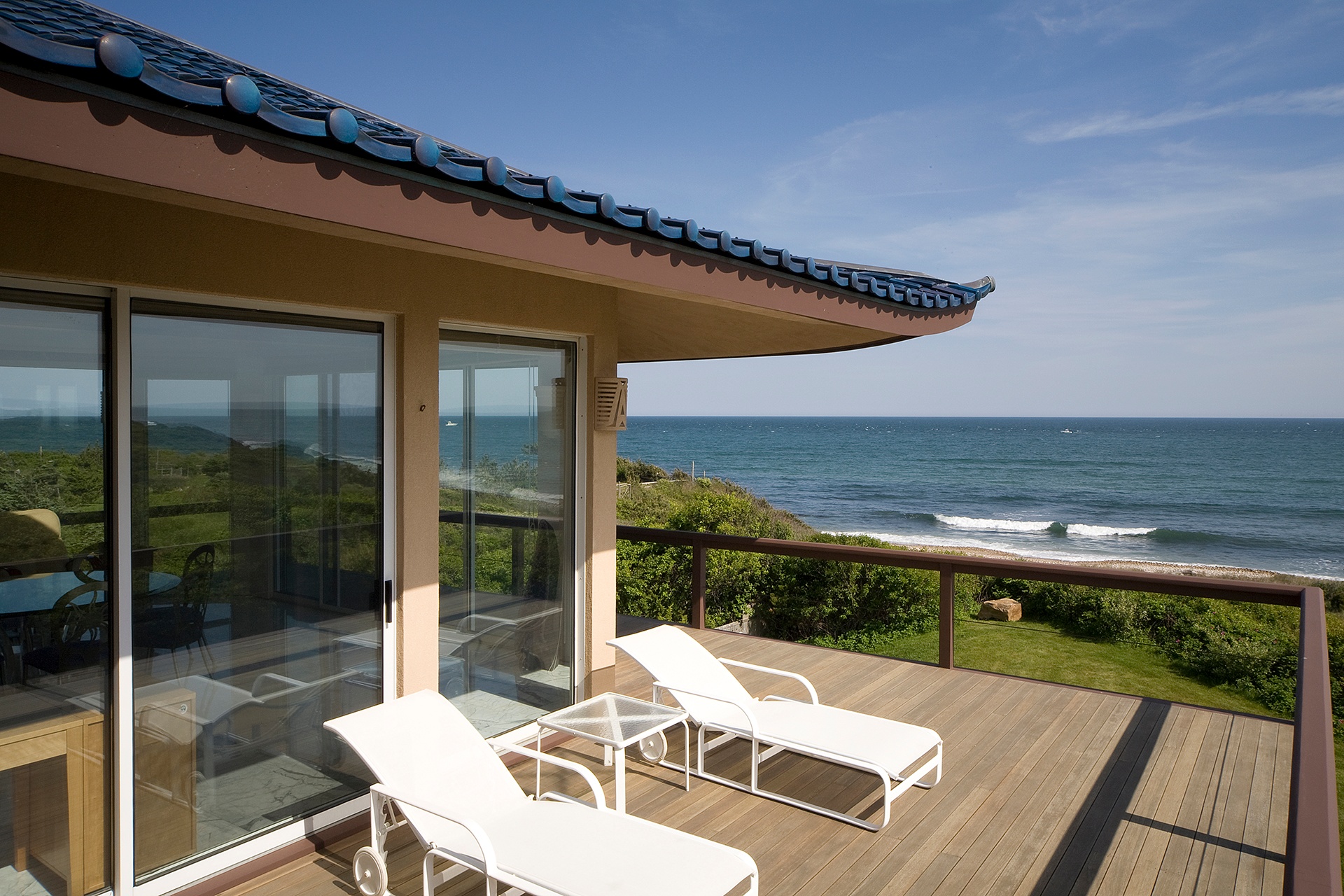 Architect Frank Hollenbeck designed the three-story, 7,000-square-foot home, positioning it on a high bluff overlooking the Atlantic Ocean and a secluded sand beach—a rarity on Montauk's rocky shores—to capture both sunrises and sunsets. Vast walls of glass are a frame for the dramatic views and flood the cool marble interiors with sunlight.
"Montauk feels like you're living on the edge of the world and at the same time close to the center of the universe."
There are Asian influences throughout. The pagoda-style, upcurved corners of its blue-tiled roofline were inspired by a Chinese tea house. A Zen aesthetic extends to the sleek, minimalist interior design—notwithstanding its five spacious bedrooms, four luxurious bathrooms, home theater, and sleek ultramodern kitchen.
The Zen aesthetic is highlighted by two giant divider doors fashioned after Japanese screen panels and hand-carved by artisans in Wilner's frame shop. Fine finishes of white Italian Carrara marble and silvery Norwegian quartz add lustrous allure against the blue and green hues of Montauk Point. And then there are the unseen creature comforts of the 21st century: zoned radiant heat and air conditioning, which temper the sea's warm breeze or its wintry blast.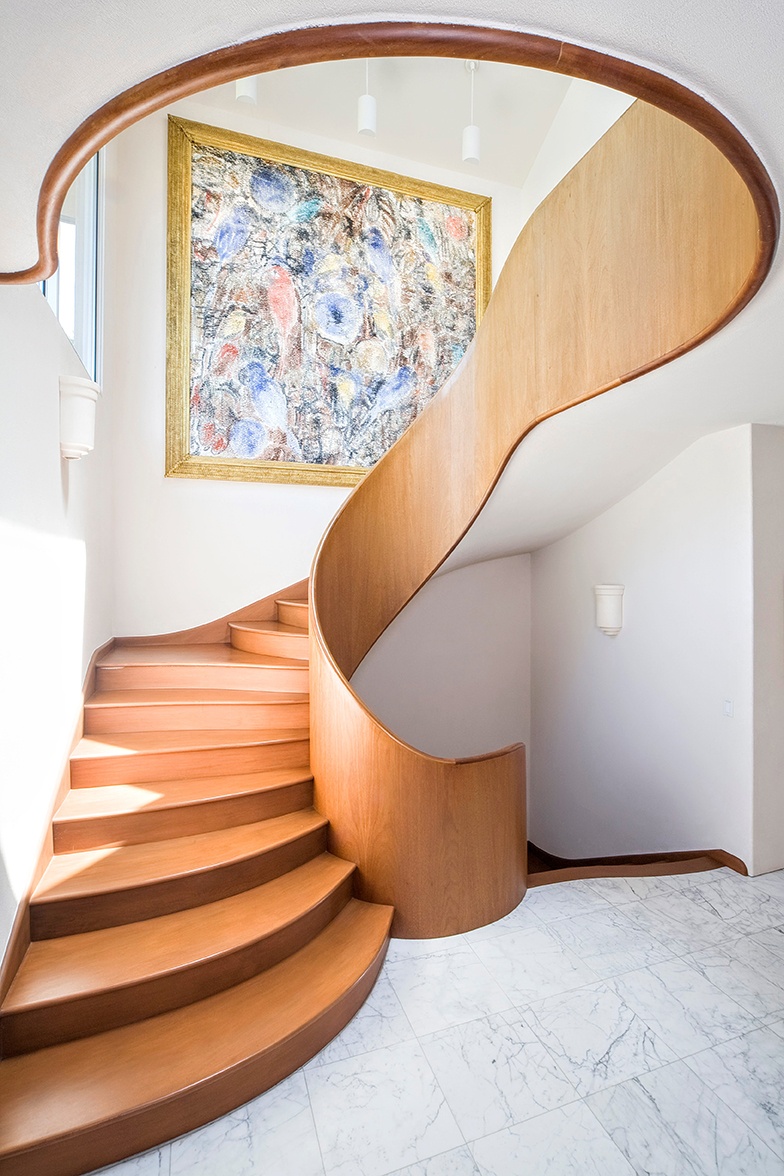 The living spaces lead out to expansive decks, lush lawns, beautiful gardens, and scenic pastures. Surrounding them is a private reserve protected by thoughtful conservancy restrictions to ensure a safe haven for the estate's abundant waterfowl—including the endangered wood duck. A two-acre pond provides habitat for other indigenous flora and fauna.
The marsh and grasslands turn to a pristine stretch of sandy beach with no public access for miles, and two naturally formed 100-foot jetties serve up an additional layer of privacy and protection, acting as barriers to passing storms. The house itself, built on a steel superstructure (much like a girder set) and the blue-tile roof were built to comfortably withstand winds upwards of 150 mph. The façade of wood, rubber, and tile weigh downward for added stability.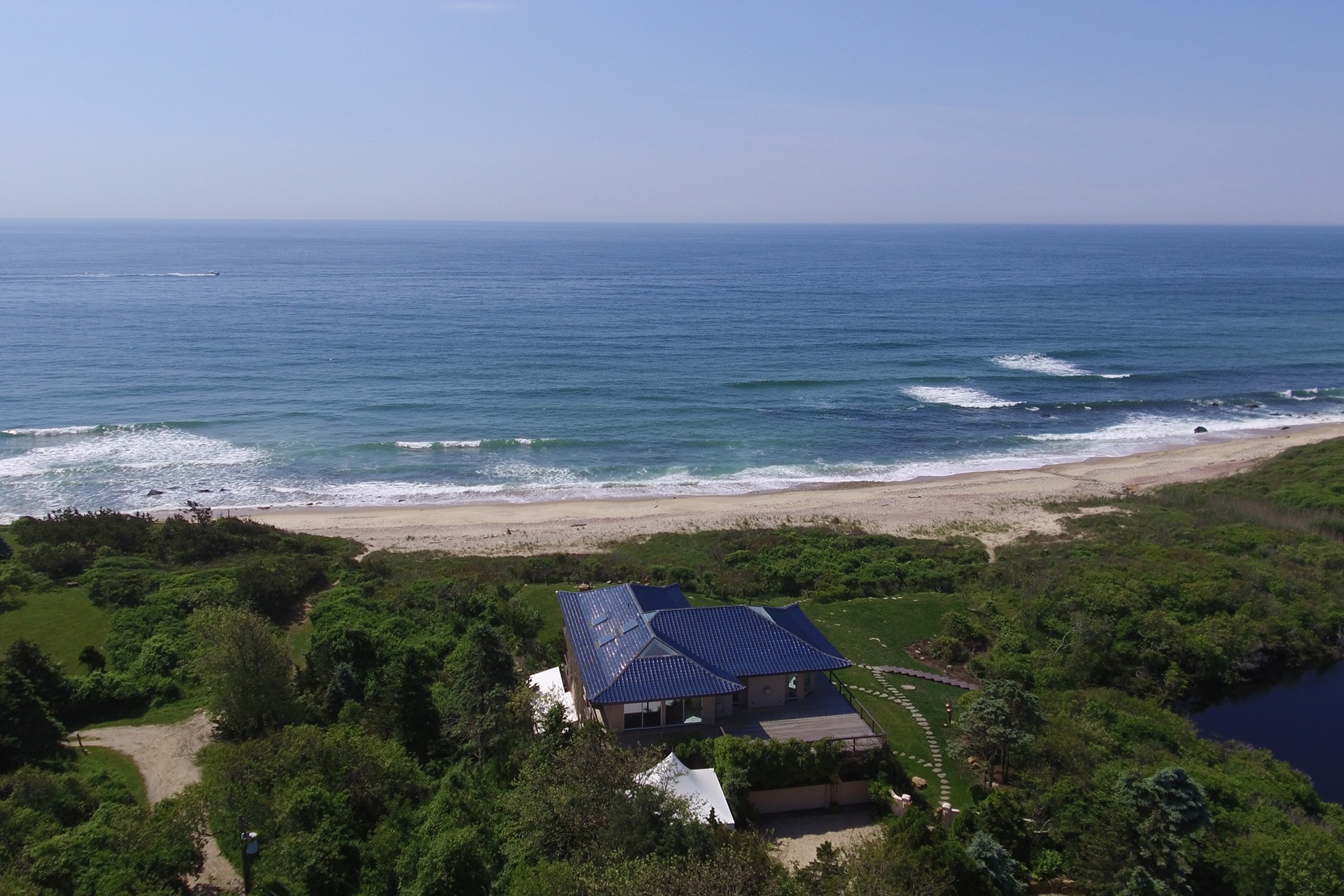 The house is close to all of Montauk's attractions: restaurants, spas, boutiques, galleries, wineries, as well as world-class recreation by land (championship golf courses and riding stables) and sea (surfing, boating, deep-sea fishing, and sailing). The Montauk Yacht Club, the largest marina in the Hamptons, has been acquired by Gurney's Resorts, upping the game for local yachtsmen.
"Montauk's celebrity homeowners have included Robert De Niro, Ralph Lauren, Dick Cavett, Jimmy Buffett, and Paul Simon."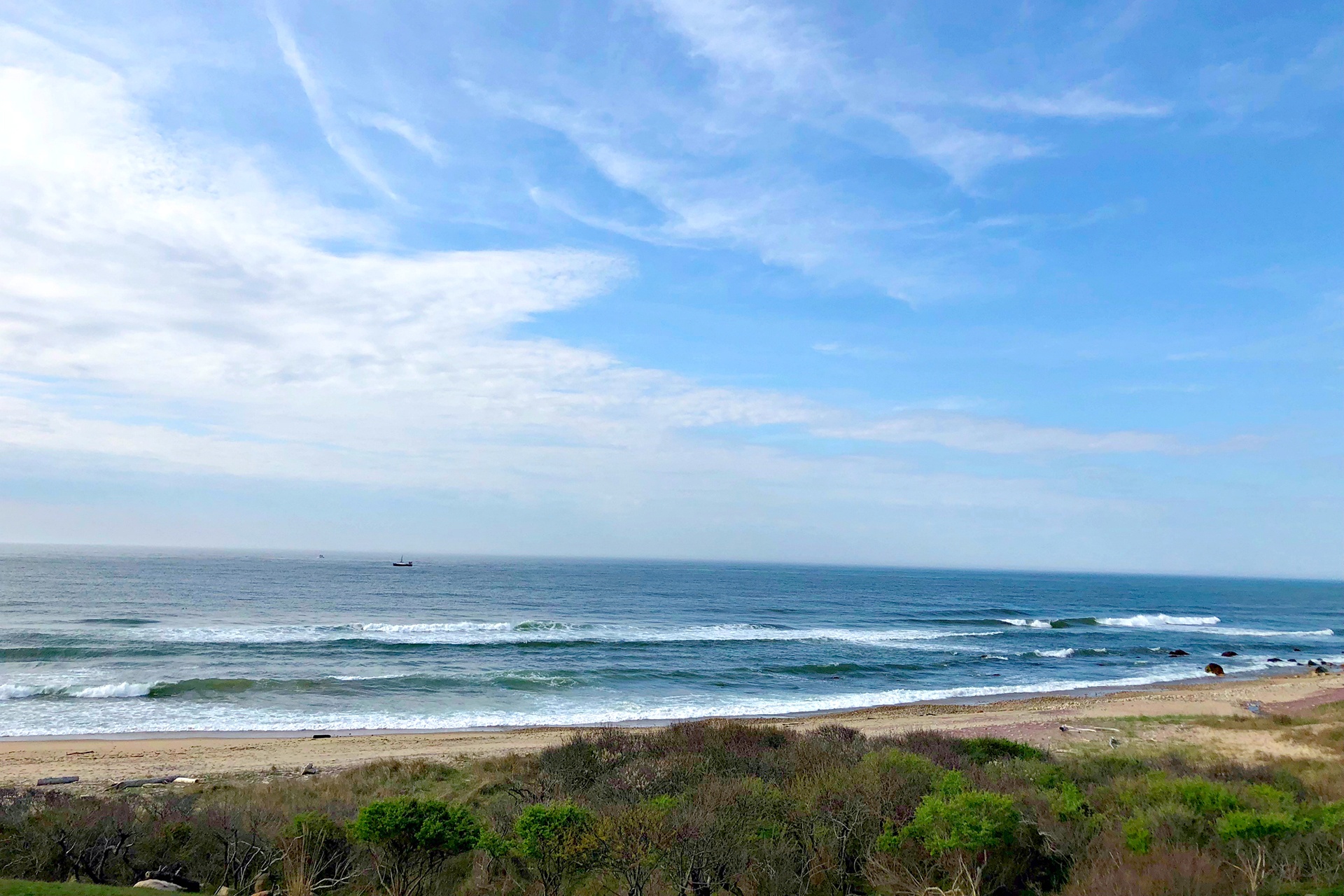 But what makes it so appealing is the proximity to Manhattan: 10 minutes to the Montauk regional airport then a 45-minute helicopter journey back to Manhattan.
Eli Wilner & Company has created picture frames for the Metropolitan Museum, the Smithsonian and the White House. The master framer told Business Insider last year that he had high hopes for the house that frames Montauk Point—and its potential buyers: "I hope I find someone I like so that I can come visit every once in a while," he said.