Venture down the uneven cobbled driveway that leads to an old tram depot, and you wouldn't necessarily expect to find luxury. "When I came across this dilapidated Victorian warehouse, I initially thought it could be a studio space," says property developer Ed Stanbury. "So I approached a photographer friend, Max Oppenheim. But the gym idea came about because we saw the need for a high-end fitness space that would appeal to a design-literate audience in our neighborhood."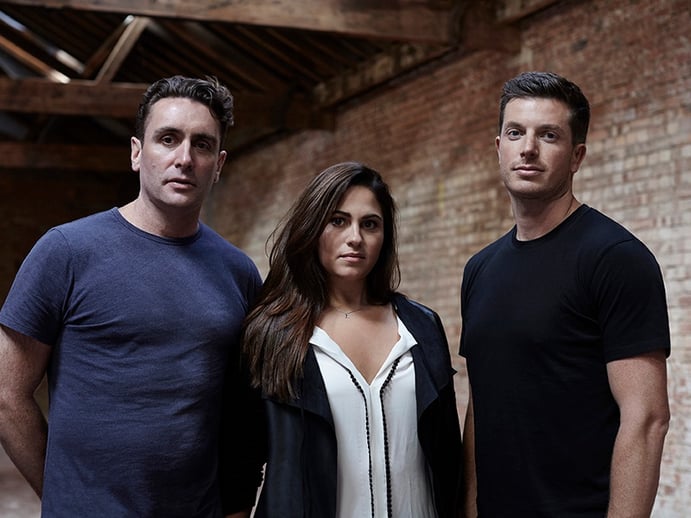 Inside, the original tramlines and vaulted concrete ceilings are still visible—a striking contrast to a slick, modern interior and a permanent light installation based on the work of Dan Flavin and Robert Irwin, which creates the perfect illumination for displaying art. The work of artist Arran Gregory currently adorns the walls.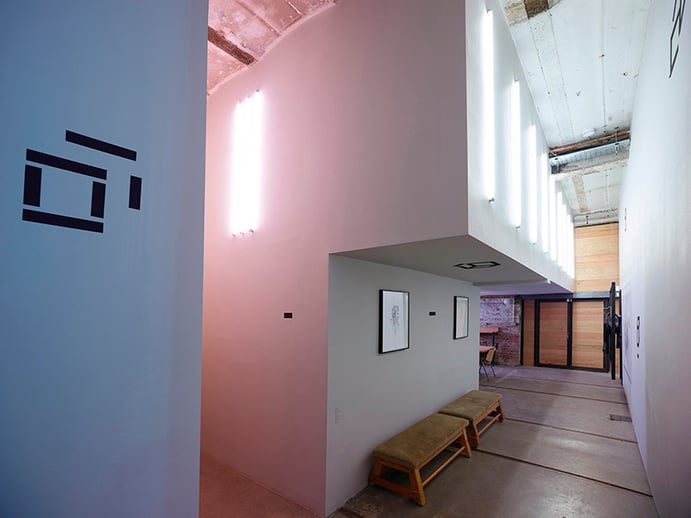 Every element of the BLOK experience has been carefully considered to deliver a luxury experience, with a broad range of classes, from boxing to yoga, that emphasize progression and skill-building. In 2016, Harpers Bazaar named BLOK in its roundup of The Best Boutique Gyms, and Tatler highly commended the space as best newcomer in its 2016 The Best Gym Classes in London list.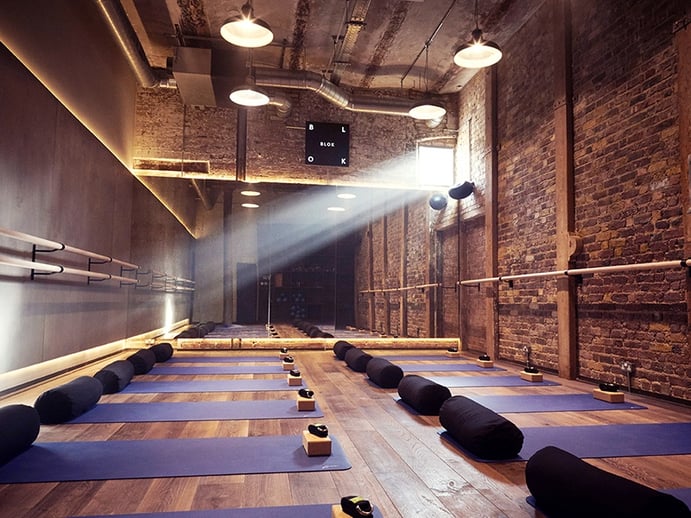 With Ed's wife, Reema, also on board, the project came together in an astonishing five months. "London is a fantastic place to work; you are surrounded by talent and opportunities," says Max. "It's possible to pull projects together very quickly once you have a good network around you. The art and architecture keep you motivated and inspired. Since we opened BLOK, the tram depot has come back to life, with events space East 5 just next door, and there's a thriving community here again. When it comes to exploring London, the places I love the best are those unexpected locations where you find a real hidden gem."
With that spirit in mind, Luxury Defined asked BLOK to take us on a tour of London's most unexpected places, both old and new.
Bermondsey Street, SE1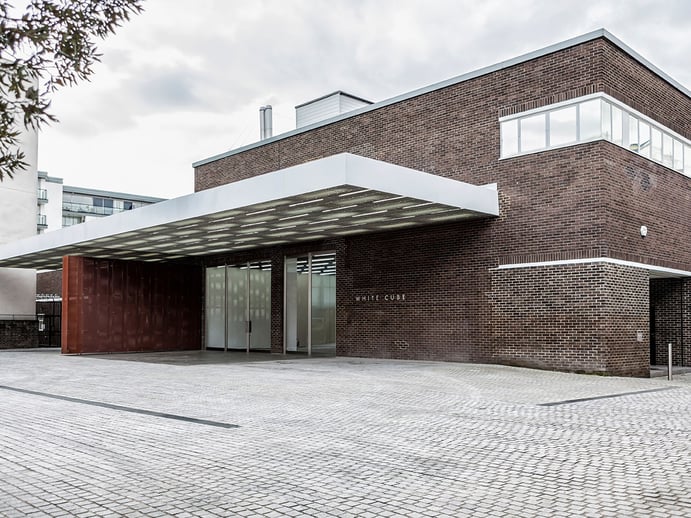 "While it's no secret, White Cube gallery on Bermondsey Street is somewhere that really influenced us when we were designing BLOK, particularly the fluorescent light element and the concrete-based interior," says Max. "Bermondsey Street is a destination in itself now, with the Fashion and Textile Museum and a fantastic choice of bars and restaurants." While you're there, drop by José Tapas Bar for tapas by renowned Spanish chef José Pizarro. It gets busy with an after-work crowd, so bag yourself a window table early and watch the world go by.
Smithfield Market, Farringdon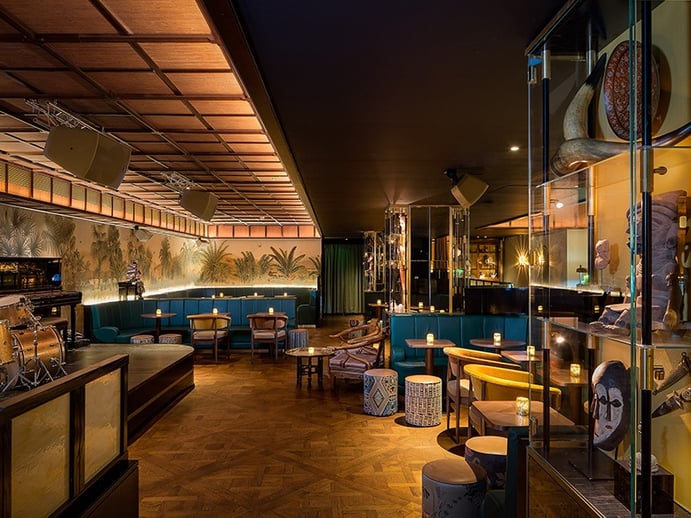 Located within Smithfield Market, Oriole is a firm favorite of the BLOK team. "It used to be the Cock Tavern, where blood dripped through the ceiling from the meat market above and illegal cock fights were held," says Ed. "But now Oriole couldn't look more different—the interior design is by Daytrip, the same studio that did BLOK. There's live music every night and the cocktails are out of this world." From around the world, in fact, as the menu takes inspiration from the heritage of the market as a trading place. "This whole area is an amazing clash of old and new London, with trade happening here in the same way it has done for 800 years. Meanwhile, tech industries are moving into super-sleek modern buildings, the world-famous Fabric nightclub has reopened, and the Museum of London is moving into the site to tell the whole story. It's impossible not to feel excited here."
The Barbican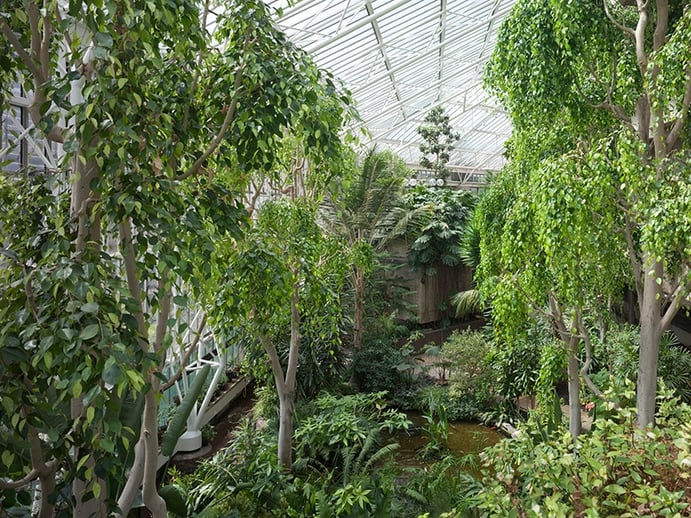 "There is simply no other place in London like the Barbican. Built on utopian ideals of living, it's an iconic London landmark with plenty of hidden corners to explore," says Max. "There's a plant- and tree-filled conservatory here in a huge atrium—it's completely unexpected, and it's a great place to go and relax. The Curve gallery is the only curved architectural feature of the Barbican, and it shows new and cutting-edge work by contemporary artists." At the moment, the gallery is showing work by Richard Mosse, who used a telephoto military camera to capture a very powerful subject—refugees—for his exhibition Incoming [until April 23, 2017].
Hackney and Islington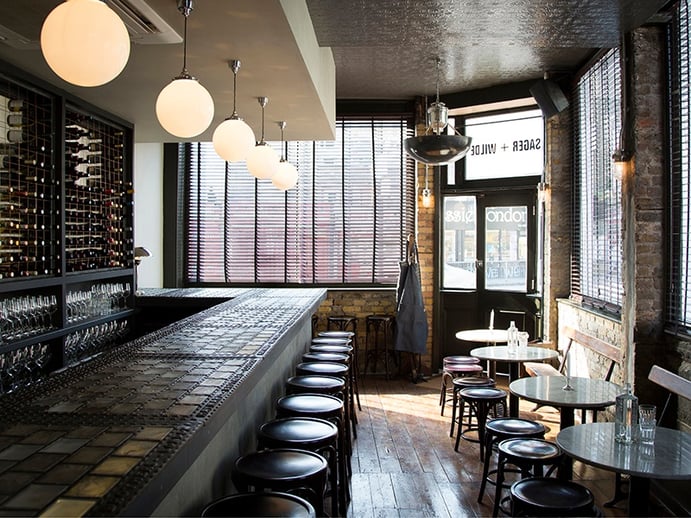 Behind an unassuming façade in Hackney, master mixologist Tony Conigliaro has opened the unassumingly named Untitled. Inspired by Andy Warhol's Factory ideology, each of 12 bottled cocktails capture a single sight, smell, and sound—like Snow. "Conigliaro's Prairie Oyster cocktail, served at 69 Colebrooke Row in Islington, is a must for Londoners and visitors," says Ed. Other restaurants in the area include The Laughing Heart (one of the Sunday Times Top 100 Restaurants), Sager + Wilde (where the wine list is both unusual and excellent), and newly opened Morito, from Sam and Sam Clark, the married couple behind Moro.
Mount Street, Mayfair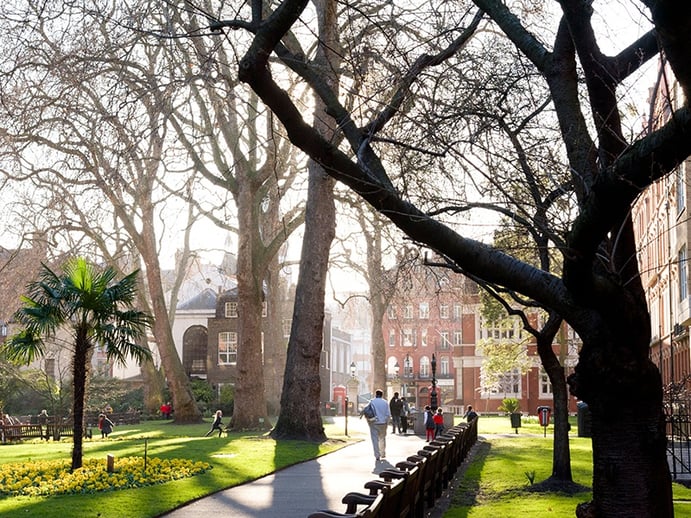 "For a break from everything East London, I love heading to elegant Mount Street in Mayfair," says Reema. "It makes me feel good just being there! Céline has a flagship store there, Mount Street Printers do stationery you'd die for, and Scott's fish restaurant is there, too."
Union Street, Southwark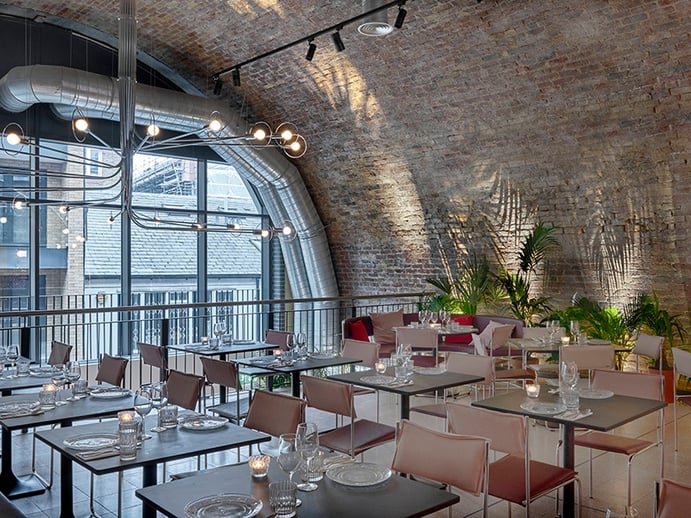 Venture down once-notorious Leake Street, flamboyantly emblazoned with colorful graffiti and street art, and there are certainly some surprises in store. The Vaults, the underground tunnels where raves were once held, have now been transformed into one of London's premier arts venues, with weird and wonderful performances happening almost nightly. Nearby you'll also find Gordon Ramsay's Union Street Café and the recently opened Bala Baya. "Inspired by Bauhaus architecture, it's a Tel Aviv–style restaurant, perfect for groups with its sharing platters of traditional Israeli food served in a progressive style. I love the eccentric staff, too," says Reema.
Victoria, Westminster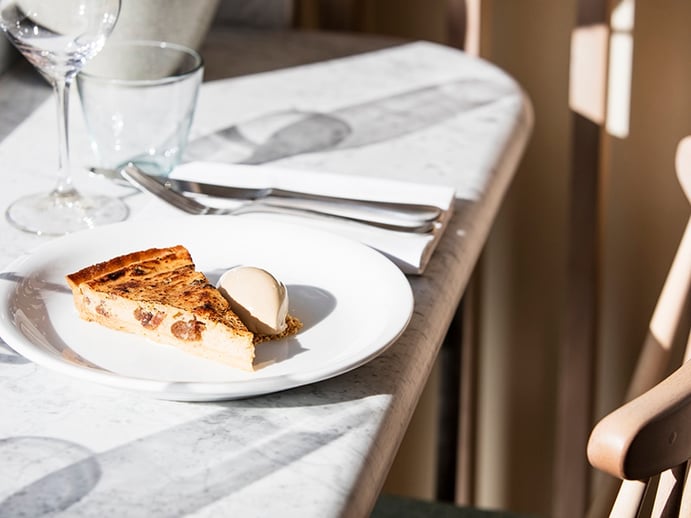 Formerly unloved Victoria is having a bit of a makeover of late. Not only has Jason Atherton's latest restaurant Hai Cenato recently opened, but Lorne—a collaboration between sommelier Katie Exton (ex River Café) and chef Peter Hall (of East London's Brawn and San Francisco's three Michelin-starred Benu) opened earlier this year as well. "Inspired by a love of food, wine, and good times, Lorne serves modern British food, and the wine list is exceptional," says Ed.