Water is essential, beautiful, soothing, and restorative. Accordingly, fountains, pools, and public baths have been around since the start of civilization, and today's world-class resorts tend to be located near large bodies of water. While many homes of all types have pools and other water features, luxury homes often have the space and spectacular locations that inspire architects, landscape designers, and homeowners to design truly unique and breathtaking aquatic amenities such as the pools, cabanas, and spas found at the following impressive properties.
Poolside Cabana and Spa
Kleinburg, Ontario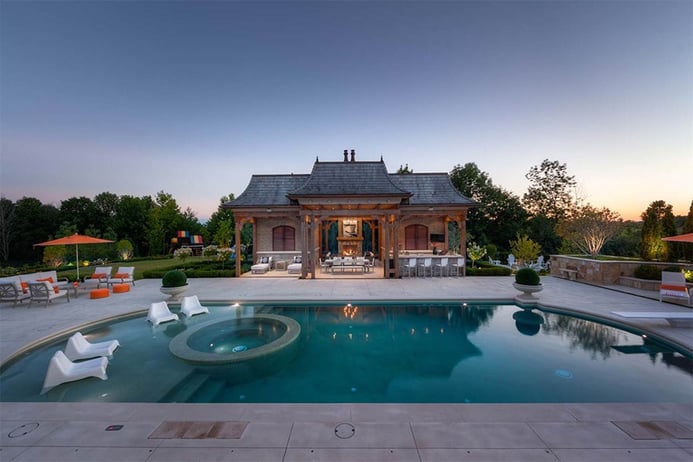 A cabana offers the perfect fusion of indoor and outdoor comfort, providing shade from the sun while still allowing cool breezes to flow through. Poolside cabanas such as this one in Kleinburg, Ontario, is magnificent enough to tempt one to spend the entire summer outside. It has a full bar, fireplace and fireside conversation pit, a dining area, and shaded lounge seating. This French château-inspired home offers year-round luxury. With five bedrooms, ten bathrooms, a library, showstopper kitchen, wine-tasting room, and 2,500-bottle wine cellar, it promises lavish comforts in any season. Additional amenities include a covered outdoor chess set fit for royalty, multiple poolside seating areas configured for sunbathing, conversation, or cocktails, and in-pool seating as well as an in-pool spa. The immaculately landscaped grounds also contain stone pathways, terraces, an outdoor fire pit, and an inviting lawn for play or sport.
Tropical Infinity Pool
Saint James, Barbados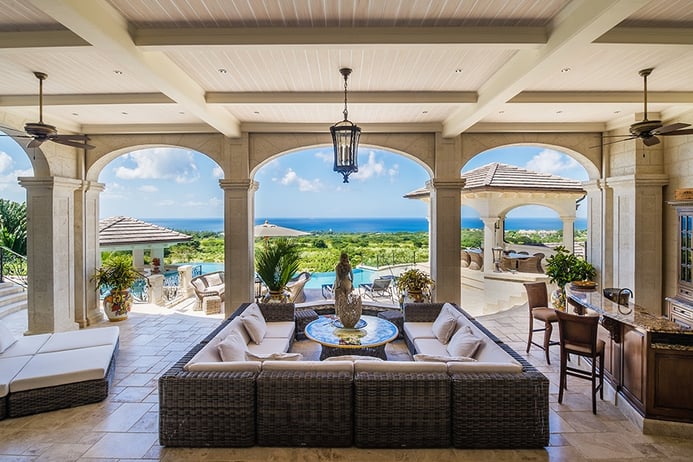 Like a lake that seems to stretch into the distance forever, an infinity pool is carefully positioned so that its edge seems to merge with the ocean or landscape beyond. Unlike ordinary pools, infinity pools give swimmers the distinct sense of floating above it all. This hilltop Platinum Coast estate offers breathtaking Caribbean sunset views from its rear terrace and infinity pool overlooking the planned Royal Westmoreland golf course. With views from nearly every well-appointed room as well as sash windows and terrace doors that open to the ocean air, this incredible estate captures the essence of its Caribbean location. The central great room opens entirely to an expansive rear terrace overlooking the infinity pool and the ocean beyond. Within the terrace, lounge seating and a bar have automatic sunshades that adjust with the setting sun. A poolside gazebo also offers shaded alfresco dining, and an in-pool, cabana-covered bar allows residents and guests to enjoy cocktails while taking a dip.
Waterfall and Grotto
Boca Raton, Florida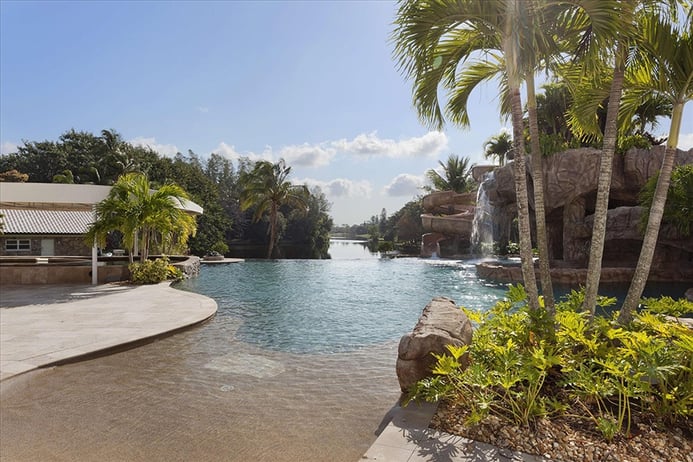 There's something magical about waterfalls and grottos. With water cascading from above, even a man-made lagoon can offer a sense of adventure. This eight-bedroom, plantation-style luxury home with its own private water park is perfect for a family seeking resort-style Florida fun without the crowds. A covered poolside terrace has a large outdoor dining room and kitchen complete with bar and pizza oven. A covered spa is located near the free-form, double-height pool with water slide, grotto, and three-story naturally shaped waterfall. The grounds also include an expansive lawn with plenty of playground space that slopes down to a private lakeside dock. Inside the home, a dramatic formal entrance has two curved staircases that frame the view across the expansive reception area to the tropical paradise out back, which is also viewable from the upstairs gallery.
Saltwater Pool and Spa
Atlanta, Georgia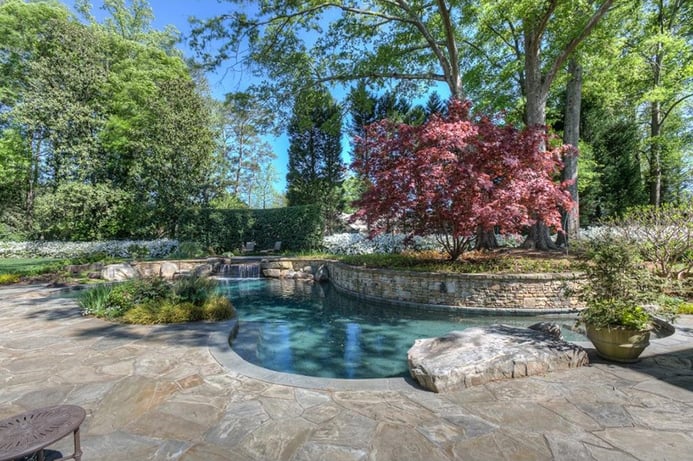 Saltwater pools have grown in popularity since they were first introduced in Australia, with pool owners finding their low-chlorine water and easy maintenance appealing. They're also much eco-friendly than traditional pools. This gracious and comfortable seven-bedroom home occupies nearly two acres in the desirable Buckhead area. A large outdoor dining gazebo is enhanced by stone floors, a fireplace, grill, and overhead fan set into the wood ceiling plus fully screened floor-to-ceiling windows. Immediately beyond, the saltwater pool with waterfall and nearby spa create an ideal spot for relaxing. Soft rolling lawns, wooded landscaping, and blooming azaleas adorn the grounds, completing the picture of gracious Southern living.
A Pool and Living Room Under the Stars
Umhlanga Rocks, South Africa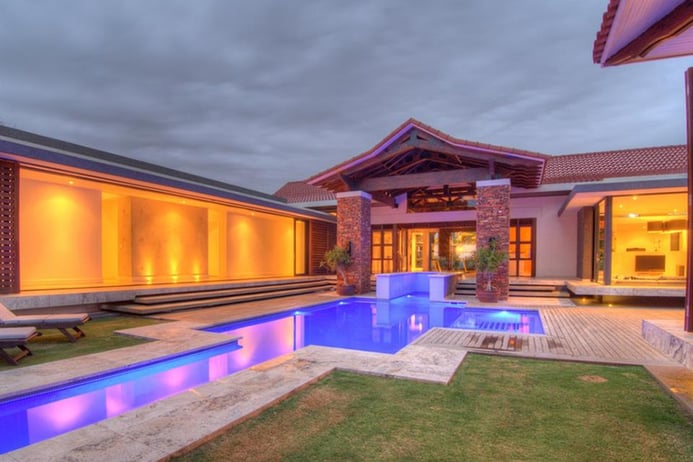 In the right climate, an outdoor living room makes it possible to dine, relax, watch the sunset (or a movie), and entertain friends while pleasant breezes cool the space and fragrant plants perfume the air. South Africa is just such a place: situated above the beach and surrounded by trees, this sleek five-bedroom home in Kwazulu-Natal is airy, open, and expansive. Folding glass doors that lead from the reception rooms and kitchen to the courtyard pool and entertainment area make indoor/outdoor living simple. The gazebo-covered bar has a flat-screen television, and the adjoining portico complete with fireplace affords access to both the pool deck and lawn. By day, the property's trees and contemporary African detailing coupled with sea breezes and the blue of the ocean beyond define a sophisticated yet naturalistic setting. At night, dramatic lighting within and around the pool create the stage for stylish entertaining.
Landscaped Lake and Waterfalls
Austin, Texas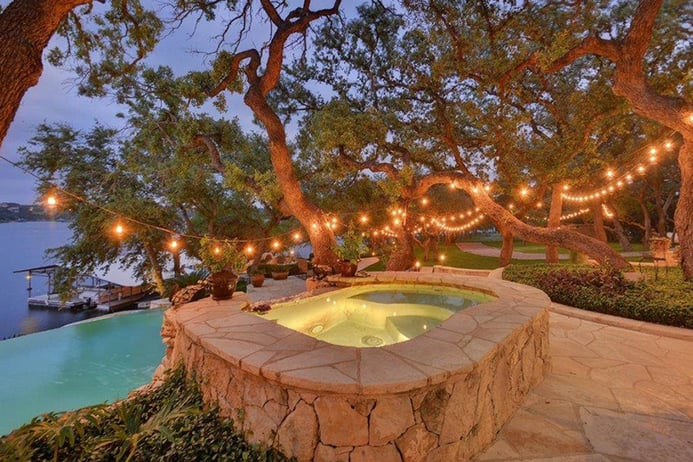 The mystique of a lake house is alluring for its serenity and feeling of being a world apart; there no big waves or big crowds to distract from the pleasures of swimming, boating, or fishing. With ten acres of lakeside outdoor space, this gated estate in the Texas Hill Country offers the best of Southwestern living. The main house has spacious rooms with beamed ceilings and stone fireplaces. The expansive terraced outdoor living area is outfitted with a cantina, gazebo, and fire pit as well as wide porches and patios overlooking the lake. Mature oaks shade the outdoor kitchen, multiple outdoor dining and leisure areas, two hot tubs, and large infinity pool, all of which enjoy lake views. While two tranquil waterfalls flow over terraced limestone into the pool and lake, limestone paths, patios, and stairways lead down the terraced hillside to the shoreline of Lake Travis and a private boat dock.
Mediterranean Mosaic Pool
Canary Islands, Spain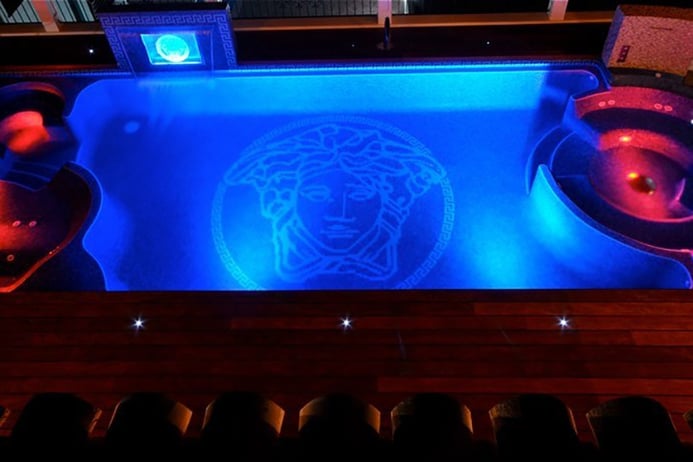 The most spectacular swimming pools aren't mere water features, they have a striking design and style all their own. For centuries, pools and public baths in Europe and the Middle East have employed intricate mosaic, marble, and tile to give pools a splash of color and pattern. Part of a new luxury development on the south coast of Tenerife, the largest of the Canary Islands, this stylish six-bedroom villa is a fashion devotee's dream. The estate is outfitted with Versace glassware, décor, and furniture along with marble floors and interior columns, soaring ceilings, and luxury amenities that range from a private gym, multiple whirlpool tubs, and massage facilities to an outside bar. The floor of the villa's magnificent outdoor pool is embellished with a large image of the Versace logo featuring the head of Medusa. The dramatic image can be seen from atop the grand rear staircase that connects the home to the pool, which is complemented by a bar and billiard area with café-style designer seating on one side and a large covered daybed and portico on the other. The entire pool area enjoys a panoramic ocean view; at night, the blue-lit pool and the lights of the city below create a sophisticated spectacle.
Subaquatic Sleeping Quarters
Vitet, Saint Barthélemy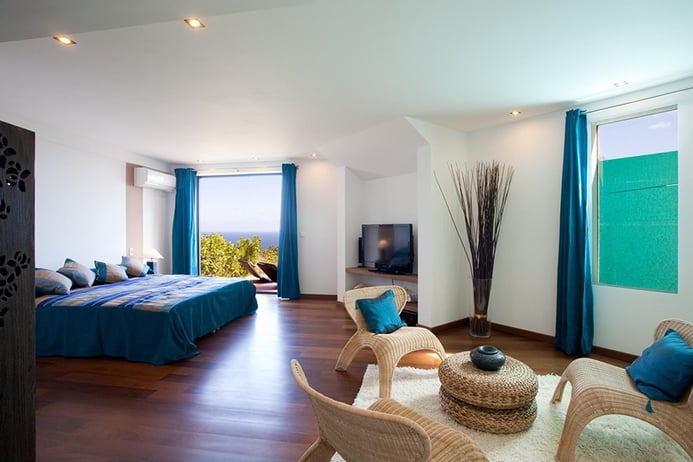 The world's oceans are almost like another planet, vast and mysterious, populated by species most of us will never see, darting in and out of coral reefs. For those who grew up reading Jules Verne novels and imagined living underwater, a house that offers windows on the ocean—and its creatures—is a childhood dream come true. This beautifully designed Caribbean home combines contemporary and island style with its hillside setting, creating unexpected juxtapositions. Yet the horizontal lines of its details—wide-spaced wooden shutters, hammerbeam detailing, sliding doors that open onto an expansive terrace, and full-length floorboards across the pool deck—perfectly mirror the way the low-profile house is set into the hillside while echoing the panoramic expanse of the sea view. The result: an architecturally distinct house that fits pleasingly into its natural setting. The underwater windows in the lower level's master bedroom and en suite bathroom likewise surprise and reveal, giving the master suite—which also enjoys a conventional view of the ocean beyond—the sense of being at once below and above the water.
Waterless Relaxation
Zerobody "Pool"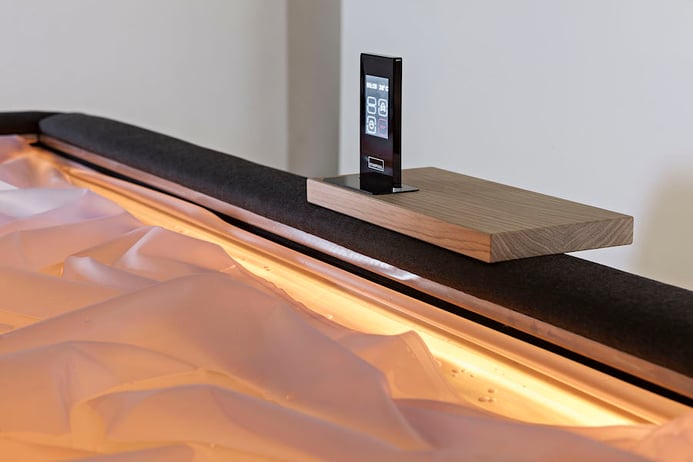 For a completely personal "water-feature" experience, the Zerobody pool offers single-user exclusivity in a space about the size of a twin bed. Floating within the Zerobody's heated waterbed mattress—which is much more cushioned than a conventional waterbed—is like floating in a personal flotation chamber. The company that manufactures the Zerobody, Starpool, designs professional and home spas and saunas. The Neocogita wellness research center in Italy provides the technology that accompanies the Zerobody to fully promote relaxation, meditation, and restoration. Currently designed primarily for spa or office use, a Zerobody tucked away into a corner of a luxury home might just represent the ultimate private pool.