Sumptuous detailing adapts itself to a broad range of interior and exterior design categories including Rococo, Moroccan, Mediterranean, Hollywood Regency, and Contemporary. Lovers of lavish interiors will marvel at the homes featured here, which run the gamut of architectural styles. While they all display gold detailing and other luxurious elements, their diversity demonstrates that it's possible to add a touch of glamour to any home.
Exclusive Escape
Torviscas Alto, Spain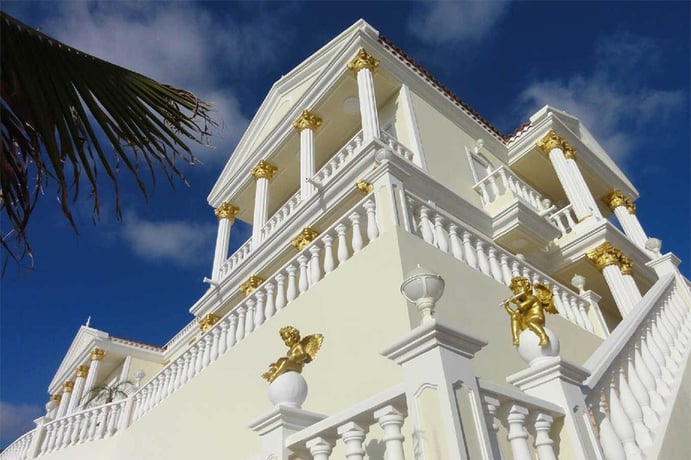 From the cherubs that accent its three-story Neoclassical exterior to the soaring great room, this six-bedroom villa on the coast of Spain combines a modern sense of airy elevation with ornate details. While the outdoor pool presents ocean and mountain views, the heated indoor pool is enhanced by columns and statuary that evoke a Roman bath. Alarm systems, cameras, and a separate staff apartment with its own kitchen provide complete privacy. Upper terraces and multiple French doors onto the back terrace invite residents and their guests to enjoy Spain's coastal climate, and an interior elevator to all floors ensures ease of access to every level of this lofty beauty.
Upper East Side Elegance
New York, New York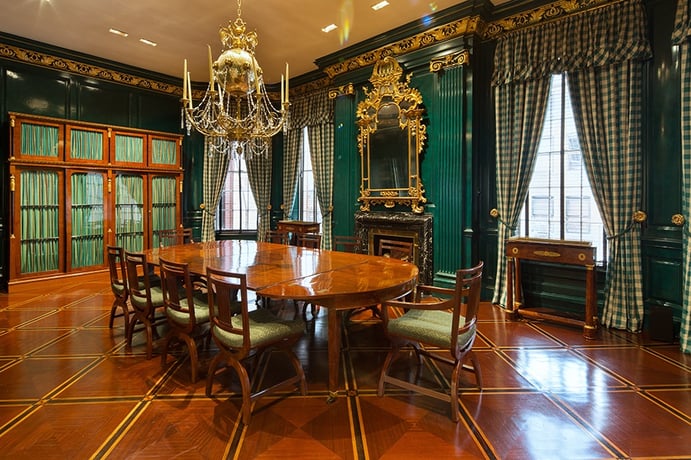 This Upper East Side Neo-Georgian townhouse, designed in 1928 by A. Wallace McCrae and decorated by Peter Marino, is at once spacious and exquisite. With a gracious entrance, formal sitting room, grand dining room, and wood-paneled third-floor library overlooking the garden, this five-story home captures the essence of sophistication. The master bedroom, also on the third floor, has an adjacent sitting room and dressing room as well as a generously sized master bathroom. On the fourth floor, three bedrooms plus a possible fourth bedroom, each with windows at their front and back, offer accommodations for family and guests. Two service or guest bedrooms plus a separate entrance and second-floor serving kitchen above the main kitchen facilitate easy entertaining on just about any scale.
Suburban Sanctuary
Neuilly-sur-Seine, France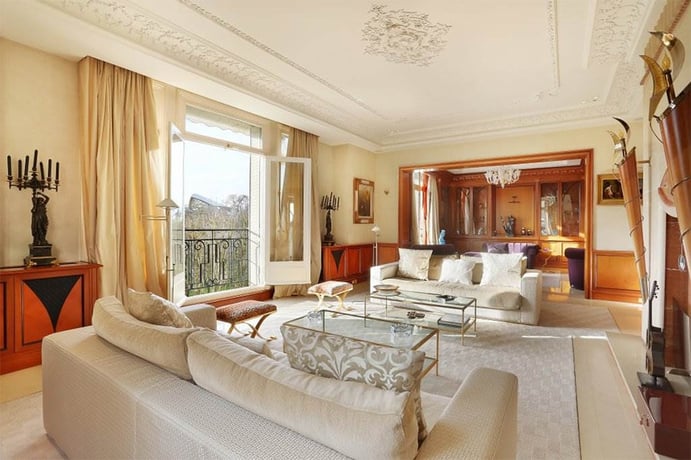 This third-floor apartment on the western edge of Paris has five bedrooms, excellent natural light throughout, and park views. The spacious entryway with a mosaic floor and plastered ceiling opens onto paired, south-facing sitting rooms. While one sitting room features wide French windows that overlook the balcony as well as ornate ceiling details and a large fireplace, the other comprises wood-paneled door frames and carved moldings. The airy master suite is complemented by a commodious dressing room plus a bathroom with a Grecian-style mosaic above the large soaking tub. Boasting more than 3,500 feet of living space, this exclusive retreat also has one bedroom on a lower level as well as a family room, laundry room, and modern kitchen.
Gold Coast Grandeur
Manalapan, Florida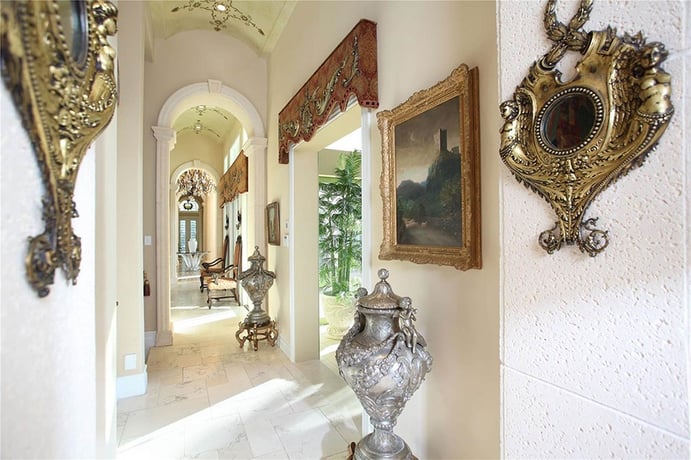 This lavish palazzo on Florida's Gold Coast welcomes guests into a grand rotunda with Corinthian columns and a chandelier that descends from a 30-foot-high frescoed dome. Galleries open to either side, leading to an elegant living room with an ocean-facing window wall plus an onyx wall that frames a carved fireplace and domed niches. The formal dining room is graced by a hand-carved armoire, carved ceiling, and Austrian crystal chandelier. Entertainment loggias feature a pizza oven, a summer kitchen, a fully equipped wet bar, and a stone fireplace. Multiple guest suites and the master suite contain their own wet bars. A 1,000-bottle wine cellar; media room with art glass, snack bar, and surround sound; and a beach house with kitchenette and bathroom make this 13,000-square-foot villa an unparalleled venue for entertaining.
Southwest Splendor
Paradise Valley, Arizona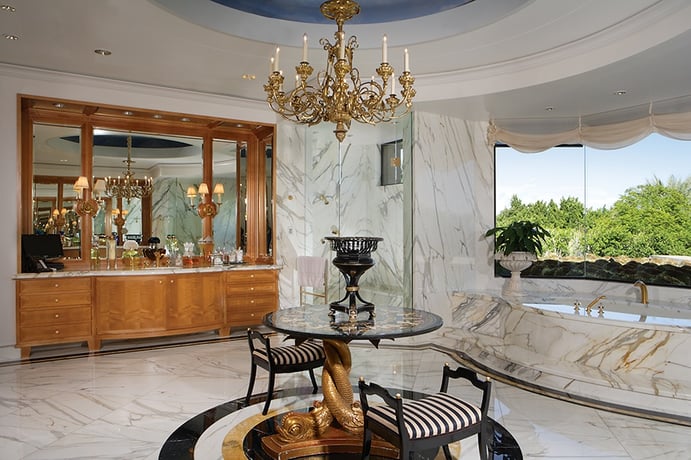 Located on 12 acres within the beautiful Sonoran Desert, Villa Paradiso offers a resort-like atmosphere with views of Camelback Mountain, the McDowell Mountains, and Four Peaks. Spacious patios with sweeping views, water features, expansive lawns, and lush landscaping create a private oasis accented by a large pool. The main residence has its own hair salon, indoor basketball court with skybox and electronic scoreboard, home theater with lobby, and attached guest suite as well as maid's quarters and multiple elevators. A three-bedroom guesthouse also graces the grounds. With 12 garage spaces, five carports, and its own security system, this luxury estate lives up to its name.
Priceless in Portugal
Porto, Portugal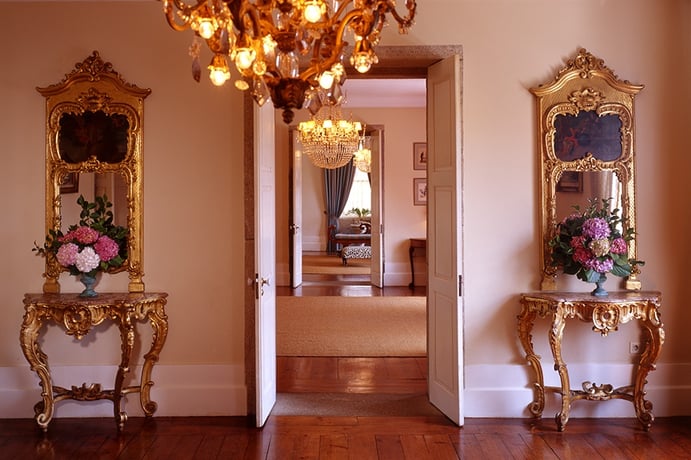 Updated and restored to the standards of a luxury hotel, this former convent still retains its original serenity, privacy, and beauty. With five bedrooms and four living rooms, this truly unique home boasts 17th- and 18th-century Baroque furniture and chandeliers, a mosaic floor in the kitchen, and bathrooms accented with marble or Portuguese tile. The 18th-century chapel and tower are in excellent condition, and the grounds include a garden pavilion with the capacity to seat 200. Located within the UNESCO World Heritage Alto Douro Wine Region and featuring idyllic river views, indoor and outdoor pools, a beach, tennis court, and easy access to a nearby golf course, this property is truly one of a kind.
Moroccan Magnificence
Marrakesh, Morocco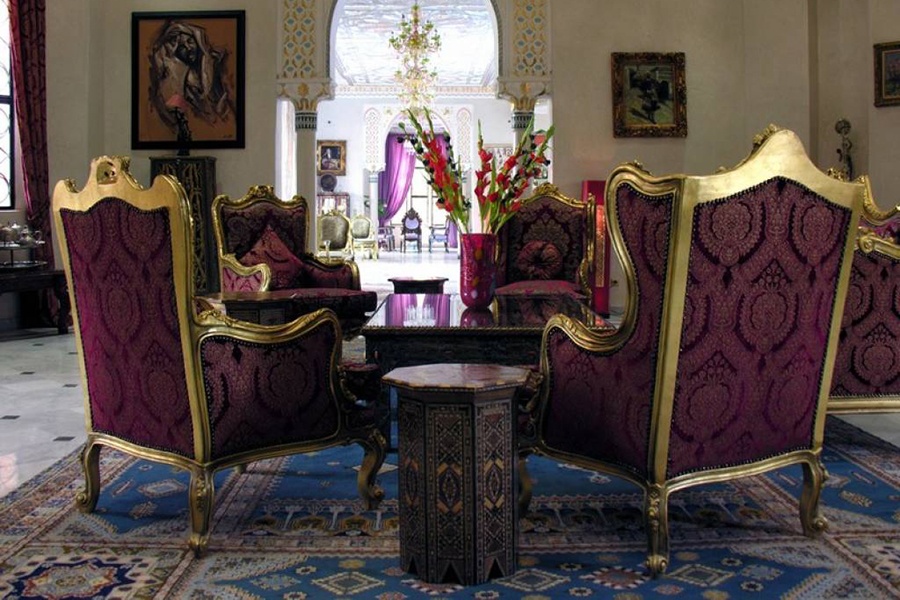 Built around a large covered courtyard, the main residence of Villa Marrakesh has five bedrooms, three living rooms, a cinema room, gym, and basement staff quarters. Carved ceilings, pillared and arched doorways adorned with geometric detailing, and polished stone floors are found throughout the interior. At the center of the courtyard is a star-shaped tile fountain, and the overhead gallery is adorned with a rose-shaped stained glass window. Garden features include a pool and a koi pond as well as an outdoor kitchen. A two-bedroom guesthouse with its own kitchen and living room offers graceful accommodations for visitors.