You may think that living on one of Manhattan's most exclusive streets, in an apartment with windows looking over Central Park, life might be somewhat public. Yet tenants past and present at 834 Fifth Avenue enjoyed an impressive level of anonymity, thanks to its establishment as a cooperative.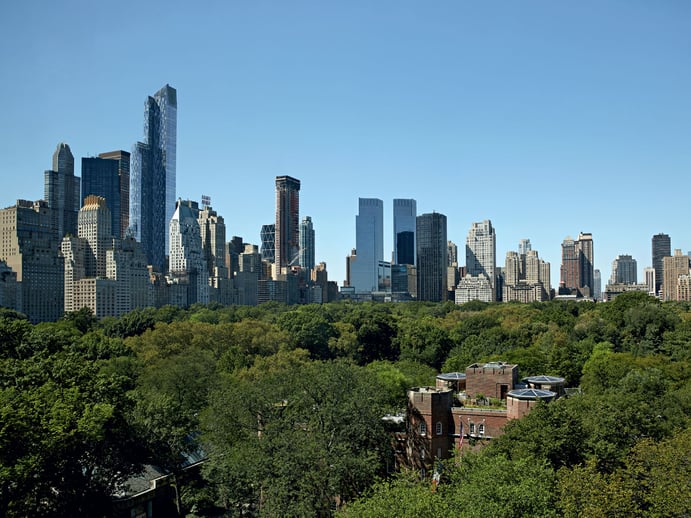 Designed by Sicilian-born Rosario Candela, one of New York's best-loved architects, the limestone-clad 16-story building built in 1931 was considered his crowning achievement. Candela moved to New York in the 1920s, not speaking a word of English; within five years, he'd graduated from Columbia University, honed his skills as a draftsman, and started to design buildings that would go on to become the city's best examples of Art Deco architecture. His work set the standard for interior spatial design that many others would follow, and today, according to architectural historian Christopher Gray, "to own a 10- to 20-room apartment in a Candela-designed building is to accede to architectural as well as social cynosure."
"To own a 10- to 20-room apartment in a Candela-designed building is to accede to architectural as well as social cynosure."
Here, in this magnificent front-corner, two-story apartment, the interiors are by the late Henri Samuel, who, as well as being the designer of choice for owner Susan Gutfreund, the Rothschilds, and couturier Valentino, restored the Empire rooms at the Palace of Versailles.
"The Gutfreunds were introduced to Samuel by the philanthropist and fine arts collector Jayne Wrightsman," says Richard Ziegelasch of Brown Harris Stevens Residential Sales, LLC, an Affiliate of Christie's International Real Estate. "Doors from Samuel's private collection adorn the entryway, and his insistence on classic style throughout was upheld everywhere except the Winter Garden room, which was modeled on chinoiserie palace designs of 18th-century Europe, with canvas panels from Belgium and trompe l'oeil by Atelier Mériguet-Carrère."
Like many of Candela's apartments, this front-corner duplex is expansive; the 20 rooms have soaring ceilings with original moldings, and are spread over two floors, covering a total of 12,000 square feet. There's a master bedroom bookended with a dressing room and privately accessed sitting room, three further bedrooms, a large kitchen and adjoining butler's pantry, and two libraries. All this comes fully serviced, and finished with hardwood floors and a 1,500-bottle wine cellar.
PHOTOGRAPHY BY FRANCESCO LAGNESE