Perhaps the best part of getting away from it all is being able to bring some of it with you. In this Luxury Defined collection, we tour seven exclusive properties for those who value privacy above all else: Choose from your own private island on the Emerald Coast of Italy, or on a lake under the big blue sky of Montana. How about a hidden haven on secluded Montauk Point? Or perhaps, you would like to be master and commander of 6,000 acres in Patagonia or the sole private acre in the middle of Grand Teton National Park? Here, then, are seven ultimately private, faraway escapes for the 21st century.
Private Island on the Emerald Coast
Porto Cervo, Sardinia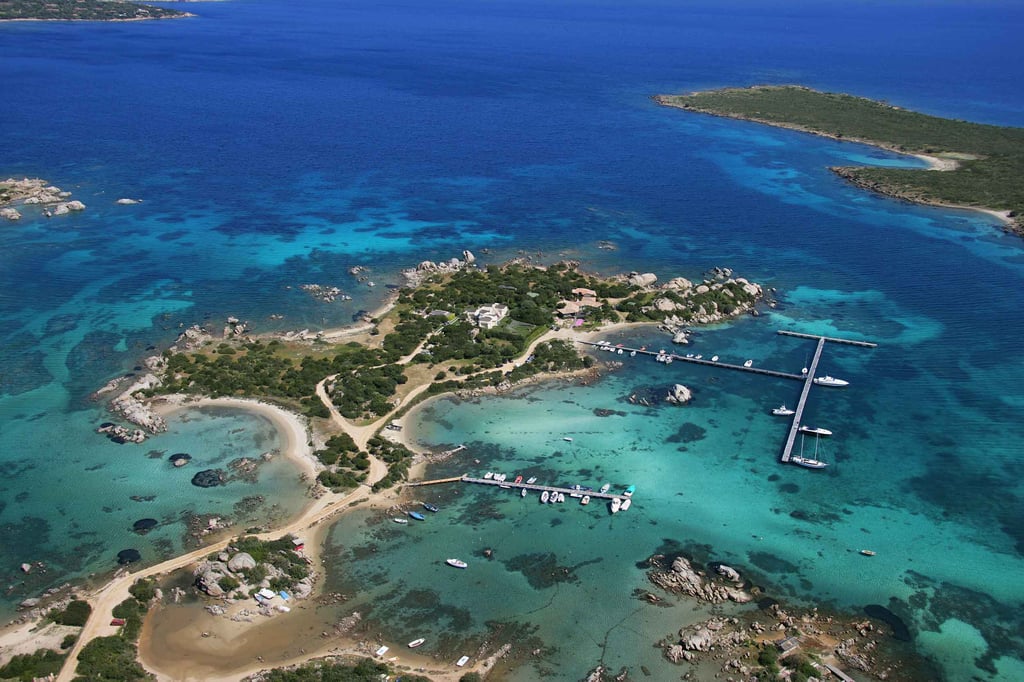 This private 10-acre island off the coast of Porto Rotondo is one of the most secluded properties on Italy's coveted Costa Smeralda. Framed by aquamarine waters and white-sand beaches, the contemporary main house features open-plan living areas and three luxurious en suite bedrooms. Residents can bask in the Sardinian sunshine from the multiple terraces, formal gardens, or several beaches. Guests can enjoy both luxury and privacy in the beachfront villa or two charming cottages. The yachting facilities are outstanding too: A pier with several berths connects the estate to the upscale resort of Porto Rotondo, with its prestigious marina and glamorous nightlife.
Montauk Beachfront Paradise
Montauk, New York
This extraordinary property is an oceanfront masterpiece on 36 private and verdant acres in exclusive Montauk Point, the Malibu of the East Coast. The 7,000-square-foot main house is the vision of architect Frank Hollenbeck, who based the design on a Chinese tea house, evidenced in the beautiful pagoda-style blue-tiled roof. It is ideally situated on a high bluff overlooking the Atlantic Ocean and a secluded, sandy beach with no public access for miles. The property includes a two-acre pond which provides habitat for local flora and fauna. At the ocean's edge, two naturally formed 100-foot jetties act as barriers to passing storms.
Patagonian Eco Preserve
Esquel, Argentina
One of the rarest offerings in Argentina, this 6,040-acre eco preserve is a private oasis surrounded by millions of wilderness acres in the heart of Patagonia. Breathtakingly beautiful, the land is home to diverse topographical features and an abundance of wildlife. Perhaps most stunning is the 247-acre lake stocked with rainbow trout and 3,361-acre lenga-tree forest, which are under conservation management by a local fisheries and forestry agency. The 9,150-square-foot lakeside lodge house provides luxurious accommodations and amenities, such as a wine cellar and indoor pool. Other unique features include a boat dock, private chapel, guest house, and three caretaker's cabins.
Montana Island Lodge
Seeley Lake, Montana
Nestled between the Mission and Swan mountain ranges, Montana Island Lodge is the epitome of rustic opulence and tranquil seclusion. The 30-acre island estate is home to an 18,800-square-foot log residence that can accommodate 25 people in resort-style luxury. Hand-carved wildlife scenes adorn the front doors, which open to the great room's floor-to-ceiling lake view and massive, rusticated stone fireplace. A huge master suite with a fireplace is one of 11 bedrooms (each with its own vista of the lake). The residence opens to an outdoor haven with expansive sun decks, a lounge area with fire pit, a boat dock, and a shorefront log cabin.
The Player Residence
Greenville, South Carolina
The private estate of Gary Player, Golf's International Ambassador, overlooks the 7th hole of The Cliffs at Mountain Park Golf Course, an oasis of mountain, woodland, and meadow, 30 minutes north of Greenville, South Carolina. Gary Player designed the house to evoke the majesty of his native South Africa and frame the spectacular golf and mountain views. The grounds alone exceed the million-dollar mark, with walking trails, statues, and an infinity-edge pool. Other highlights include five resort-like bedrooms, six bathrooms, a covered porch with built-in kitchen, a designer chef's kitchen with an enormous fireplace, and a climate-controlled four-car garage.
Moulton Ranch Homestead
Kelly, Wyoming
Moulton Ranch is one of the last remaining private homesteads in Grand Teton National Park. While most of the original homesteaders sold their land to the park conservancy in the 1920s and '30s, the Moulton family decided to retain one acre of land on what is now known as Mormon Row Historic District. This single acre of land is now completely surrounded by Grand Teton National Park, making it effectively the largest acre in the United States. The compound has been fully renovated and includes a main house, several guest cabins, a barn, and outbuildings, all beneath the staggering, raw beauty of the Grand Tetons. The only uninvited visitors will be the occasional herd of passing bison and ambling pronghorn antelope.
Country Estate
Uxbridge, Ontario, Canada
Perched on the heights of the Oak Ridges Moraine, an ecologically sensitive landform in Ontario, Canada, this elegant country estate on 56.2 private acres offers majestic views of the Toronto skyline, Lake Ontario, and the surrounding protected forest. The house, with 8,900 square feet of living space, is reached by a quarter-mile-long, tree-lined lane. The four-bedroom, five-bathroom residence features warm interior spaces with five fireplaces and vaulted ceilings. The elegant appointments include a cool, blue modernist living room, library, billiards room, contemporary kitchen, and wine cellar. A vast sundeck with swimming pool overlooks a meadow, which leads down to a forest with miles of hiking and riding trails.