It may be every homeowner's recurring dream: tap a bookcase or push a wall, and the secret panel swings open... revealing a hidden lair beyond. That dream comes true in this showcase of five luxurious properties with secret spaces, each revealing a story behind the walls. From a tiny hiding place that might have been a stop on the legendary Underground Railroad to a unique galleried tunnel beneath a road, these hidden refuges add an air of mystery and exclusivity to their homes—and ensure that recurring dream is real!
HORNBLOWER HOUSE
WASHINGTON, DC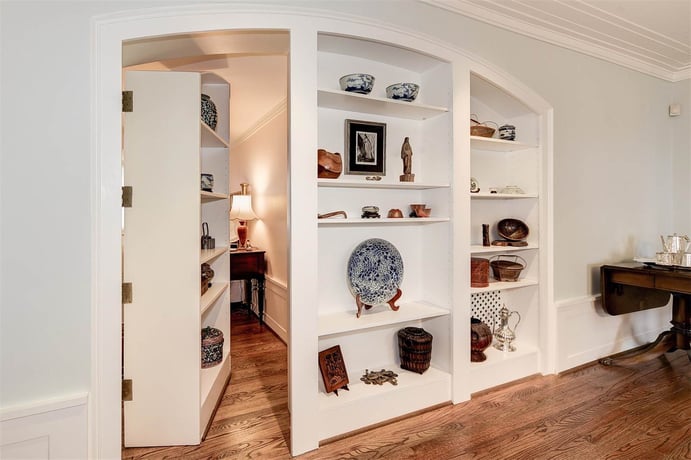 Located on a quiet tree-lined street in Dupont Circle, this beautifully restored, 8,200-square-foot townhouse was built in 1897 by the Washington master architect J.C. Hornblower as his private residence. The 3,800-square-foot owner's wing is entered via a private foyer; a set of built-in shelves hide a secret room, which adds to the home's mystique. In the living room, Victorian grandeur is on display in the tiger oak herringbone floors, 11-foot-high coffered ceilings, and two double French doors with Juliet balconies. Pocket doors lead to the elegant library with fireplace. The master suite, with fireplace and kitchenette, has a luxurious king-size tub, separate glass shower, and custom shaving station. The top floor has two beautiful rental apartments, each with two bedrooms, two bathrooms, and two fireplaces. Parking is available for four cars with easy access to the Metro and airport.
GEMINI
MANALAPAN, FLORIDA
This 15.65-plus-acre crown jewel tropical compound on Manalapan's prestigious barrier island, just 20 minutes south of Palm Beach, is a once-in-a-lifetime offering. Gemini has two faces: more than 1,200 feet of dune-fringed Atlantic Ocean frontage and behind it, 1,300-plus feet on the Intracoastal Waterway. The centerpiece of the property is a large, elegant yet invitingly informal coral-clad main residence that brings the subtropical climate in through a series of loggias, open stairways, and balconies. The wings of the property, astride South Ocean Boulevard, are seamlessly joined by a 15-foot-wide residential gallery that begins at ground level near the pool on the Intracoastal side and passes imperceptibly to a skylit foyer on the ocean side. The ocean wing and guest cottages are the only oceanfront residential structures on this still-pristine stretch of the Atlantic Coast. There is nothing else remotely similar in all of Southeast Florida.
WINE COUNTRY ESTATE
RANCHO PALOS VERDES, CALIFORNIA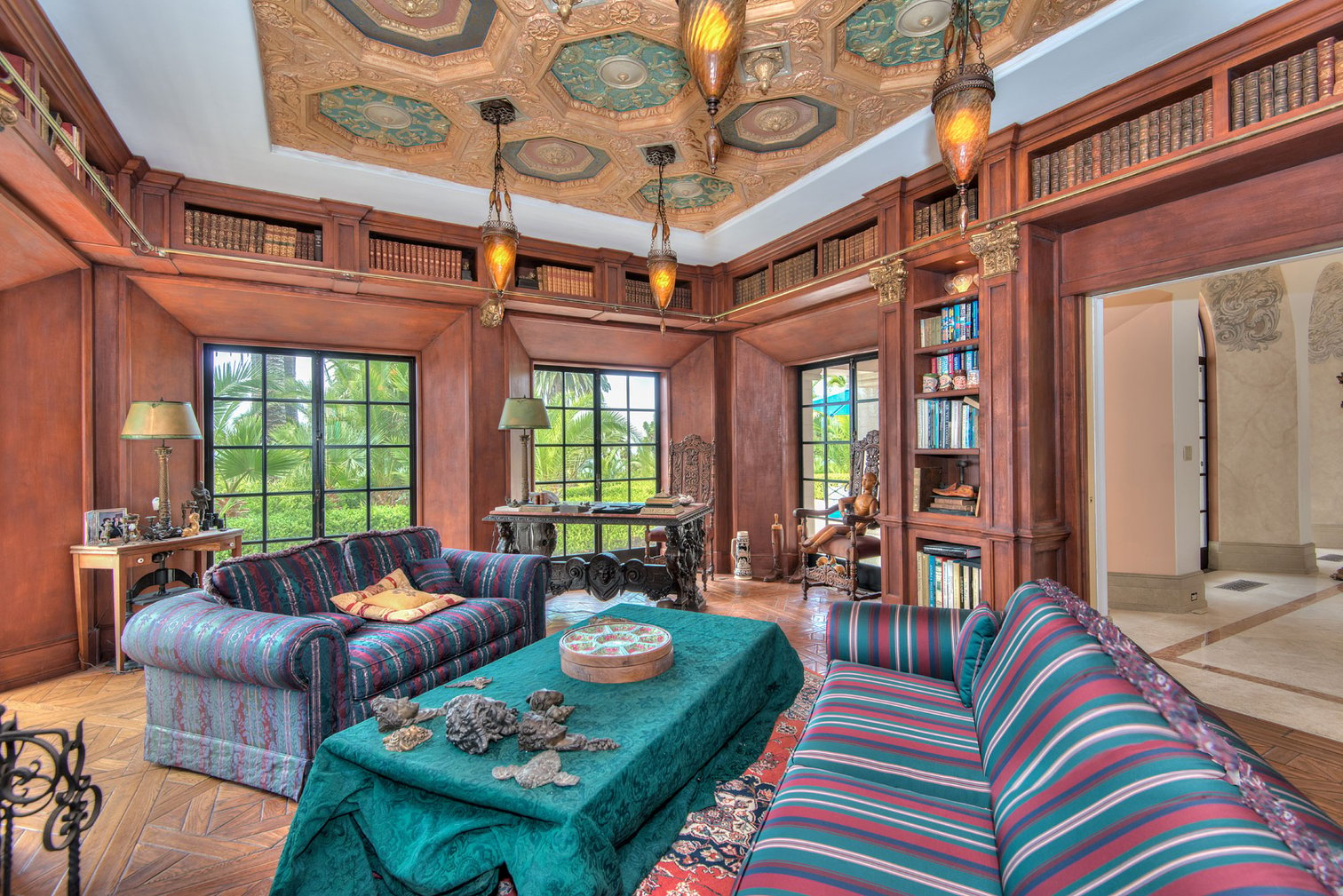 This magnificent wine country estate encompasses more than 48 idyllic acres, complete with a merlot vineyard and 180-degree ocean views. This Imposing Italian-inspired villa is entered by a long, gated, private drive leading to a circular motor court. Built in 1997, the five-bedroom, 10-bathroom residence offers 12,000 square feet of living space and an array of captivating details. The great room features a stunning mosaic of over 15,000 pieces of hand-cut stone. Rife with Old World appeal, the paneled library boasts a decorative ceiling and a secret door disguised as bookshelves leading to a clandestine passageway. The formal dining room is also a showstopper featuring ceiling molds from Caesars Palace. Other interior highlights include a gourmet kitchen with two-storied pantry, an exquisite Tuscan-style wine cellar, a dumbwaiter, elevator, gym, and five-car garage. The grounds are a haven of tranquility with classical palm-lined gardens overlooking the Pacific Ocean.
HIDDEN MEADOWS FARM
LIGONIER, PENNSYLVANIA
Hidden Meadows Farm is framed by a bucolic landscape, punctuated by meadows and woodlands, situated within an hour's drive of Pittsburg. This grand, 133-acre country estate comprises a 12,000-square-foot Victorian Revival-inspired owner's residence with a resort-style pool, a world-class equestrian facility, and a ranch home and caretaker's cottage. The property, as its name suggests, reveals a host of enchanting, clandestine touches throughout. The library was inspired by the admiral's cabin in an 18th-century British warship. Its handsome wood-paneled façade hides a door that leads down a secret staircase to the tasting room and climate-controlled wine cellar. Upstairs is a unique, circular "Hobbit" themed round door that opens to a private office. Other superb appointments include the family room with a monumental stone fireplace, a lounge with mahogany bar, and a card room adorned with an artist-canvas wall covering and fireplace.
WATERFRONT COLONIAL
ESSEX, CONNECTICUT
This circa-1770 Cape Cod-style estate is a waterfront sanctuary with 260 feet of shoreline offering views of quiet North Cove, the Connecticut River, Ely's Ferry, and the hills of Lyme. Formerly the site of a shipyard, lore has it that the space under the original staircase was used as a "station" on the Underground Railroad—a network of secret routes and safe houses to assist escaped slaves in the decades before the Civil War. The living and dining room, with two bedrooms above, are also part of the original homestead. The modern addition includes a great room and gourmet kitchen. The master suite has south- and east-facing decks; a hallway accesses a newly renovated duplex apartment (with separate entrance) over the attached three-car garage. There is also a summer house at the water's edge and a fully permitted 2013 dock with float and boat shack.