Once winter is behind us, it's only natural that we are drawn to the beach—a haven for Spring Break as well as a sunny refuge for enjoying the lengthening days. Luxury Defined has selected seven of the world's most celebrated beaches and zeroed in on an outstanding residence at each strand—places to enjoy the surf, the sand, the salt air, and the many recreational opportunities that only an oceanfront mooring can offer. From California to Florida and Australia, from the Pacific to the Atlantic and the Caribbean, the following septet of gleaming seaward estates will surely beckon the confirmed worshiper of sun, sand, and sea.
Duneside Hamptons Haven
Amagansett, New York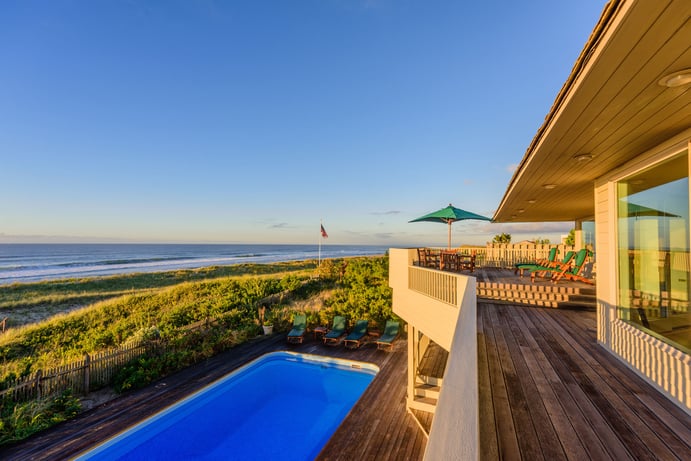 On New York's Long Island, the Hamptons are the beachgoing preference for the well-heeled, virtually by default. While the spring solstice may be a bit early and blustery to take to the Hamptons for a beach trip, it's not too early to plan that outing or—more to our purposes here—to examine listings for that dream beachhead estate. The Hamptons are made up of many lovely beaches, but perhaps Indian Wells Beach at Amagansett is among their best—an expansive strand that is ideal for a picnic with the family, handy to parking and food trucks, and adjacent to the Nature Conservancy's Atlantic Double Dunes reserve.
Situated high on a dune and protected by the Atlantic Double dune reserve happens to be a spectacular oceanfront residence, only minutes from Amagansett town proper. Bright and open, this stylish, crisp and clean five-bedroom California contemporary home enjoys sweeping ocean views from each level. More important for the beachgoer among us, it boasts some 100 feet of sandy beach on its 1.22-acre premises, and its pool is also on the ocean side—a grandfathered advantage that would not be allowed today. Featuring two living/entertaining areas, a den, dining area, open stainless/granite kitchen, four spacious guest rooms and much more, this amazing house is set up high on a dune so that it accommodates a large lower level recreation room and gym area. The property, which is surrounded by 385 acres of state park land, is located in a truly special, protected setting, and is ideal for year-round living and summertime beachgoing.
Casa Bella Vista
San Jose Del Cabo, Baja California Sur, Mexico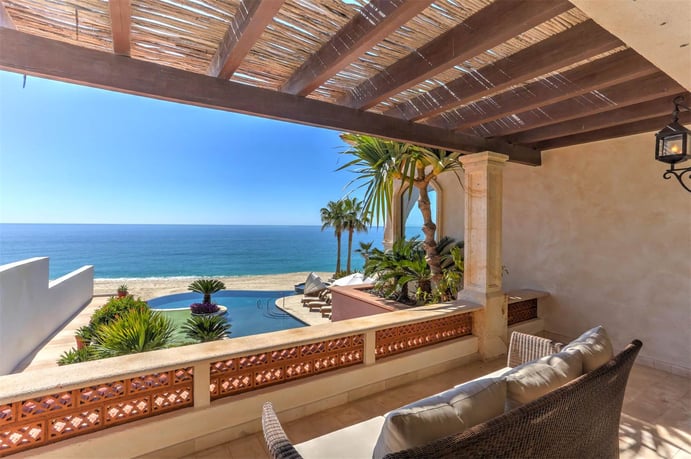 At the tip of Mexico's Baja California peninsula, Cabo San Lucas is literally a subtropical paradise, just 38 miles south of the Tropic of Cancer. Bounded by the Pacific on one side and the Sea of Cortez on the other, Cabo is noted for its fine beaches and dramatic coastline. The beaches to the east near the bay and sea offer outstanding opportunities for water sports of all kinds, including swimming, snorkeling, surfing, and scuba diving. Every year, great numbers of sea turtles visit Cabo's beaches, one species of which—the leatherback sea turtle—can weigh up to 1,500 pounds. No wonder these beaches have been the staple of many Spring Break visitors, vacationers, and sport fishermen.
Located on an outstanding sandy beach between the settlements of Cabo San Lucas and San Jose del Cabo lies this magnificent Mediterranean-style residence of more than 5,000 square feet, but whose living space is greatly enhanced by its dazzling beachfront terrace. Casa Bella Vista is a baronial home noted for its double-height great room that opens out into the grand terrace and poolside lounge area. This newly built masterpiece (2012) is remarkable for its superb granite, marble and artisanal finishes, but its hallmark is certainly the dazzling outdoor living area, which affords ready access to the beach beyond. A maid/caretaker quarters and secure garages are additional assets that complement this outstanding private beach retreat.
Hale Ali'i
Kapalua, Maui, Hawaii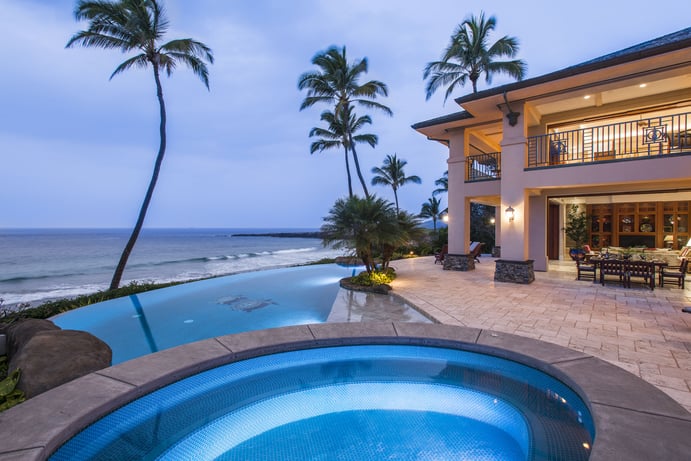 The beaches of Maui are some of Hawaii's most celebrated, with Makena Beach on the south side perhaps the most expansive and well known, and Kapalua Bay on the north side arguably the most exclusive. At Kapalua, one can gaze across to the islands of Molokai and Lanai as well as marvel at the sight of spouting whales. Considered by some to be the finest beach on Maui and certainly one of the most popular, Kapalua and its adjacent beaches offer outstanding swimming, sunbathing, and snorkeling. Kapalua is also a popular beach area for children.
Perfectly situated in the center of Oneloa Bay, Kapalua's most pristine and enchanting beach, stands Hale Ali'i ("home of the kings"), a modern, private beachfront gated estate. This luxurious residence is located on one of only five exclusive beachfront sites in Kapalua and offers privacy, impressive views of the ocean and the island of Molokai, as well as spectacular sunsets and magnificent whale-watching opportunities. The beachgoer will find the expansive lanais, living, dining, family room and master suites equal temptations—but the beach will certainly still beckon. Across the large courtyard and circular drive fronting this 7,475-square-foot estate is a luxuriously finished 5-car garage. The home's impeccable decor was designed by Mary Philpotts, a distinguished Hawaii designer with an international reputation.
The Girasol Estate
St. Barts, French West Indies
The beaches of St. Barthelemy—or St. Barts to most—are a lush departure from those on the U.S. mainland, and comprise truly prime real estate for the beachgoing connoisseur. After all, this tiny island of just eight square miles can only accommodate so much beach—but what beaches they are, resplendent in their white sand and palm-clustered glory. This heavenly isle in the French West Indies is also a Valhalla for the yachting set, with luxurious moorings in evidence for the well-heeled mariner. Just a day's flight from Miami, St. Barts has long been a haven of the jet set, and its beaches have been one of the main reasons why.
The Girasol Estate on St. Barts is certainly a rare find, as it comprises more than 500 feet of precious beachfront at Marigot Bay, whose waters have been designated a natural protected area. Set on nearly 7.5 acres, this lush compound is an oasis made up of some 600 plant species, and includes its own expansive coconut grove. Higher up, the Guest Villa and Main Villa overlook the bay and Turtle Island. Both enjoy their own swimming pools, en suite bedrooms, and countless amenities, including computer-controlled Jacuzzis, outdoor gazebos, and terraces with amazing views. Girasol is an estate that could easily be mistaken for a private luxury resort, but its rare stretch of beach is arguably one if its most sought-after assets.
Malibu Modernism
Malibu, California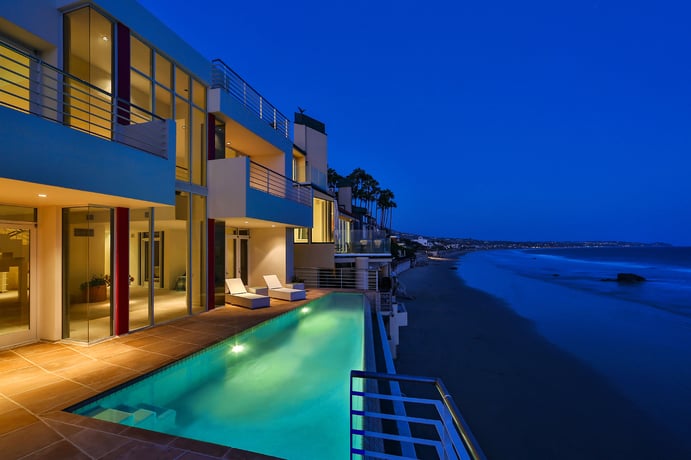 For the beachgoing aficionado, Malibu is not only a destination, it is a brand. Stretching for some 20 miles along the Southern California coast, this beachfront community has become synonymous with an iconic oceangoing lifestyle, and has lent its name to film, fashion, and food. A surfing mecca and the setting for everything from "Gidget" to the Getty, Malibu is also one of the most iconic oceanfronts in the world, sought after by celebrities, surfers, and executives alike.
Situated on exclusive Broad Beach (one of Malibu's more rarefied stretches of sand), this gleaming architectural residence offers the epitome of sophisticated coastal living. Its contemporary design and open plan invite the blue Pacific indoors. Multiple levels provide sundecks and many vantages from which to enjoy the 180-degree ocean view. On the first level, a stunning turquoise lap pool merges seamlessly with the Pacific, and the sandy beach is immediately accessible just a few feet below the patio balcony.
Elaine Gardens
Point Piper, New South Wales, Australia
Metropolitan beaches are global rarities, which is why Sydney, Australia's Point Piper district is so well regarded. A sanctuary for yachtsmen, this cosmopolitan enclave has long been recognized for its legendary view of Sydney Harbour, which encompasses such sights as the famed Opera House and Harbour Bridge. Beachgoers and beachcombers will appreciate such landmarks as Lady Martin's Beach, Seven Shillings Beach, Redleaf Pool, and Duff Reserve, a popular deep-water spot. Several rowing clubs and yacht clubs are part of the territory, as well.
Australia's most significant private estate also happens to be located on the beach at Point Piper, and is now one of the world's most exciting residential opportunities. A historic Sydney Harbour landmark, Elaine Gardens enjoys a spectacular 140-plus-foot frontage on Seven Shillings Beach. No comparable estate has ever been offered for purchase in Australia. Erected in 1863 in the grand Victorian mansion style, Elaine Gardens and its ballroom, numerous balconies with stunning Sydney Harbour views, and rolling gardens have played host to a throng of important guests across four generations of ownership. Likely to be the last of Sydney's great old harbourfront estates to be offered for sale, Elaine Gardens has received approval to be divided into—and purchased as—four separate parcels, each with its own residence.
South Beach Skyrise
Miami Beach, Florida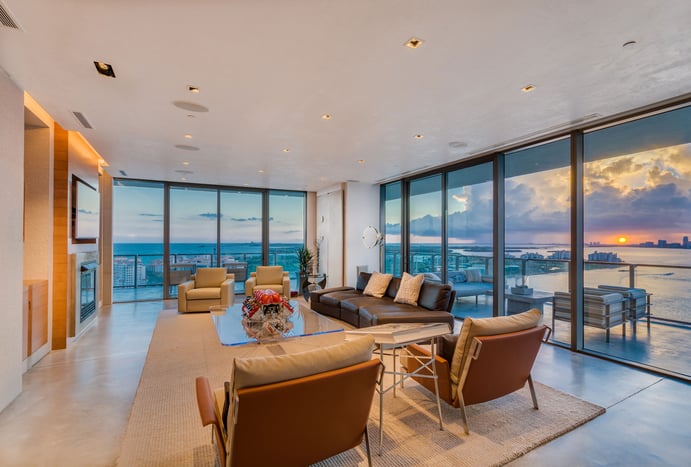 Miami's South Beach, or SoBe to the locals, is another beachgoers' landmark—it's the iconic "picture postcard" vision of Miami that has been recognized by millions, with its famous Art Deco architecture, fine white sand beaches and aquamarine waters, celebrated nightlife, and world-class boutiques. Its Ocean Drive skyline has been featured on television hundreds of times, and as a result it's no accident that South Beach has often been christened the American Riviera.
Rising in the midst of South Beach is this lofty luxury condominium corner property with outstanding skyline and 270-degree views that is nevertheless just a quick private elevator ride to the beachfront. Located in Miami's celebrated and exclusive Apogee development, this state-of-the-art high-rise residence is notable for its 11-foot-wide wraparound terraces that comprise an additional 2,400-plus square feet of living space (the unit itself exceeds 4,400 square feet on its own), and a two-car air-conditioned garage. This stellar unit is finished to perfection with raked granite and hand-plastered walls, concrete floors, Kreon lighting, and includes an open kitchen with the highest quality appliances. An outstanding showplace for entertaining, this luxurious aerie will further entertain by virtue of its quick access to the pleasures of South Beach below.