Earth Day was established in 1970 by U.S. Senator Gaylord Nelson as a time to commemorate the natural environment and to raise awareness of its fragility and the need for its conservation. While its creation was triggered by concern over a massive oil spill in California's Santa Barbara Channel in 1969, Earth Day has grown to become a global day of observance that is commemorated on April 22 in many different nations and in many different ways. During this Earth Week, Luxury Defined is paying a visit to several estates worldwide that are particularly suited to their own environments. Whether marked by a sustainable approach to their gardens and grounds, by their energy-saving and harvesting resources, or by their other features that harmonize with the surrounding landscape, these homes are certain to appeal to any earthling who does not take the planet for granted.
South Island Stunner
Nelson, New Zealand
In the far reaches of the Antipodes can be found a stunning and sustainable estate on New Zealand's South Island above Tasman Bay. This bright and airy home is noted for its solar paneling and central heating that offer significant energy savings and have earned the residence a Master Builder award as House of the Year in both lifestyle and sustainability categories. Surrounding vineyards and orchards add to the property's sustainability pedigree.
Grape Expectations
Grants Pass, Oregon
On the opposite side of the globe, a likely Earth Day celebrant is certainly Southern Oregon's Troon Vineyard, which prides itself in growing grapes organically and sustainably, using the waters native to the picturesque 32-acre property near Grants Pass. This true wine estate—which includes winery, tasting room, and residences—employs organic farming methods free of herbicides or pesticides, and all harvesting is done by hand. The result—some deliciously responsible bottles of Merlot, Syrah, Cabernet Sauvignon, and Zinfandel.
Peninsular Prize
Peloponnese, Greece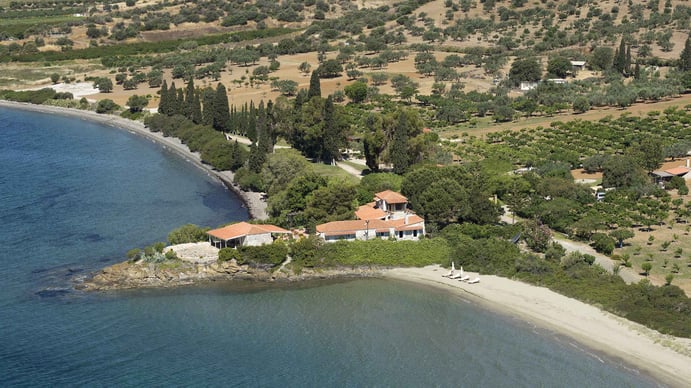 On Greece's Pelopponese peninsula, a 330-acre beachside estate known as Demesne is another sustainable highlight of our global Earth Day portfolio. This expansive coastal property enjoys its own water sources, while its orchards of more than 4,000 mature trees produce olive oil, citrus fruits, figs, pomegranates, grapes, and other delicacies. This very self-sufficiency has rendered Demesne not only an ideal primary or secondary residential opportunity but makes it a potentially viable ecotourism resort.
Natural Wonder in the Hamptons
Amagansett, New York
The Hamptons, New York's rarefied retreat on Long Island, is also no stranger to environmental awareness and responsibility. The community of Amagansett sits astride several nature preserves, and this residence at 390 Town Lane is an exemplar of energy efficiency. The home has literally harvested the earth's energy, as it employs both geothermal heating and cooling throughout as well as central steam humidification. As observed from a sweeping aerial view of the luxuriant grounds, a 10-kilowatt solar panel system further augments the estate's renewable-energy output.
Cabo's Casa Kay
San Jose del Cabo, Mexico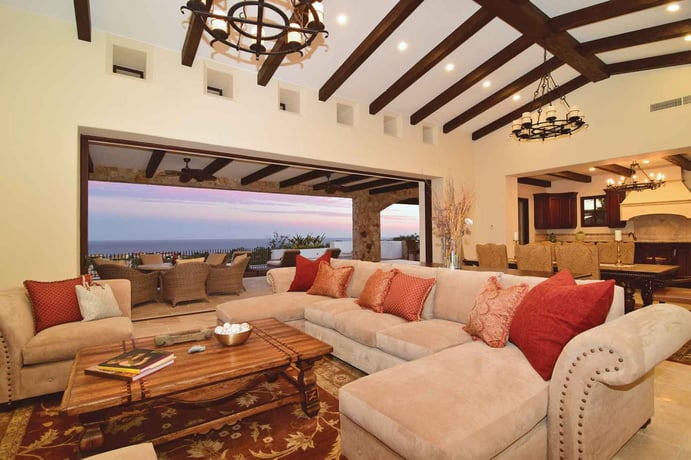 South of the U.S. border, the resort of San Jose del Cabo on the Baja California peninsula has long been a haven for the ocean and nature lover. The magnificent Casa Kay residence is a sprawling seven-bedroom estate with panoramic views of the sea and desert mountains. It enjoys a passive solar system that supplements regular electricity and in fact can power most of the home's daily energy requirements, minimizing operating costs. Furthermore, the home's welcoming interiors virtually invite the outdoor natural vistas to come inside.
Mexican Garden of Delights
San Miguel de Allende, Mexico
Across the Sea of Cortez from Cabo and a little southward lies the inland expatriate haven of San Miguel de Allende, where the magnificent Casa del Obispo stands sentry near the charming town center. This beautifully renovated residence (remodeled by architect Sebastian Zavala and decorated by Anne Marie Midy) is a particularly apt Earth Day standard bearer thanks to its lovely gardens and charming greenhouse, which offer plant lovers the opportunity to cultivate botanical rarities as well as native outdoor flora.
Pacific Overtures
Laguna Beach, California
Finally it is fitting that another eco-conscious property may be found back across the border in California, where environmentalism has often been at the forefront. There, a stunning residence in Laguna Beach not only enjoys unobstructed views of the Pacific coastline but boasts landscaping with drought-tolerant plantings and water-conserving synthetic grass lawns. Solar panels promote additional energy sustainability, and a vegetable and herb garden bring a touch of "farm-to-table" relevance to the proceedings.