The Earth wobbles past its autumnal equinox, the daylight dwindles, and the north wind brings its first hints of winter. It's enough to make you shiver. What better retreat than a luxurious, light-filled sunroom? And consider a few of the settings on offer for that sunny space: a sunbaked villa on a hill outside Athens and an airy seaside manse on Dublin Bay. Let the winter come, then. It will find you basking in the light of the northern sun.
Provençal-Style Château
Mareza, Attica, Greece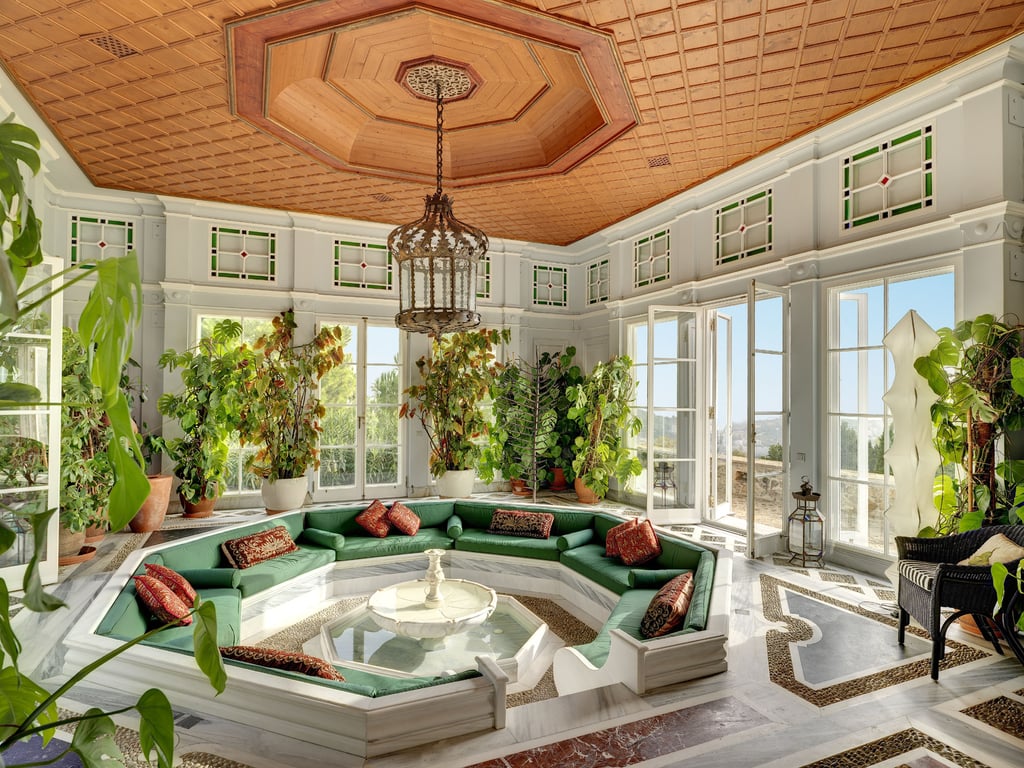 Perched on a hill outside Athens, this spectacular country estate enjoys commanding views over the surrounding landscape. The nearly 14,000-square-foot stone château's architecture has echoes of French Provence. The villa features palatial reception and dining areas with numerous fireplaces and large windows which fill the interior with light. Additional rooms include eight bedrooms with en suite bathrooms, a professionally-equipped kitchen with a fireplace, three staff rooms, a gymnasium, a sauna, a six-car garage, and many auxiliary rooms. The compound contains a separate, two-bedroom gardener's cottage, a chapel, a tennis court, swimming pool, and stable. The estate is fulfilled by 8.6 acres of lush gardens enhanced with classical fountains and sculptures.
Discovery Manor
Greater New York Area, United States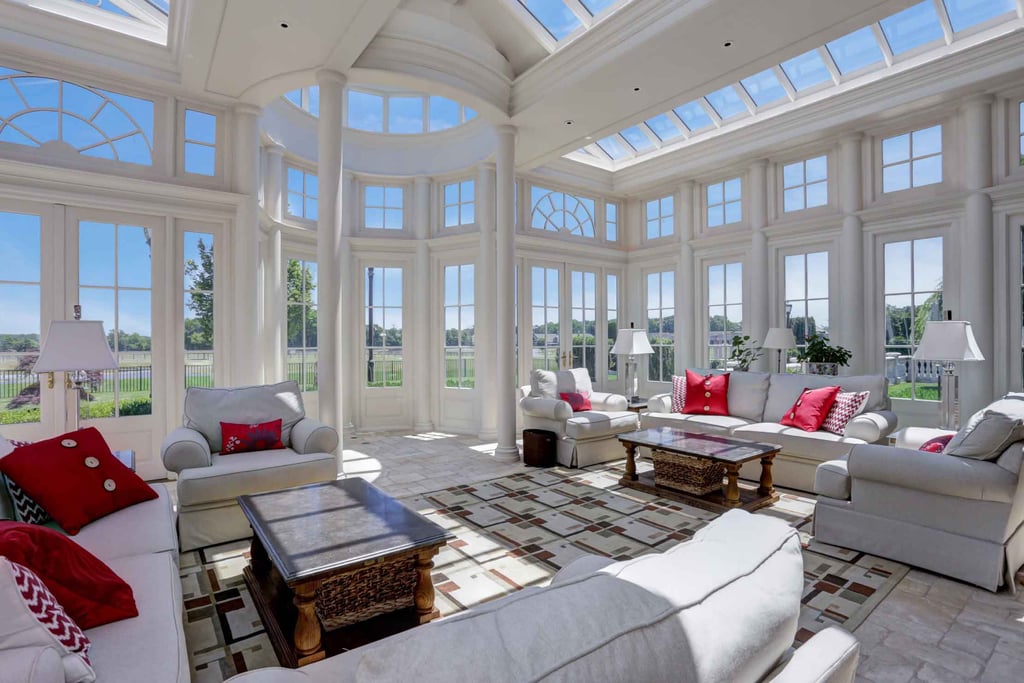 Discovery Manor is a 160-acre resort-style compound and world-class horse farm within one hour of New York City. The classically inspired main house presents 25,000 square feet of artisan-crafted and exquisitely furnished interior spaces that invite grand-scale living and entertaining. Among the highlights are the 24-seat formal dining room, gourmet kitchen, lounge and bar, great room, and domed glass conservatory. The resort-style amenities include a 3,500-bottle wine cellar and tasting room, movie theater, fitness center, oversized pool and spa, summer kitchen, pool house, formal gardens, and two stocked ponds. The professional equestrian facility includes a 24-stall Pennsylvania fieldstone barn, quarantine barn, equipment building, exercise ring, acres of fenced pastures, and a farm operations center.
White Oaks
Atlanta, Georgia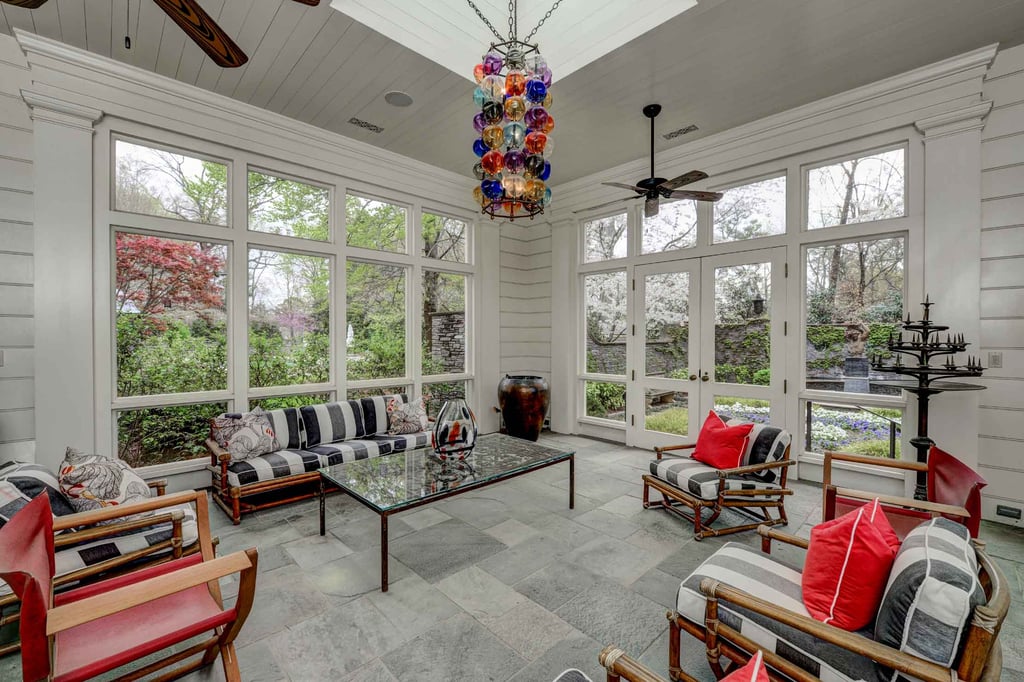 White Oaks is a circa-1926 plantation-style mansion on 3.5 acres of landscaped gardens in the prestigious Atlanta enclave of Buckhead. After a remarkable 10-year restoration by master craftsmen, the estate is today one of the finest homes in Atlanta. The refined six-bedroom manor boasts numerous reception rooms, six bedrooms, and an array of lavish amenities. The main level features two kitchens, a library, drawing room, banquet-size formal dining room, study, and office. The luxurious lower level includes a family room, billiard room, wine cellar and tasting room, and wellness center with gym, sauna, and steam room. The glass-enclosed sunroom overlooks the remarkable grounds, featuring walled formal gardens, a swimming pool and pool house, alfresco entertaining areas and a dining terrace.
Historic Château Estate
Poitiers, Nouvelle-Aquitaine, France
This magnificent 19th-century château is a haven of peace and luxury surrounded by 72 private acres, just outside the medieval city of Poitiers—the "town of 100 bell towers." The house and grounds have been renovated to exacting standards. The 9,687-square-foot, four-story château is graced with five bedrooms, an entrance hall, double reception room, formal dining room, and study. The luxurious upgrades include a home cinema, gym, wine cellar, fully fitted kitchen, elevator, indoor pool, and gym. At the rear of the house, a beautiful conservatory opens to a terrace overlooking the verdant grounds, which include a swimming pool with summer kitchen, tennis court, helipad, four-car garage, guest house, offices, a greenhouse, and a 15th-century dovecote, bordered by woodland, meadows, and agricultural land.
Terraces on the Navesink River
Middletown, New Jersey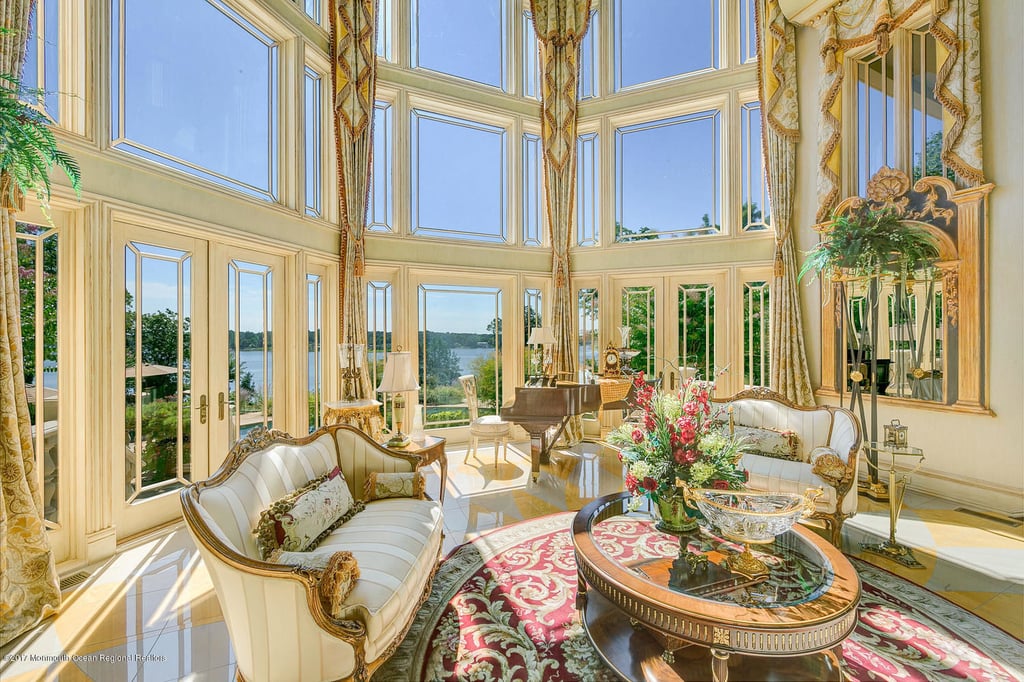 Overlooking the Atlantic Ocean from its tranquil location on the banks of New Jersey's Navesink River, this extraordinary château-style estate comprises a 20,000-square-foot main residence and magnificent terraced gardens leading down to the water's edge. The estate was designed for luxurious living and world-class recreation. The palatial interiors are adorned with exotic hardwoods, imported marble, bespoke window treatments, and hand-painted vaulted ceilings. The foyer opens to the home's stunning focal point: a three-story curved and arched glass solarium with a breathtaking panorama of the grounds. Five master sized bedrooms all boast en suite bathrooms and wonderful water views. The outstanding amenities include a private boat dock, indoor and outdoor pools, a two-lane bowling alley, indoor racquetball court, arcade room, fitness center, and spa. The property is close to local beaches, the Navesink River Country Club, and the high-speed ferry to New York City.
Inniscorrig Castle
Dalkey, Co. Dublin, Ireland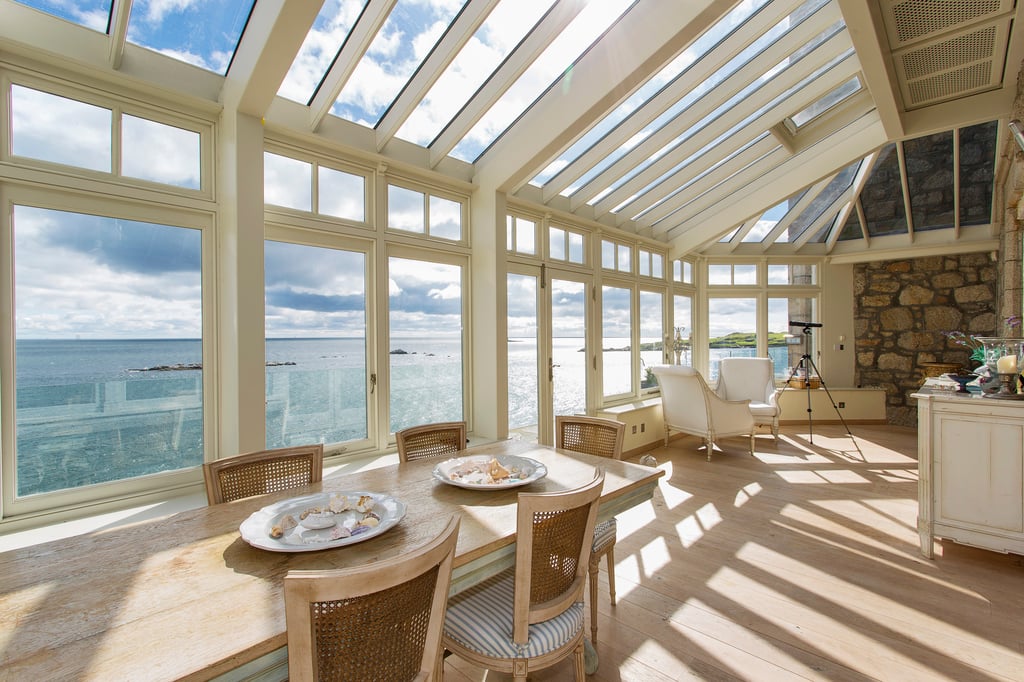 This magnificent castellated mansion on Dublin Bay has its own own private harbor complex complete with a tidal swimming pool, a working winch, entertainment terrace, and a peninsula-like platform at the sea's edge. Inniscorrig was built circa 1847 as a summer retreat by the renowned Dublin physician Sir Dominic Corrigan; his distinguished guests included British monarchs Edward VII and George V, whose visits were commemorated by a crown and star set into the patio terraces on either side of the entrance. The residence has since been updated and takes full advantage of its breathtaking maritime location. The conservatory looks out across the bay and leads to the waters edge. A series of Gothic arches protect a "secret garden" and enticingly frame the sea and island views. The large decked terrace off the seafront elevation leads to a lawn terrace and to the harbor terrace, sheltered from westerly winds.