Home fitness centers, tennis courts, and swimming pools are de rigueur in most luxury estates, with house plans often designed around such amenities in order to provide optimal conditions for their use. Some homes encourage an active lifestyle naturally due to their unfettered access to the ocean or ideal location near the foot of a spectacular mountain. But more unusual sporting amenities can be a delight to share with guests and offer a refreshing change of pace for devoted athletes and fitness enthusiasts who like to keep their routines varied. In celebration of the Olympic Games in Rio de Janeiro, here are five estates that offer athletic facilities one is unlikely to find in most luxury residences. For the property seeker who enjoys a weekend pickup basketball game with friends, golf on a whim, or even a game of bocce, these homes offer stylish and sophisticated settings for the sporting life.
Swiss Bowl
Castelrotto, Switzerland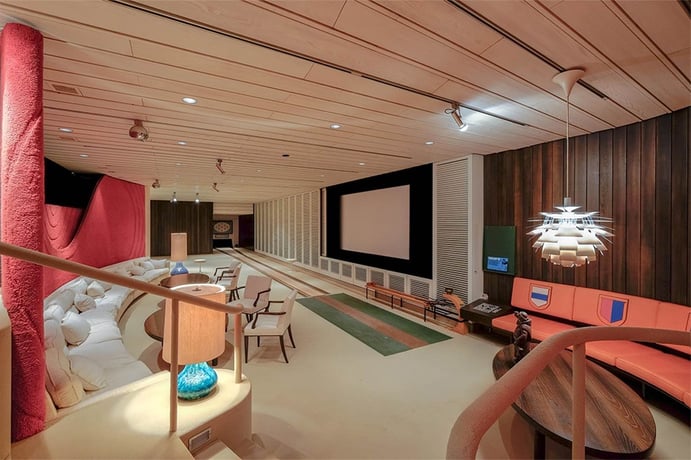 Perhaps one wouldn't expect to find a bowling alley in the mountains of Switzerland's Italian-speaking Ticino region, but thanks to German department store magnate Helmut Horten, this opulent villa is outfitted with jaw-dropping features including a bathroom clad entirely in onyx, a 40-person dining room, a screening room accented by a Poul Henningsen artichoke lamp, and, indeed, a private, fully equipped bowling alley. The estate that Horten built, known as Villalta, also boasts 12 bedrooms, 10 reception rooms, and spectacular mountain views. While the exterior has a classic Mediterranean look complete with palm trees and sunny yellow awnings, the interior is modern and stylish, with details like spherical glass lighting fixtures, exotic hardwood wall panels, and pristine marble floors.
Desert Swing
Rancho Mirage, California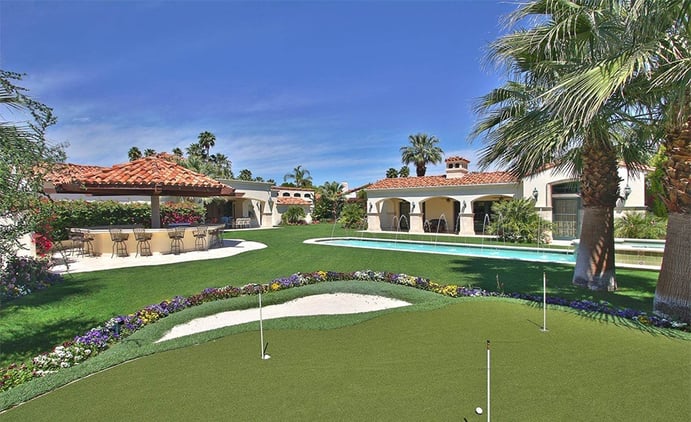 This five-bedroom, 8,100-square-foot estate in Rancho Mirage just north of Palm Desert is a classic California oasis in which no detail or comfort has been overlooked. In addition to its main residence, the property includes a 1,500-square-foot guest house and plenty of amenities for sports and fitness devotees. A large glass wall opens at the touch of a button, revealing an expansive indoor and outdoor area for entertaining. Next to the main swimming pool, a full outdoor kitchen and bar are ideally located, nestled among the tropical plants that frame the estate. The grounds are also home to a private putting green, which lets golfers practice in relative seclusion in preparation for hitting the links.
Villa Volleyball
Loule, Portugal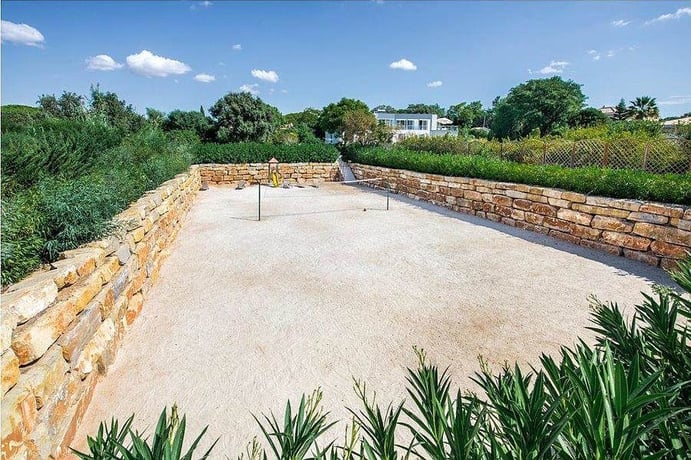 Nestled on a hilltop in historic Loule, Portugal, this contemporary villa is as chic and modern as its surroundings are traditional. The five-bedroom estate is designed for those who wish to fully enjoy this coastal region's sunny weather by spending as much time outdoors as possible. Every room on the ground floor has garden access or views. The open-plan dining and living areas are light-filled and airy, and the state-of-the-art kitchen is large enough for casual meals. The living room opens onto a pool deck, and a nearby outdoor terrace has a built-in barbecue area. The landscaped garden is enhanced by paved walkways, one of which leads to a rustic and stylish volleyball court complete with a stone surround—as lovely to look at as it is fun to play on.
Tropical Bocce
Holualoa, Hawaii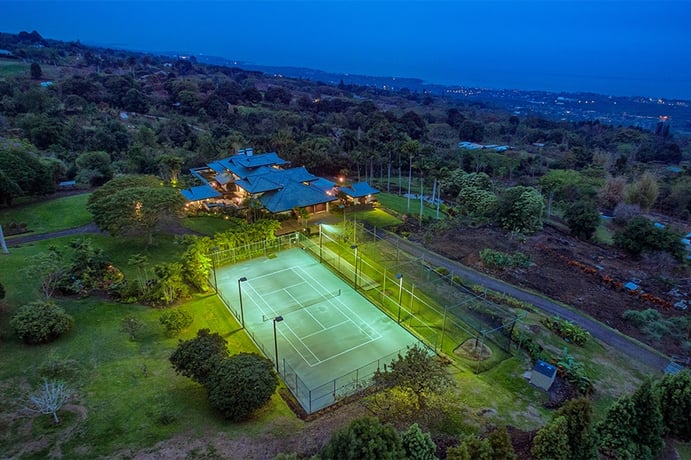 This Japanese-inspired estate in Kailua-Kona on Hawaii's Big Island appears to practically float above the deep green landscape on which it sits. Its 90 acres just west of Hualalai Mountain afford spectacular coastline views. In addition to a koi pond, a foot bridge, an orchard full of thriving citrus and macadamia nut trees, and a waterfall, the grounds also sport amenities for just about every kind of athlete. There are two swimming pools, one of which is an infinity pool that offers views of a nearby pond and the surrounding fruit trees on the property. The estate also has its own tennis court, a driving range, and a traditional bocce court—a relative rarity in Hawaii.
Gold Coast Games
Deerfield Beach, Florida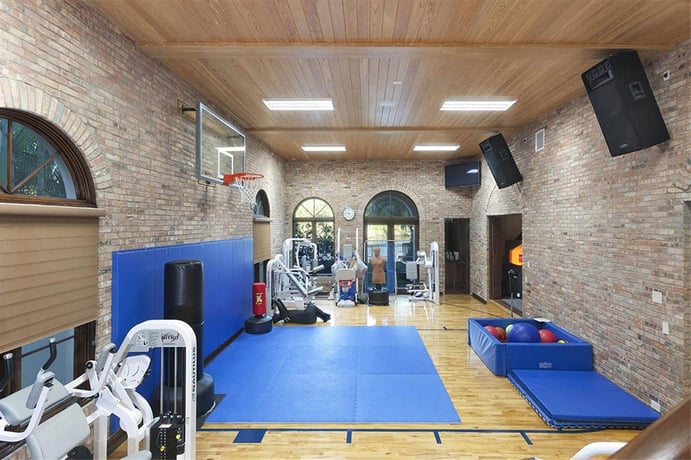 This seven-bedroom, Renaissance-style palazzo on Florida's Gold Coast is a tour de force of architecture and design that also houses sporting and athletic amenities worthy of an exclusive resort. The home has 285 feet of waterfront and its own deepwater dock, and its grounds include a lagoon-style pool with its own spa, rock waterfall, and swim-up bar. On the roof of the residence, a sky deck with a spa and wet bar is ideal for relaxing under the stars. The sports center also has an indoor half basketball court, a full bathroom, and a mirrored fitness center adjacent to a screening room.