There's an extract from Henry David Thoreau's Walden that might have been written to describe life at this house on Kauapea Road: "We need the tonic of wildness... we require that all things be mysterious and unexplorable, that land and sea be indefinitely wild, unsurveyed and unfathomed by us because unfathomable. We can never have enough of nature."
Gazing out at the deep blue of the Pacific, beyond Kauai's lush North Shore, the peaceful residence on a bluff above the beach is in pole position to savor nature, and the peace that it brings. Though the beach is not private—no beach in Hawaii is—it is remote, meaning nearby residents often have it to themselves.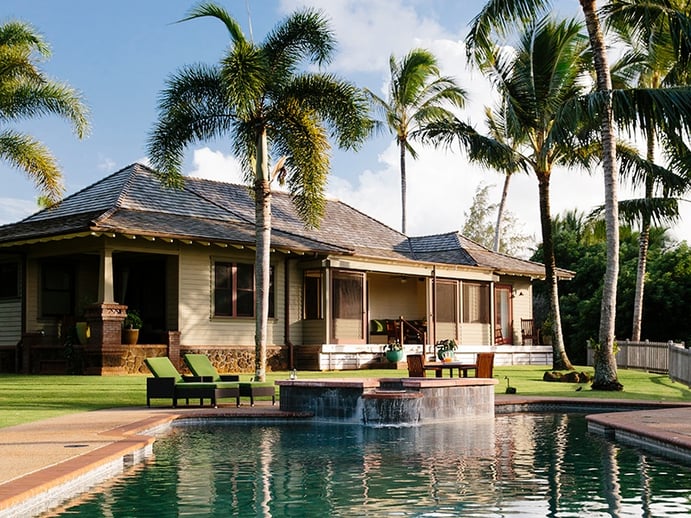 It is most likely the "unfathomable wildness" of this incomparable location, above the silky sands of Kilauea's Kauapea Beach—also known as Secret Beach—that has had celebrities and oligarchs alike beating a path to the property's door. It's no secret that actors Will Smith and Jada Pinkett Smith bought the home in 2009, just three years after it was built, and that they sold it two years later to a trust connected to Ekaterina Rybolovleva, the daughter of Russian billionaire Dmitry Rybolovlev.
Here, you feel a million miles from the stresses of everyday life. It's a sanctuary.
"Mr. and Mrs. Smith fell in love with Kauapea Road the second they saw it," says Roni Marley, realtor at Hawaii Life Real Estate Brokers, an affiliate of Christie's International Real Estate. "The property feels so secluded and private that, once you're here, you feel a million miles from the stresses of everyday life. It's a sanctuary, a place to rest and enjoy nature."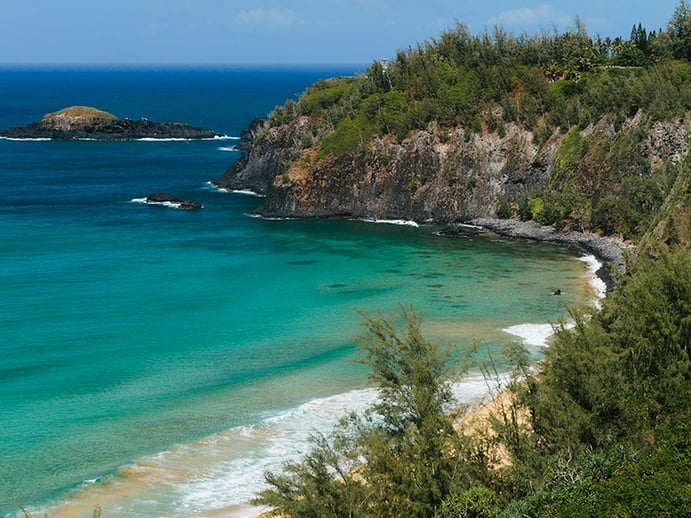 And who can blame the Hollywood couple for choosing this as their private retreat? Who wouldn't want to weave gently down to the beach for a morning swim, or a run—or to hunt for Hawaii's famed, multi-hued sunrise shells? Who wouldn't want to follow the trails through 28 acres of organic orchards, thick with avocado, banana, and grapefruit trees, with papaya and star fruit, tangerines, lemons, and coconuts? Or spend an evening gathered round a firepit with friends, watching the sun set and whales frolicking? "That has been a favorite way for owners to end the day," says Marley. "It's a magical experience."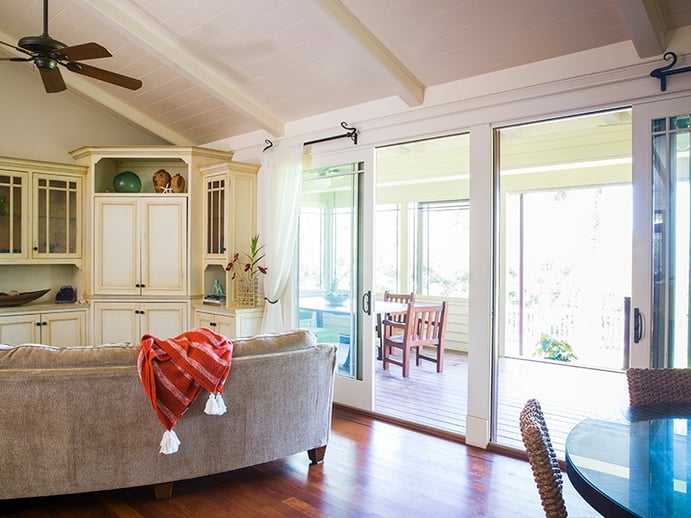 The house itself is spread over 2,215 square feet. A single-story residence, it features three bedrooms, three full baths, and extensive leisure facilities. These include a 55-foot open-air swimming pool, outside showers, a hot tub, and a gym.
The design is a fusion of a traditional, craftsman bungalow, and a tropical plantation
James Antony, the architect who designed and built the property, in 2006, says both he and his clients wanted to create a home that was in total harmony with its surroundings. "They wanted a fluid integration, and that's exactly what I wanted, too. The design is a fusion of a traditional, craftsman bungalow, and a tropical plantation," he explains.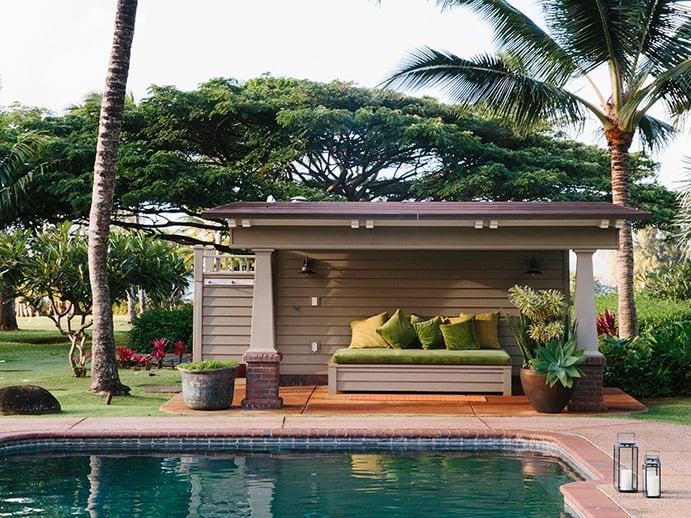 "The roof mimics the mountains beyond, and we used master builders who had old-school skills," continues Antony. "The brickwork, for instance, uses a 'clipped, roll, lock' technique, which means that it was chipped in place. The bricks have a tremendous depth to them, as do all the other materials we used—the hardwoods, copper, and the stone.
"We built the house so that the trade winds are diffused at a 45-degree angle—which means you get just enough of a breeze to cool it, and no more." The architect was also careful to make the most of the ocean views. From inside, a panaroma can be enjoyed from the living room and the master suite—which is just steps away from the pool, and also from the second bedroom and the kitchen.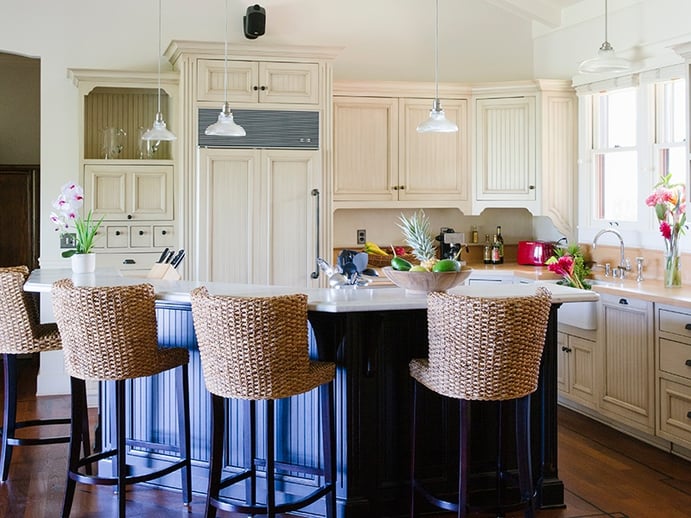 Surrounding the house, there is an additional 500 square feet of outdoor living space, partly given over to a screened-in lanai. This is perfect for entertaining, or for further enjoyment of those spectacular ocean and also mountain vistas, which unfold down the length of the island's North Shore.
It's a dream piece of acreage in a dream location
However, says Marley, the property has huge potential—it can be whatever the new occupants desire: three further residences can be built on the land, which includes a prime location on the bluff, beyond which more unhindered ocean views unfold. "It's a dream piece of acreage in a dream location. The new owners will come with their own vision, and may well transform the property completely."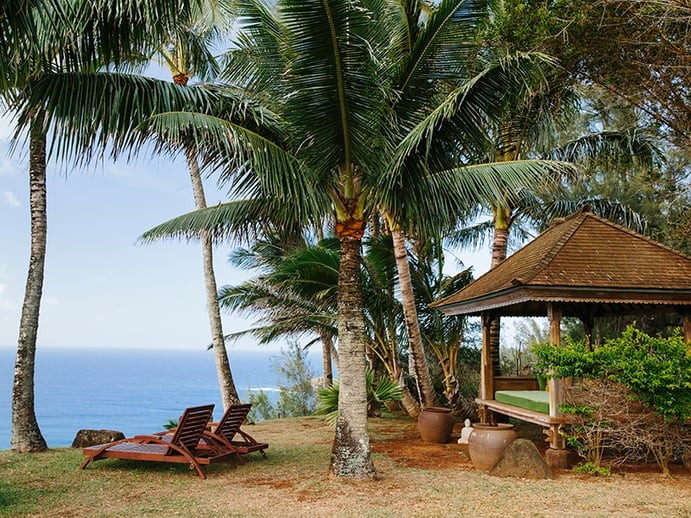 And should these next residents, for whatever reason, find from time to time that they have had enough of nature's "unfathomable wildness," the nearby Princeville resort and the town of Hanalei will provide all the additional recreation they require.
Photography: Jessica Sample