It began as a 19th-century hôtel particulier, a Parisian townhouse that designer Pierre Yovanovitch gutted and restored to its former grandeur. The former political-party headquarters has become a resplendent four-bedroom home with expansive windows and a glass dome skylight streams light through every room. The property, which spans 10,678 square feet, offers a grand yet comfortable living area; a magnificent, sculptural staircase; and a huge, 1,000-square-foot master suite.
"I am in love with this house," says Marie-Hélène Lundgreen, of Belles Demeures de France, the international arm of Daniel Féau Conseil Immobilier, an exclusive Affiliate of Christie's International Real Estate. "As a real-estate consultant, I see many exquisite homes, but this one is an absolute dream. It is a masterpiece ... and can accurately be described as an artwork."
Located on the Champ de Mars, in Paris's desirable 7th arrondissement—packed with Michelin-starred restaurants, gourmet food markets, and within easy walking distance of the Musée d'Orsay—the house bears Yovanovitch's hallmarks, namely his seamless creation of a contemporary home within a listed historic building. Also integral to his aesthetic is the view, which Yovanovitch says is "like an extra room," and which he considers in his plans, often designing around it. A black-and-white marbled, Art Deco-inspired entrance hall leads through to a graceful salon and dining room, which open onto landscaped gardens and a kitchen softened by fluid curved lines.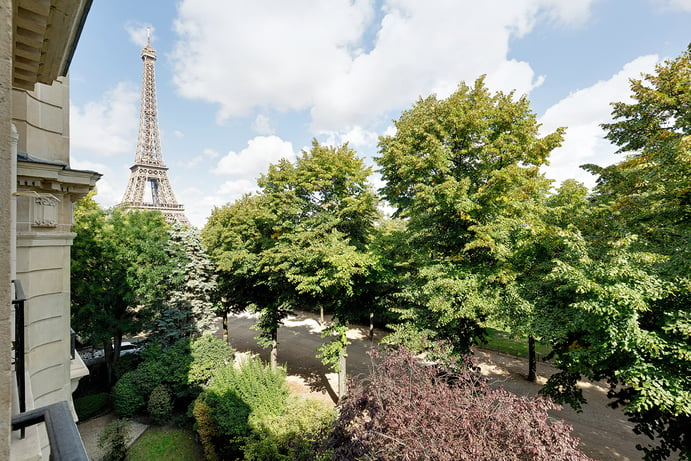 The upper floors comprise a vast, 1,000-square-foot reception room—perfect for entertaining—the bedrooms, dressing rooms and bathrooms, a guest suite, and a study, while below, in the half-basement are a pool, gym, and hammam, as well as a laundry and self-contained staff apartment.
"The 'exceptional' factor is the sense of harmony that Yovanovitch has created."
"It is hard to isolate one area that I like more than any other, because the whole is impeccable," says Lundgreen. "But sitting out on the balconies and watching the sun rise or set over Paris is really quite special. I also love the glass dome—there is a very beautiful mosaic water feature, which catches the sun streaming down—I love the way that reflects light. But for me, the 'exceptional' factor is the sense of harmony that Yovanovitch has created. He has devised a set piece—a true design for living."

Pierre Yovanovitch had carte blanche regarding the townhouse's design, and the result is a dazzling showcase for his style. Taking center stage is the much-admired 100-foot staircase, twisting like a helix upwards to the other floors. "It is a piece of sculpture," says Marie-Hélène Lundgreen of Belles Demeures de France. "Again it is something that Yovanovitch is known for—he creates swooping staircases full of drama and beauty."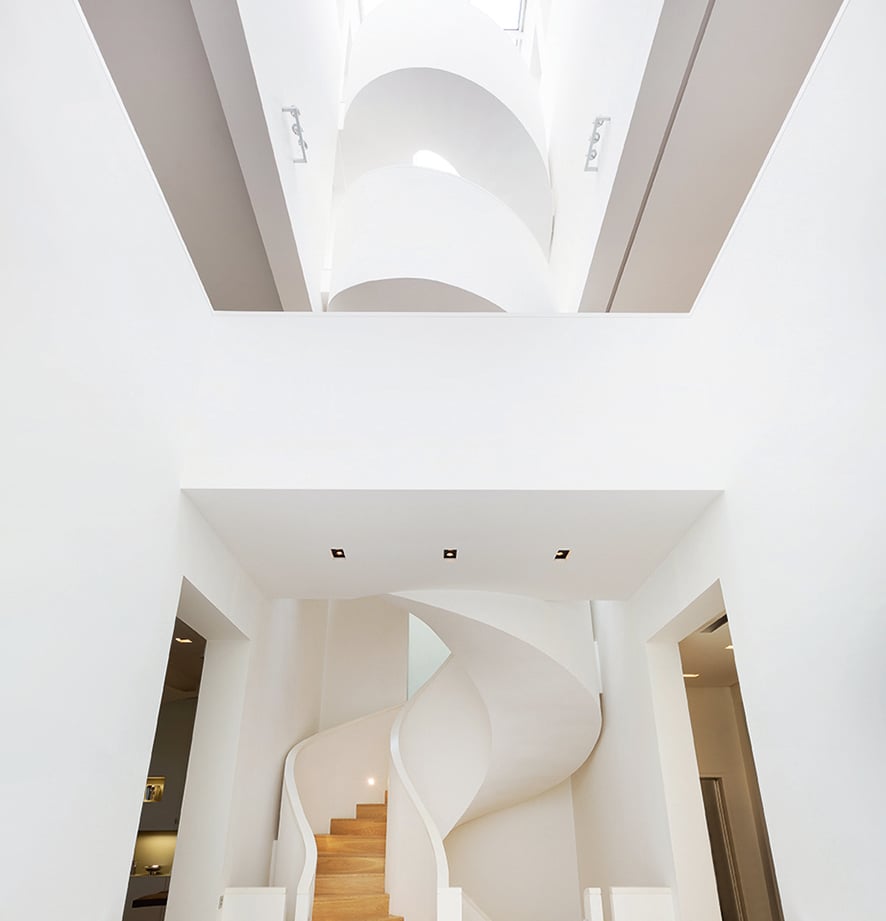 [ Excerpt from Christie's International Real Estate's 2018 Luxury Edition — A curated collection of the world's finest properties. Explore more properties here ]