Abbot Suger, the 12th-century patron of stained glass, believed that light was the portal to heaven. On completion of his Gothic masterwork, the abbey church of Saint Denis, he wrote: "Through palpable, visible beauty, the soul is elevated to that which is truly beautiful." Nearly 1,000 years later, the beauty of stained glass still inspires the joys of Christmas services, but its use and value have found more earthly realms. In the 19th century, John La Farge and Louis Comfort Tiffany transmuted the stained glass aesthetic with opalescence, jewel-like colors and sinuous, sometimes sensual forms. Modernist master Frank Lloyd Wright harnessed the visible beauty of light, creating more than 4,000 of his bold, geometric "light screens" simply to imbue his interiors with warm, autumnal light.
Luxury Defined presents five extravagant yet elegant homes in which stained glass reveals its many moods: the classicism of Three Graces dancing over the dining room of a harborside villa; the cool blue, geometric skylight of a Bel-Air poolhouse; a playful Victorian-Revival stairwell illumination; and, significantly, the "light screen" cathedral windows of a Gothic-Revival conversion, where preserved ecclesiastical elements light an utterly modernist interior. Wright, Tiffany, La Farge—perhaps even Suger—would approve.
The Sanctuary
Capitol Hill, Washington, DC
The Sanctuary is the finest "church-to-condo" conversion in Washington, D.C. With a prized location in the city's Capitol Hill district, this former 19th-century Gothic-Revival church was utterly transformed, with carefully curated interiors creating a one-of-a-kind urban retreat. The penthouse boasts three bedrooms, two full baths and one half-bathroom, adorned in marble and white-glazed subway tile, and luxurious features, including a gourmet kitchen with SubZero and Wolf appliances.
The home's ecclesiastical heritage is on prominent display: soaring 20-foot-high cathedral ceilings blend with wide-plank hardwood floors, exposed brick walls, and, the most striking feature of all — gothic-arched, stained and leaded glass windows that impart an ethereal glow. Another highlight is the building's original belfry with its breathtaking 360-degree panorama of the Washington Monument and Capitol Hill.
Casa Lago
Bel-Air, California
Commanding a half-acre promontory in the celebrity enclave of Bel-Air, Casa Lago is a tribute to the villas of the Italian Lakes in its grand design and its breathtaking view. The estate's gardens are chiseled into the hillside with magnificent terraces and loggias that take in the loveliest vista in all of Bel-Air: a sweeping end-to-end view of the glistening Stone Canyon Reservoir.
The opulent European-inspired details are evidenced in the arched doorways, ornate carved-stone moldings, and monumental Corinthian columns. The use of stained glass is of particular note: an indoor pool and spa inspired by Ancient Roman baths is accoutered with mosaic tiles and a resplendent stained-glass skylight. There are also two additional swimming pools outside. Other stellar features include an opulent cinema, a billiards room, glass-enclosed wine cellar, and seven fireplaces.
Hidden Meadow Farm
Ligonier, Pennsylvania
Hidden Meadow Farm is a 133-acre, world-class equestrian compound with a High Country English inspired residence, three-bedroom guest house and a caretaker's cottage. The magnificent 17,500-square-foot main house was completed in 2008 with extraordinary flair and craftsmanship. The entrance hall has a grand staircase with a 19th-century stained glass window, Victoriana at its most joyous and playful.
Other regal appointments include a formal living room with onyx-clad fireplace, a two-story library, a family room with a floor-to-ceiling stone fireplace, conservatory, and card room with artist-canvas wall covering. Upstairs are four en suite bedrooms including a deluxe master suite. The lower level comprises an office, exercise room, and a superb wine cellar and tasting room.
Tudor-inspired Manor House
Northfield, Illinois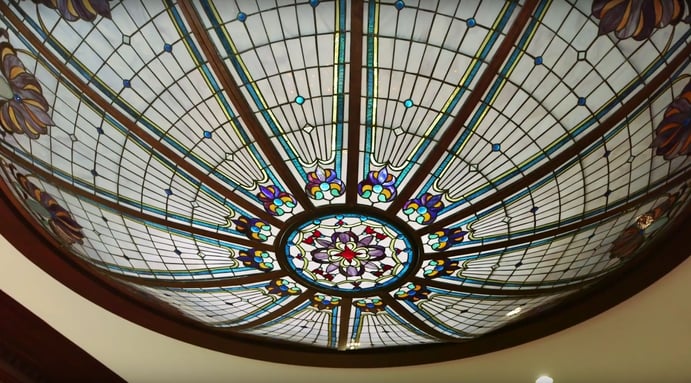 Situated on a quiet lane bordered by a forest preserve, this Elizabethan-inspired manor pays homage to the great country estates of England. Its imposing exterior conceals lavish interior spaces of surprising intimacy and warmth. Exquisite craftsmanship is revealed in the elegant stone facade, mullioned windows, decorative ceilings and mouldings, hand-stenciled walls, chandeliers, and ornate stained glass fixtures, including a spectacular ceiling dome atop the grand foyer.
The splendid Old World details are enhanced with smart home automation, which controls all media, lighting, HVAC, and security at the touch of a button. Other remarkable appointments of this seven-bedroom home include a library, office, screening room, and sauna, The glorious grounds hark back to a gilded age, with fragrant rose gardens, velvet greens dotted with fountains and statuary, a stone terrace, and a tennis court.
Berthong
Sydney, Australia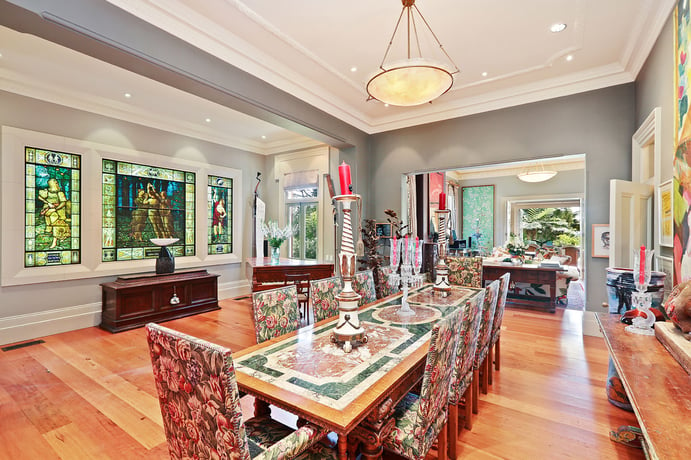 One of just a handful of freestanding residences to grace Sydney's Elizabeth Bay, Berthong is defined by striking architecture, glorious grounds, and uninterrupted views of Sydney Harbour. Originally built in the late 1800s, this grand Victorian residence has had a series of celebrity owners. Its previous owner, Academy Award-winning actor Russell Crowe, bought the property in 2001 from media mogul Rupert Murdoch, who had acquired it in 1995.
In 2005, award-winning Corben Architects skillfully restored the two-story residence, combining classic and contemporary features. An intricate stained glass window depicting the Three Graces presides over the magnificent dining room, which adjoins an equally regal formal lounge. Furthering the grandeur are five en suite bedrooms, including a private guest wing and a master suite, a beautiful kitchen in Calacatta marble, a two-story guest house, and lush, tropical gardens with a waterside pool.