The Super Bowl stands at the apex of American sports and popular culture (and, yes, we even love the commercials). Luxury Defined presents the closest thing to being there: five homes with deluxe, hi-tech screening rooms, media lounges, and home theaters to watch the Atlanta Falcons battle the New England Patriots at Super Bowl LI on Sunday, February 5. There's an ocean-side media space with a drop-down, large-format screen; a rooftop, bayfront deck with an all-weather HDTV screen that discreetly disappears from view; and, a plush Art-Deco-inspired movie theater with an $80,000 digital projection system. These elaborate screening areas are custom built, acoustically tuned, with the latest in high-definition digital display and surround-sound technology.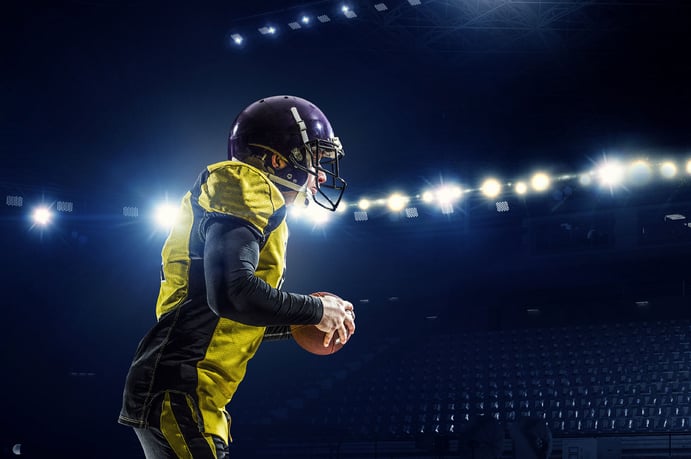 And since America's premier television event inevitably leads to festive gatherings, we consulted foodnetwork.com for some tips on how best to create a Super Bowl party to remember. Game on!
Oceanfront Compound
Vero Beach, Florida
A spellbinding oceanfront residence in Vero Beach's charming village, this compound stretches more than 200 feet across the wave-lapped sugar sands, the ultimate in resort-at-home living. The 18,000-square-foot, eight-bedroom home offers a seamless indoor/outdoor flow with distinct areas for entertaining, everyday living, and guest accommodations.
Bespoke elements and textural finishes give each space a unique and subtly rich look. Glassed with a window wall looking seaward and skyward, the lofty living room adjoins idyllic lounge areas around the infinity pool by the dunes. The formal dining room opens to a lush palm courtyard across from the west pool, beyond which lies the guest house.
Château-style Grandeur
Mahwah, New Jersey
Just 20 miles from Manhattan, this custom-built French-inspired château, with over 20,000 square feet of living space, sits on the crest of the exclusive Rio Vista community, offering unrivaled mountain views. A dramatic, 28-foot-high entry foyer and great room, give way to imported stone, marble, and Brazilian Cherry hardwood flooring throughout.
The private quarters include seven bedrooms, seven full and four half bathrooms. Designed for every occasion, the home's standout amenities include a beautiful home theater that evokes the glamour of Old Hollywood, yet with all the 21st-century bells and whistles. Three full kitchens, a banquet-sized entertainment area, wine cellar, sauna, and a custom-designed pool create the recipe for an entertainer's paradise.
Bayfront Retreat
Newport Beach, California
Situated on the coveted waterfront of Newport's famed Balboa Island, this luxurious three-story home offers spellbinding views of the bay—including the Pavilion—throughout the entire residence. There is a full kitchen on the elaborate rooftop deck, where a weatherproof HDTV rises and lowers at the push of a button. Three additional balconies promise more indoor/outdoor living, while two additional kitchens (one for everyday, and one for catering chefs) render the home a dream for any epicure.
Create a comfortable game-viewing environment by bringing in throw pillows and comfy floor cushions.
Because guests will be in and out of their seats, the Food Network suggests hosts "create a comfortable game-viewing environment by bringing in throw pillows and comfy floor cushions from other areas of the house. Toss them anywhere people might take a seat, and if they happen to match your team colors, even better!"
Chic Contemporary
McLean, Virginia
This spectacular custom contemporary offers 10,000 square feet of living space on 1.3 lavishly landscaped acres. Its resort-style amenities include a heated pool, spa, waterfalls, Japanese gardens, and sports court. Elegant architectural details include a dramatic living room, a private master suite with his-and-her spa bathrooms.
Rather than ordering in delivery, offer guests something a bit more impressive with adorable homemade cheese pizzettes.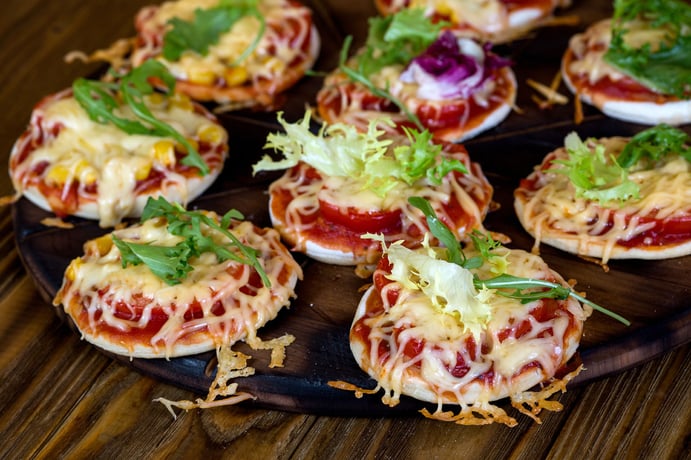 Other superb amenities include a gym, sauna, home theater, cocktail lounge, game room, and catering kitchen—perfect for prepping your Super Bowl party. For a gourmet experience, the Food Network recommends that "rather than ordering in delivery, offer guests something a bit more impressive with adorable homemade cheese pizzettes." All of these ingredients combine to create a home ideal for both elegant entertaining and intimate family living just minutes from downtown McLean.
Terraces on the Navesink River
Middletown, New Jersey
This palatial estate on the banks of the Navesink River artfully blends the charm of a French château with New World sophistication. Idyllic multi-terraced gardens with panoramic water views provide the backdrop to the home's magnificent 20,000-square-foot, six-level interior, with eight bedrooms, nine full bathrooms, and a stunning range of amenities for five-star living and entertaining.
The dedicated screening room offers a luxurious theater experience with its huge viewing screen, plush couches, and a lounge and bar area for half-time refreshments; there's also a hidden, drop-down 78-inch projector and TV screen in the master suite. Residents and their guests have a choice of recreational options with a two-lane bowling alley, indoor racquetball court, arcade room, fitness center, spa, indoor and outdoor pools, and boat dock.