A glorious vision of linear glass, superlative stone, and polished rooflines, and surrounded by the Teton mountains, Aspensong sits at the end of a long, winding drive, bordered by pine and aspen trees. Combining the best natural resources and luxurious craftsmanship, the house is completely secluded, situated in 35 acres of meadow, wreathed by mature trees and a reflecting pool.
An unrivaled northward view of Grand Teton is just one of many worth shouting about. It's the peaks and valleys of Wyoming's Bridger-Teton National Forest, Grand Teton National Park, and Yellowstone National Park that grant the most emotive of vistas. "The house is spectacular, like an island in nature," says Rick Moeser, Executive Director at Christie's International Real Estate.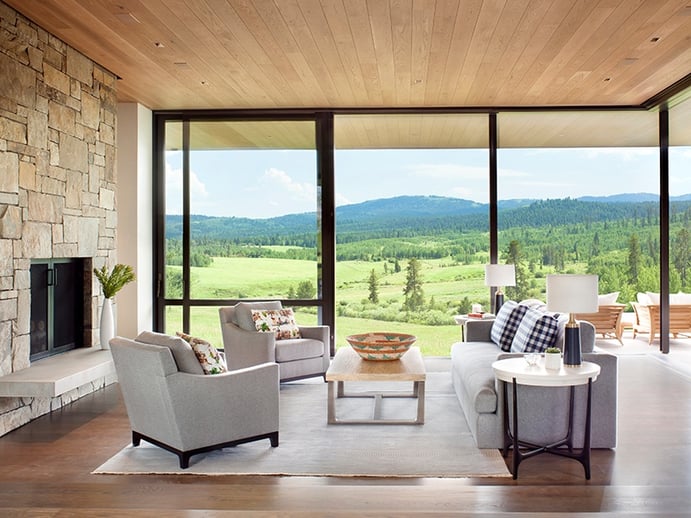 "The contemporary look and feel is way beyond other properties in the area, and is new to Jackson Hole. More traditional western log and reclaimed A-frame houses are the norm," says Dave NeVille, broker at The NeVille Group, Jackson Hole Real Estate Associates, LLC, an affiliate of Christie's International Real Estate. "And whoever lives here has private views that will last forever thanks to the subdivision of land." That division is a legacy of the break-up of Crescent H Ranch, a historic dude ranch situated along the Snake River in Jackson Hole that was parceled into plots of 35-plus acres. There can be no more construction here.
The estate is so isolated that everything you look out on is yours
Newly built by KWC Construction, with more than a nod to the classic mid-century modernist style, the home has a central area that bridges two wings and features a flat roof that extends over outdoor terraces. A taller building rises with a sloping roof, giving an ever-changing perspective depending on the viewing point. Exquisite gray Chief Cliff stone walls, topped by a metal-clad roof, are in perfect harmony with western red-cedar sidings and eaves of custom-stained white oak.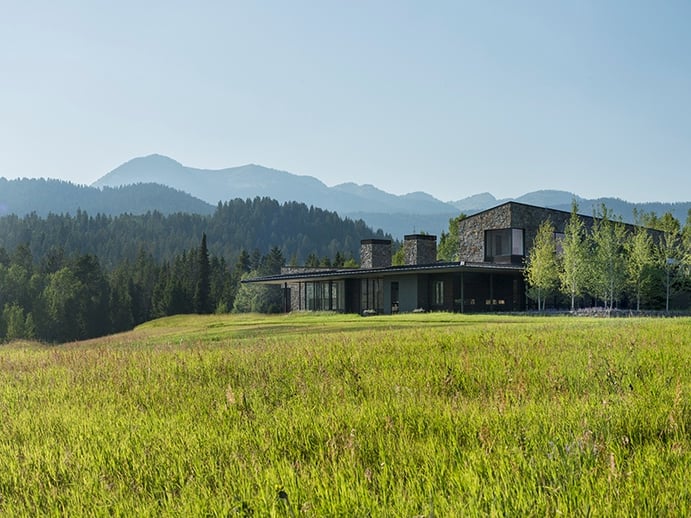 "The combination of wood, stone, and metal blends with the environment, echoing nature's colors," Moeser says. "The owner was totally conscious of the surrounding area; it's almost like the house was built on site for its natural resources. It really does invite the outdoors in."
"Aspensong was designed to embrace the outdoors," agrees NeVille. Several deck and patio areas provide the perfect spots for outdoor relaxation, taking in the magnificent panorama and changing sunscape. Floor-to-ceiling glass walls roll back as indoor rooms become an extension of the outdoors. A shaded garden and aspen grove lie to the east of the entrance.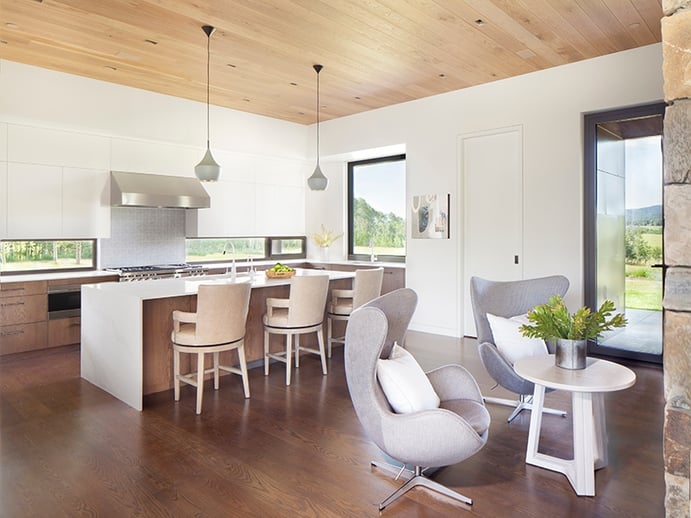 Designed primarily on one level—although there is a basement, too—Aspensong is essentially divided into three areas: the main living space, which has two roll-back glass walls; a west wing with two guest suites and a media room; and a north wing with an additional guest suite, a conservatory, and an upper level housing a master suite, office, and library. Arguably, the home's most impressive feature is the floating ceiling in the guest and master wing that mirrors the butterfly design of the exterior roof. "It is suspended, like a cloud almost," NeVille says. "It doesn't join the wall at right angles and is accented at the edges with light." The design is functional, too, concealing heating ducts and window-blind rollers.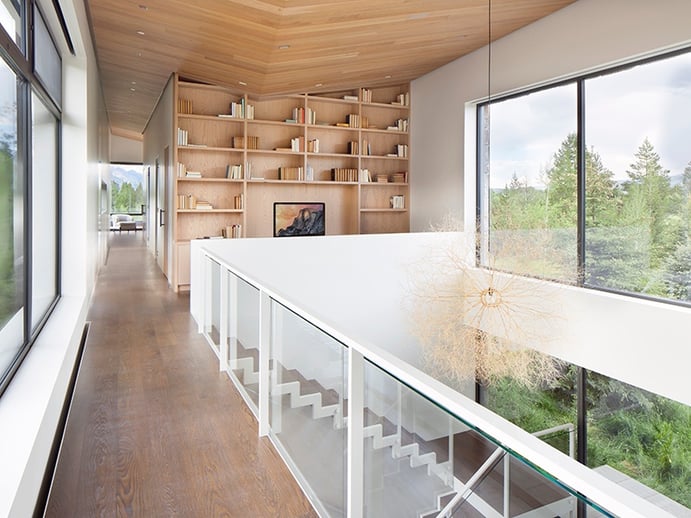 The interior of this 7,302-square-foot, four-bedroom, six-bath home echoes the exterior in tone and materials with white-oak floors and ceilings, gray Chief Cliff stone chimney masses, and flat-panel doors with hidden fittings. The open layout, punctuated by the chimney masses, allows the space to evolve seamlessly from large relaxation areas with sofas and armchairs to intimate seating for two. At one end is the kitchen with custom cabinetry, breakfast bar, and cozy coffee-table space. In the middle is the dining room, with bespoke dark-wood table and views out to the reflecting pool, overlooked by Grand Teton. In the north wing, a tiered staircase leads to the exclusive master retreat, complete with twin baths, and a gallery running across its length.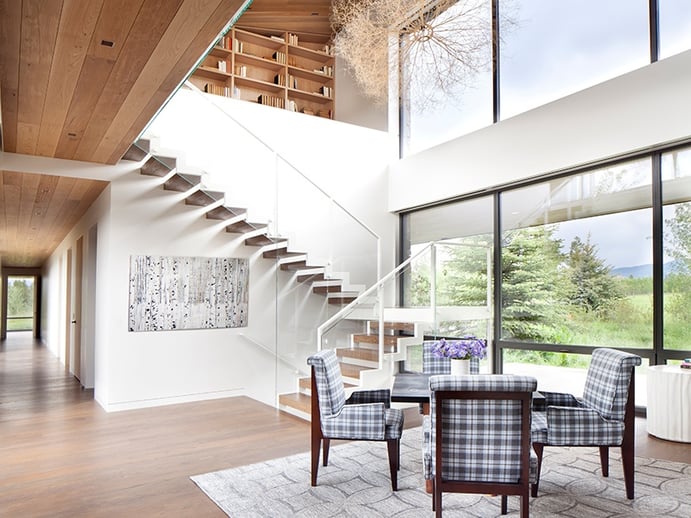 The warm tones and shades throughout give an air of tranquility and make for a blank canvas where the star of the show—the panorama—can shine. "There is a huge amount of glass here and the estate is so isolated that everything you look out on is yours," Moeser says.
I'd go as far as to describe this property as a stand-alone piece of art
The surroundings are a haven for lovers of the outdoors, with hiking trails, horse riding, cross-country skiing, and seven miles of springs and rivers offering Blue Ribbon fishing. Local wildlife includes deer, moose and elk, eagles, and osprey. For those who prefer more sedate activity, seasonal changes afford an ever-evolving landscape, from snow peaks in winter to lush verdant plains, cool summer days, and a lavish display of autumnal colors come fall.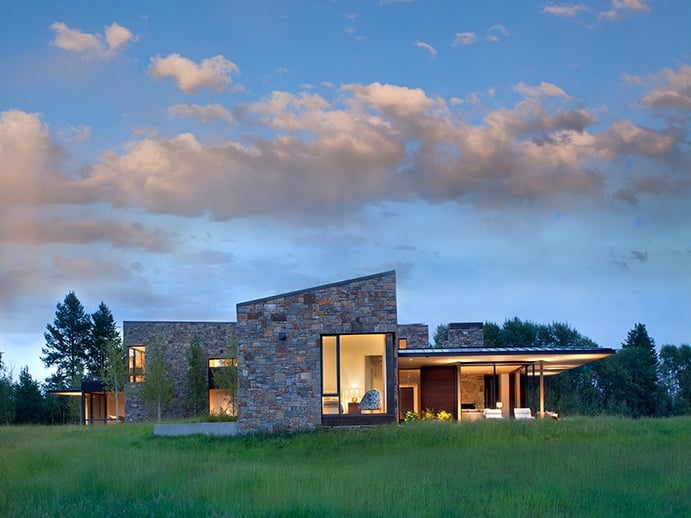 Just two-and-a-half miles away is Wilson, a compact town with everything you need close at hand, including a couple of restaurants. It may be small, but Wilson is big on exclusivity. Some of the country's highest earners own property in the area and, says NeVille, it's a retreat for people from all over the world. For more amenities, wine, food, and music festivals, locals head across the Snake River to Jackson, just seven miles away.
"It's an ideal home for those who appreciate the aesthetic and are keen on natural materials, but also want luxury and comfort. Everything here is top-line and the big plus is that it is all brand new, no one has lived here yet," Moeser says. "I'd go as far as to describe this property as a sculpture, a stand-alone piece of art."