Only an hour away from New York by high-speed ferry, Terraces sits on a much-sought-after spot in Locust, an affluent section of Middletown Township in Monmouth County, New Jersey. Built in 2004, the 20,000-plus-square-foot house is spread over six floors and sits in 4.3 acres of landscaped gardens, which gently roll down to the water's edge.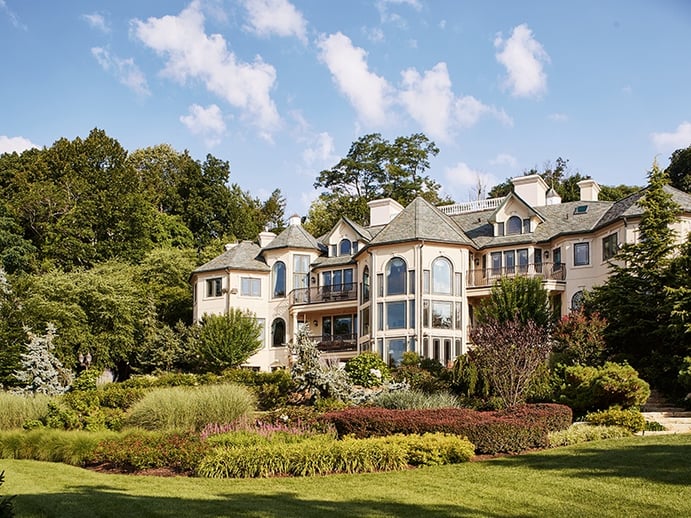 Designed by architect Michael J Monroe of MJM Services in nearby Red Bank, the grand limestone and stucco home is "a paradise for entertaining or for large family gatherings," in the words of Geralyn Behring, sales associate with Gloria Nilson & Co. Real Estate, an affiliate of Christie's International Real Estate based in Rumson.
The residence overlooks a kidney-shaped outdoor pool and Jacuzzi, lush gardens, and a deep-water dock complete with boatlift. Fans of indoor pursuits are equally well catered for thanks to a two-lane bowling alley, indoor pool, and racquetball court housed in the property's two lower levels.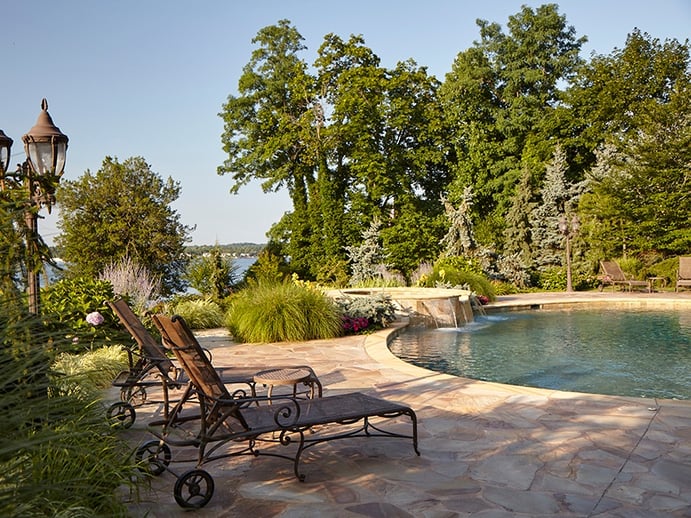 As you approach Terraces, you are afforded a glimpse of a beguiling mix of turrets and towers peeking through the trees, a vista reminiscent of a French chateau – an elegant European influence is indeed present throughout the house.
Step through the solid mahogany entrance doors into the grand foyer where Venetian marble floors and pillars welcome you, along with baroque decor adorned by crystal and brass companion chandeliers.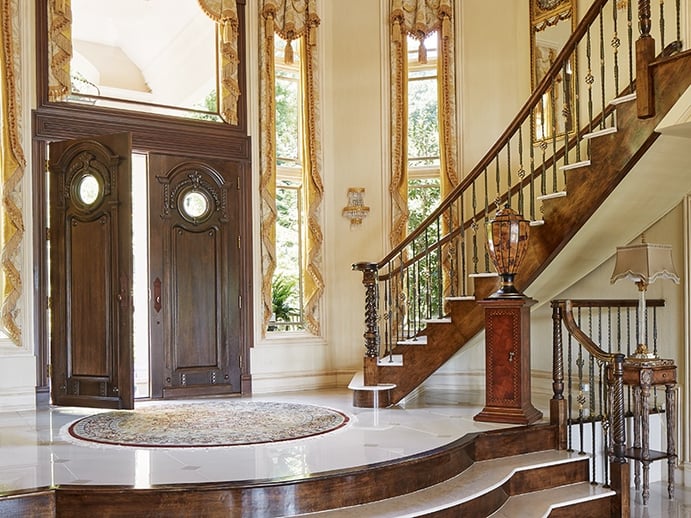 The distinguished interior aesthetic, inspired by great European Renaissance villas and palaces, "blends traditional design with modern amenities, with an 'artsy spirit' in between," says the designer responsible, Greg Kutyla.
Continue through from the hallway to the center of the home and you reach one of its most impressive features – the solarium or atrium. With 30-foot windows, it floods the home with light and offers wide-ranging views overlooking the Navesink River.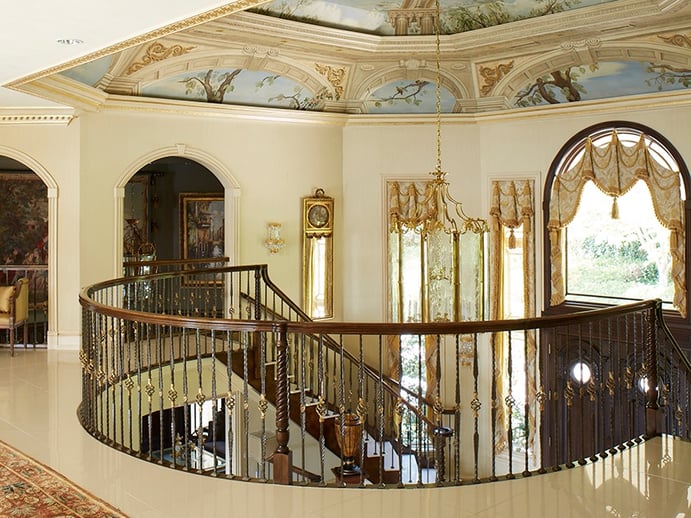 A magnificent Steinway piano takes center stage, and is surrounded by a welcoming seating area. This, in turn, is overlooked by tiered horseshoe-shaped iron balconies for audiences, and creates a small concert gallery. "There is no better at-home setting anywhere for a recital, ensemble, or just fun entertainment," says current owner Mr Waldo Carkhuff.
The interior blends traditional design with modern amenities, with an 'artsy spirit' in between
Other main rooms lead off from this central area, including a dining room complete with grand English Edwardian crystal chandelier and soaring Corinthian columns. In the main, state-of-the-art kitchen, grandeur gives way to a more informal ambience. With its communal dining table and comfy living area, it is a relaxing, well-planned family room with additional outdoor dining space on the terrace.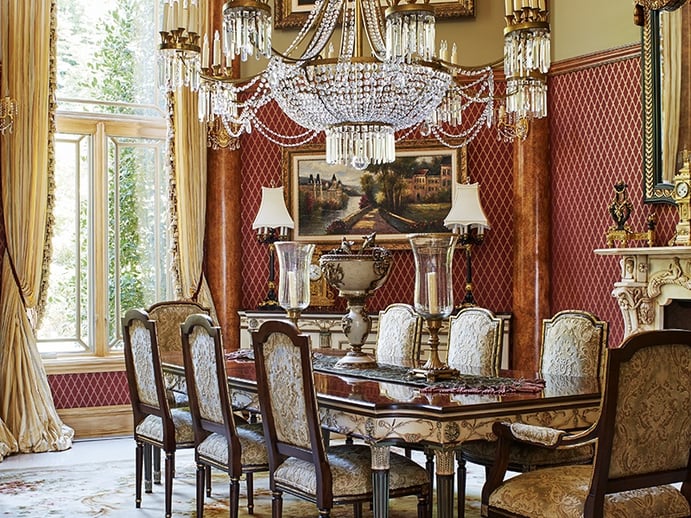 Terraces has eight bedrooms and nine full baths, including an impressive master retreat. The spacious bedroom-cum-sitting room comes complete with inspired extra amenities, such as a hidden, drop-down 78-inch projector and TV screen, a fridge, and a microwave, and feels like a "home within a home," says Mr Carkhuff. An onyx and marble en suite bath completes the master space – which also has an outdoor balcony, from which the Atlantic Ocean can be seen.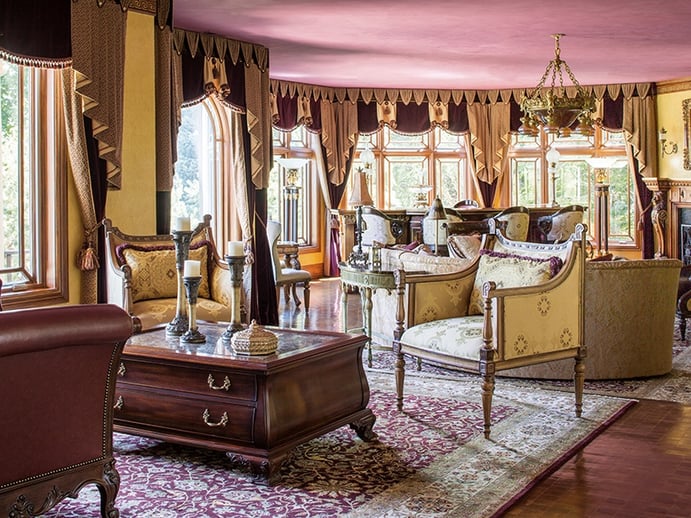 The home's many other standout features include a 1,100-bottle wine cellar, two additional kitchens (one for catering), and two self-contained apartments. The comfortable TV and movie theater, with its super-soft couches, "is almost my favorite place," says Mr Carkhuff. Other family members opt for the indoor pool, which has hand-painted underwater-themed murals and is perfect for cooler days.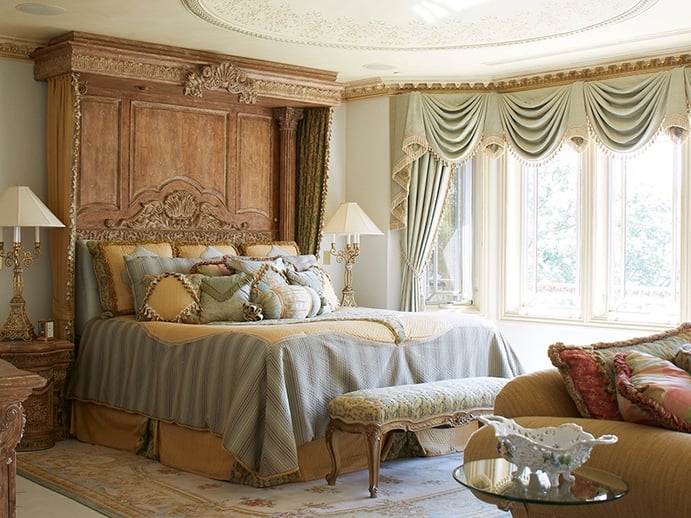 Contemporary innovations at Terraces include smart technology with integrated Crestron and Elan systems throughout, as well as a heated driveway and underground parking discreetly placed beneath the portico.
The landscaped gardens, designed by Twin Industries in Eatontown, New Jersey, provide color and contrast throughout the year. A poolside patio gives way to a rolling lawn, shaded by mature trees, with flowering borders of rose, hosta, and astilbe. Below the lawn are terraces (the inspiration for the name of the house) of beautifully varied, parkland-style gardens. Follow a curved paver path and stairs down to the shore to an Ipe-wood floating dock, and all the boating fun of the river.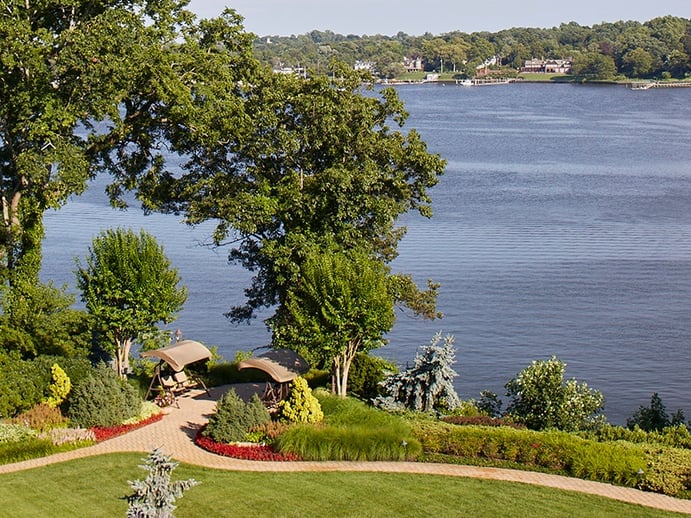 The driveway borders are equally well planted, and feature a mixture of summer-flowering shrubs, as well as hydrangea, spreading roses, and later-flowering foliage such as autumn cherry and Old Gold juniper.

Photography: Laura Moss