For those who haven't yet experienced the magnetic pull of Ibiza, you may have preconceived ideas of this beautiful Mediterranean island. Lying off the east coast of Spain, the third largest island in the Balearics is still shaking off a lingering reputation of hedonistic partying and electronic dance music left over from the 1990s. But there's another side to Ibiza that's all about laid-back elegance and a quietly relaxed lifestyle.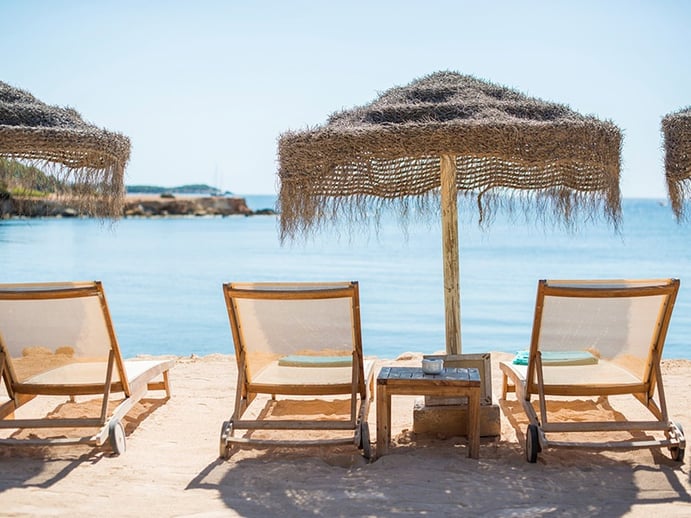 "Ibiza has a special kind of magic," says Estela Estévez, Founder and General Manager of Estela Exclusive Homes, Christie's International Real Estate's exclusive affiliate for Ibiza and Formentera. Having lived on the island for more than 20 years, Estela has seen people come to Ibiza and never leave. "They fall in love with the place. The weather, the people, and the easy-going nature attracts an international crowd who happily coexist in island life. All you need to be in Ibiza is yourself."
All you need to be in Ibiza is yourself
At Estela Exclusive Homes's recent launch party, hosted at El Hotel Pacha, a luxury resort on Ibiza's marina, more than 100 locals and visiting guests sipped Ibizan wine as Estela introduced the collection of properties available across the island.
"Everybody knows about the party side of Ibiza, but what they don't always experience is the quiet side, the relaxed, holistic, health-conscious focus, and the laid-back vibe. It's a small place but it's incredibly diverse," says Estela.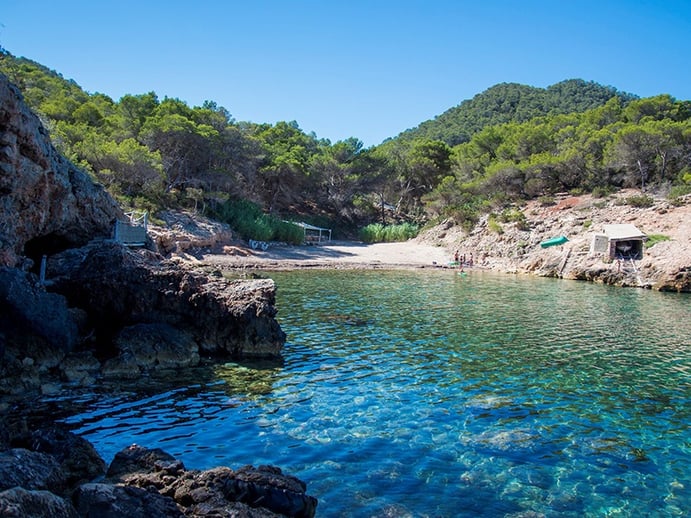 From the unspoiled tranquility found in the north, to the UNESCO World Heritage site that is Ibiza's Old Town and the crystal-clear waters that rival the Caribbean—not to mention a food scene to satisfy even the fussiest of gourmands—Ibiza ticks every box for those vacationers in the know.
WHERE TO STAY
Away from the party hot spot that is Sant Antoni de Portmany (San Antonio Abad), you'll find a modest number of boutique residences, converted fincas, and luxury agroturismos (working farmstays). The north of the island has some of the best examples of these converted farmhouses, often tucked away in the hills with their own large pools and surrounded by olive groves.
The Giri Residence Hotel & Spa
This 150-year-old finca houses one of the most exclusive hotels on the island. Hidden away in the lesser-known northern village of Sant Joan (San Juan), The Giri Residence attracts those seeking seclusion, with just five sumptuous suites to host its guests. Adding to the sense of luxury is The Giri Residence Spa, which you won't find advertised in any magazine or on any billboard. This incredible underground spa can be hired for you and your partner on an exclusive basis: soothe away tensions with an Ayurvedic couples massage or take a dip in the heated plunge pool. The Giri Café, located in the village itself, has become a destination in its own right, with a gorgeous lantern-lit kitchen garden that provides much of the vegetables and herbs for dishes.
Cas Gasi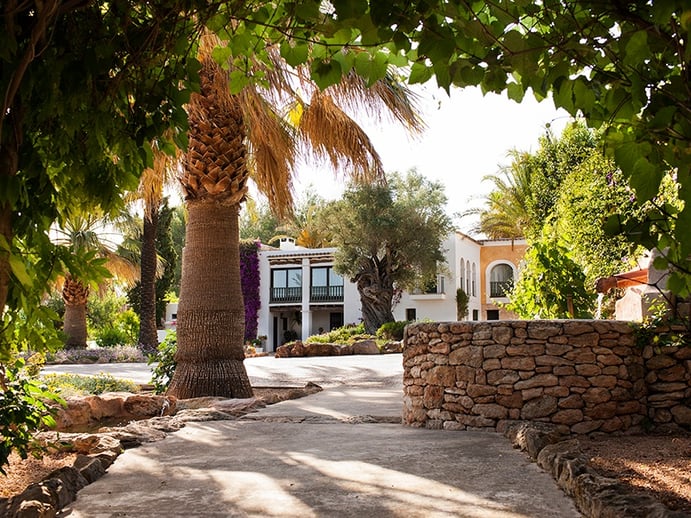 In a beautiful pine tree-dotted valley in the heart of the island, Cas Gasi is the kind of boutique hideaway that shies away from the spotlight. Blissfully private, the Santa Gertrudis de Fruitera hotel is surrounded by 10 acres of almond trees, olive groves, and orange orchards. Owners Margaret Von Korff and Luis Trigueros lovingly restored the 1880 finca at its heart, decorating the 12 rooms and public spaces with a carefully curated selection of antiques and works by local artists. Cas Gasi's restaurant is a masterclass in farm-to-table eating, plating up locally sourced food and wine, and Mediterranean dishes doused with the hotel's own olive oil. Around 15 minutes from the hotel by electric bike—the hotel has a collection available for guests—are a number of the island's most beautiful beaches.
Hacienda Na Xamena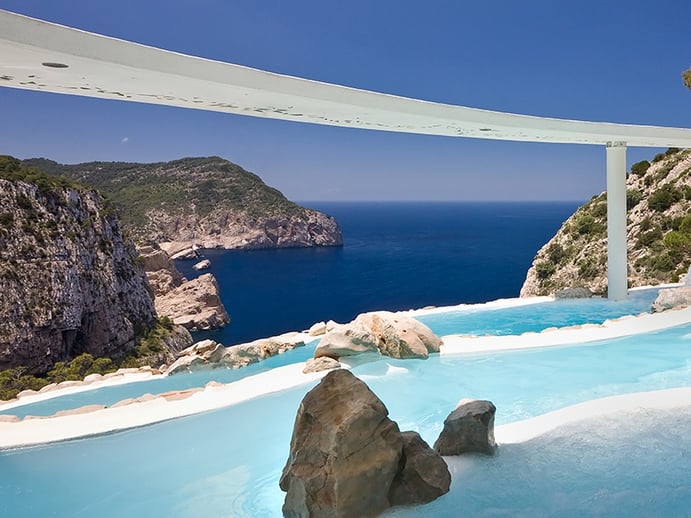 Despite having first opened in San Miguel on the north coast in the early 1970s, this whitewashed clifftop resort nearly 600 feet above sea level has an air of timelessness about it thanks to Daniel Lipszyc's interpretation of Ibiza's distinctive architecture. You might come for the local delicacies cooked up at Eden restaurant, or to luxuriate at La Posidonia Spa—a series of stepped infinity Jacuzzis built into the cliffside. You'll surely stay for Hacienda Na Xamena's unbeatable vistas, which are framed by floor-to-ceiling windows in each of the 77 rooms.
WHERE TO EAT
Ibiza is fast becoming a gourmet destination to rival nearby Michelin star-studded Mallorca, with its multiple farmers' markets, upscale beach clubs and longstanding family-run establishments serving up locally grown vegetables and freshly caught fish to the most discerning of diners.
Babylon Beach Bar

"If you're speaking to friends who know Ibiza inside out, chances are they'll recommend El Chiringuito for an unbeatable lunch, and I wouldn't disagree," says Suzy Small, director of bespoke travel organization service Mensos Concierge. "El Chiringuito has held the heart of many an Ibizan regular who enjoys long, rosé-soaked lunches with views out to sea."
For 2017, says Small, there's another contender. Babylon Beach Bar combines beach bar, restaurant, and organic farm to create the ultimate daytime retreat. Located in Santa Eulària (Santa Eulalia), the items on the menu at this casual spot are entirely homemade—from marinades to condiments, ice cream lollies to artisan bread, making the quality exceptional. "You might have difficulty tracking it down," says Small, "but beat the rush—it will be everyone's favorite in no time."
Cala Bonita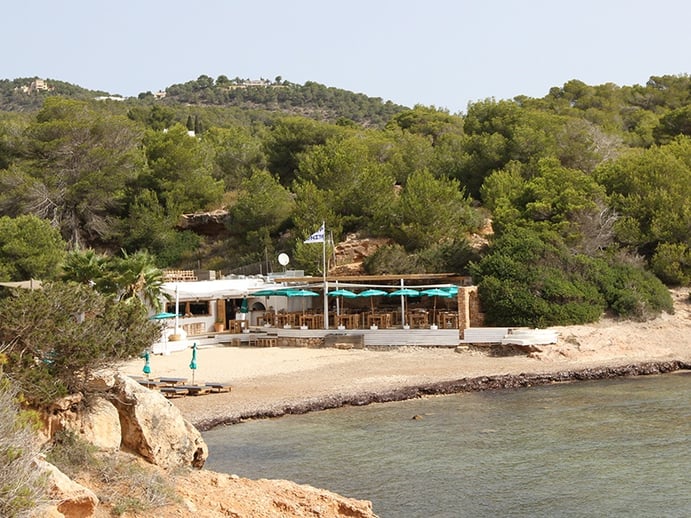 Opened in July 2016, this tough-to-find spot on a rocky cove in Santa Eulària champions local produce and craftsmanship above all else. Award-winning Australian chef Karen Martini cooks up tapas in the vein of pimientos padron served with traditional sobrasada sausage from local deli and farm Can Caus, while heartier mains include seafood pasta and Galician steak. Much of the chic furnishings at Cala Bonita are made on the island. Wash it all down with a glass of local vino de la tierra as the sun sets.
10 Punto 7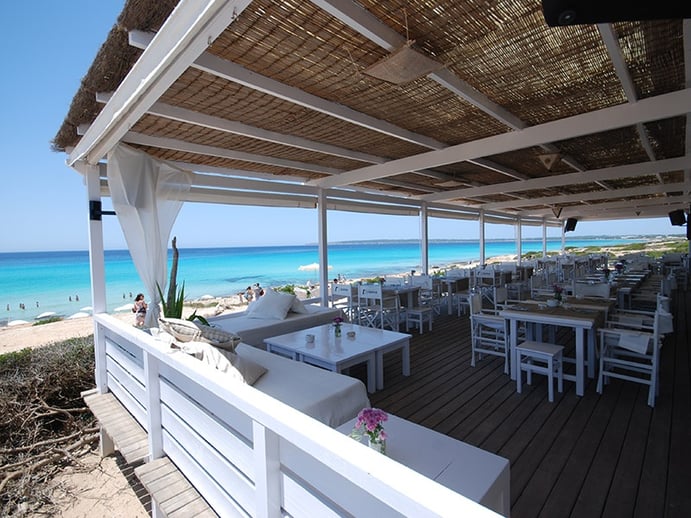 If you've ever wondered where A-listers spend their summers, it's here. Their secret lunch spot is a short boat ride away from Ibiza on the tiny island of Formentera, which has fashioned itself into the perfect retreat to keep away from the prying eyes of the paparazzi. Located on the southern tip of the Migjorn dunes, the inaccessibility of 10 Punto 7 helps preserve its diners' anonymity. This stylish, family-owned oasis is regularly named one of the best beach clubs in the world. It shows Formentera at its very best, combining stripped-back, boho chic with the freshest Asian-inspired Mediterranean menu. Just be sure to dress up.
WHERE TO UNWIND
For those in search of a holistic wellness experience, Ibiza makes for a stunning background to your yoga practice—a chance to reflect and rejuvenate.
Everybody knows about the party side of Ibiza, but what they don't always experience is the quiet side
Then, come sundown, a G&T under the shade of a palapa on the beach is just about as good as it gets. Beach clubs are de rigueur—there are the sprawling and obvious ones, or, in this case, the more relaxed offerings.
Experimental Beach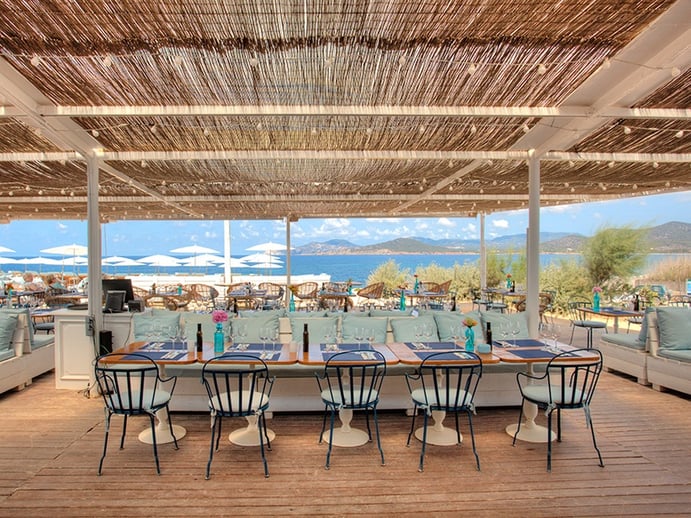 Driving down the long, dusty track to Experimental Beach, you'd be forgiven for thinking you might have made a wrong turn. Tucked away behind the Salinas salt flats on the southern tip of the island, the lack of signage has helped maintain Experimental Beach's air of exclusivity. Since its opening in 2013, this relaxed beach club has remained a secret hangout for Ibizan regulars. Sip cocktails by day from an ice-blue daybed at the "boat bar," which has been fashioned out of a whitewashed sailboat, and watch the sun go down as the resident DJs spin their tunes late into the night.
Hot Yoga Ibiza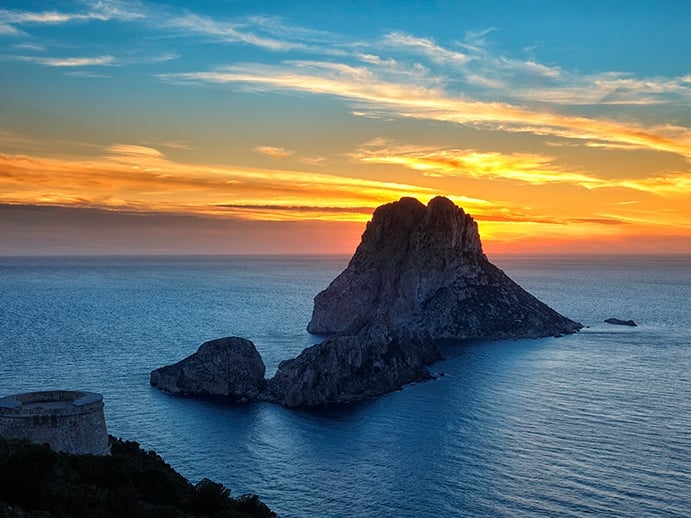 No insider's guide to Ibiza would be complete without a nod (or indeed sun salutation) to yoga. With its organic cafés and holistic lifestyle vibe, Ibiza attracts those who are looking to reconnect with their bodies and minds. Many believe this is because of Es Vedrà, a rock that lies off the southwestern coast of the island. Said to be the third most magnetic spot in the world due to its extremely high concentration of metals and minerals, Es Vedrà makes the pull to the island more than emotional. Located in Ibiza's Old Town, Sebastien Carincotte's Hot Yoga Ibiza encourages students "to listen to their own bodies, becoming their own gurus and seeking their own truths," providing the perfect antidote to the party lifestyle.
Cala San Vicente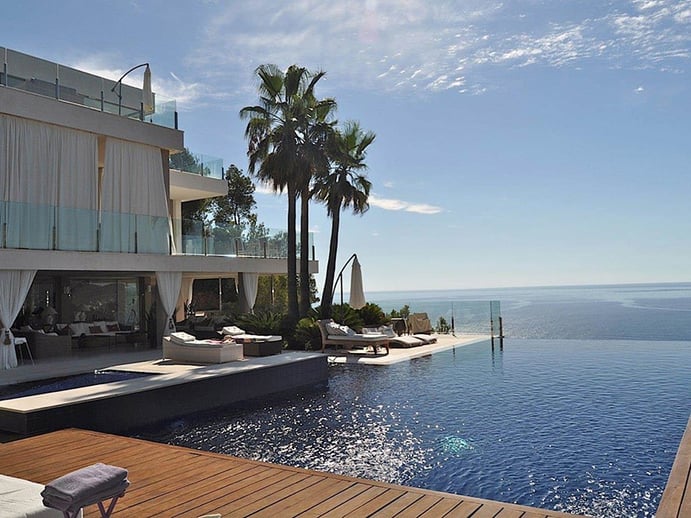 The stunning coastline of Cala San Vicente in the north—noted for its astonishingly bright-blue water and golden sands—includes some of Ibiza's quieter beaches. Surrounded by cliffs and mountains, this is seclusion at its very best. But Ibiza is not just for visitors—the island boasts fantastic private properties for purchase. One in particular in Cala San Vicente is a unique and impressive villa, perched on a cliff with breathtaking views out to sea. It packs some serious square footage, comprising 22 bedrooms and 24 bathrooms over 10,763 square feet and more than four acres of private land.
Estévez of Estela Exclusive Homes has seen first-hand how Ibiza captures a buyer's imagination. "I see a lot of people renting for the first year, as they discover the island, before returning a couple of years later to buy, once Ibiza has stolen their heart."