Monaco may be small—the world's second smallest country, in fact—and, at just under a square mile, more petite than New York's Central Park, but it has a big personality. Synonymous with glitz and glamour, it has long attracted a global jet set bound for its gilded Belle Époque casino, golden Riviera, and prestigious Grand Prix.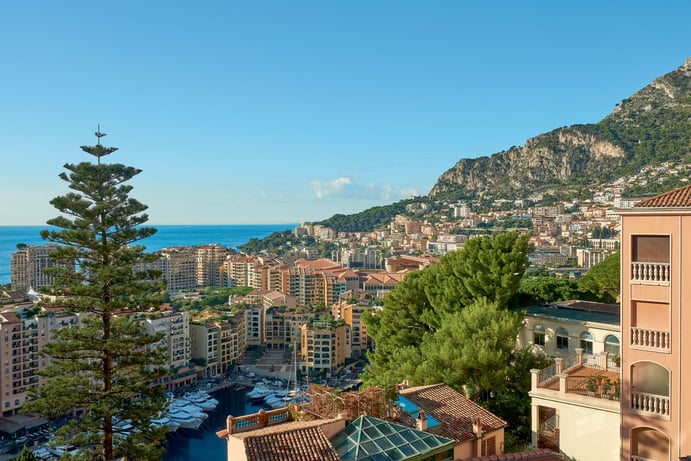 Yet not a mile from the glitz of Monte Carlo, life in la vieille ville—the Old Town—couldn't be more different. Le Rocher (the Rock), as the fortified Old Town is nicknamed, rises some 200 feet above the Mediterranean Sea, overlooking the new harbor. François Grimaldi conquered the headland in 1297, and it has housed the royal residence ever since. A haven within a haven, the Old Town offers a rarefied lifestyle for its residents, and none more so than the occupants of Villa San Martin, an outstanding townhouse that dates to the 18th century.
"Villa San Martin is the only house of its kind for sale in this enclave, which also houses the Prince's Palace and government ministries."
"It is unique," says Monica de Champfleury, partner at Hammer Draff Great Properties, an Affiliate of Christie's International Real Estate. "The only house of its kind for sale in this enclave, which also houses the Prince's Palace, government ministries, and most schools." Monumental in size and history, Villa San Martin was totally renovated five years ago, retaining its original façade. On the roof is the perfect terrace; ideal for al fresco dining and entertaining, it offers a 360-degree vista of the white-stone Cathédrale de Monaco, picturesque Jardins Saint-Martin, renowned Musée Océanographique—a Baroque Revival masterpiece—and the twisting, turning medieval village of the Old Town, a labyrinth of cobbled streets and squares.
But it is the proximity to the Prince's Palace—literally next door—that elevates Villa San Martin to standout status. The palace hosts a roster of royal spectacles such as the changing of the guard and summer concerts, but most of all, its presence offers supreme security. "Monaco is one of the safest places in the world to live," says de Champfleury. "And this property is also, indirectly, guarded by the carabinieri who protect the Prince, his palace, and le Rocher."
Add charm and a dazzling coastline to impeccable infrastructure and tax-free security and it is easy to see the appeal of Monaco—in particular the Rock, which, come sundown when the tourists have left, is shrouded in a veil of calm. Serene and sedate, it is the quietest area in Monaco.
Yet should the urge to savor a little ritz or flutter, cocktail or cabaret take hold, it's all there, too, just a stone's throw down the road. Really.
PHOTOGRAPHY BY FREDERIC VASSEUR