Come wintertime, the dramatic Grand Teton views enjoyed from 50 W. Calliope are dusted in snow, the frosty slopes replaced by a bloom of wildflowers in spring. In summer, East Gros Ventre Butte is verdant; but in fall, the colors of the surrounding aspens are most radiant of all.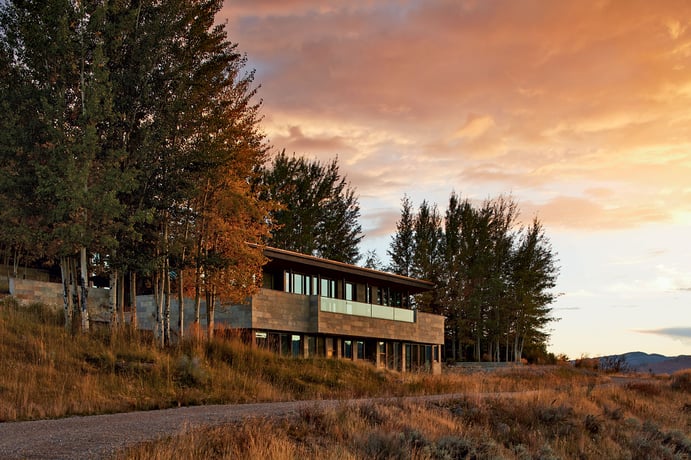 "We love the local hikes all year round. Even in the winter, we go out in the morning and walk the hills," say the current owners. When creating their home, it's no surprise that they wanted it to make the most of the plot's position: 800 feet above the valley floor between Jackson and the Jackson Hole Mountain Resort in Wyoming.
Nodding to Frank Lloyd Wright's iconic Prairiestyle masterpieces of the early 20th century, this home marries a spectacular location with ingenious design. Gloriously large windows let light flood in and aid breathtaking views from every room: the Yellowstone Caldera and Teton Mountain Range to the north, the Sleeping Indian cliffs to the east. A roof terrace the length of the residence, created by staggering the property's three stories back into the hillside, gives further unhindered vistas of the scenery. Surrounded by conserved open wilderness, its views can never be impeded by another structure.
For this is a place to get away from it all, alone or with friends. Generous outdoor and entertaining spaces help create memorable experiences, for hosts and guests alike. "During the summer, we host a large cocktail party with all the French doors to the front terrace wide open. We invite a quartet from the Grand Teton Musical Festival to perform a private concert as the sun is setting on the Tetons," say the owners.
"All the bedrooms have their own bathroom and access to the outdoors," say the current owners.
The building itself is a contemporary combination of glass and concrete, and is finished in Kota stone imported from India. Inside, the floors are linked by a sculptural staircase that bisects the home, with an elevator also providing easy access to the main level. The sleek concrete floors have in-built radiant heat, while high cedar ceilings infuse the space with a textural warmth. Furnishings and interior design are characterized by high-quality craftsmanship and a European aesthetic, and come courtesy of renowned French designer Christian Liaigre, whose projects also include luxury hotels and yachts.
The breathtaking two-acre property includes a double garage and is being sold with an adjacent plot of the same size, which reinforces the uninterrupted privacy and provides opportunities for creating a guesthouse or additional home.
[ Excerpt from Christie's International Real Estate's 2017 Luxury Edition — A curated collection of the world's finest properties. Explore more properties here ]
Photography by Joe Schmelzer